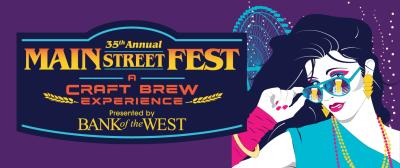 GRAPEVINE, TEXAS (May 19, 2019) – Talk about a #FlashbackFriday! Grapevine took it "Back to 1985" and celebrated its first annual festival of the year by recreating the best parts of the '80s. The 35th Annual Main Street Fest – A Craft Brew Experience, presented by Bank of the West, was a totally tubular, family-friendly sensation featuring live music, unique artisans, vendors and festival fare. More than 75 craft brews from 35 breweries across 15 states, including 14 breweries from Texas – one of which was Grapevine's very own Hop & Sting Brewing Co. – were sampled by attendees over the course of the three-day festival which took place May 17, 18 and 19, 2019.
Great weather on Friday brought festival goers out filling Main Street, the Craft Brew Garden and both entertainment areas giving the 35thAnnual Main Street Fest momentum despite the weather event predicted for Saturday. Although a large line of strong storms blew through Grapevine Saturday afternoon, damage was minimal. With an Emergency Operations Center in place, consistently monitoring the weather, festival personnel were able to assist vendors and entertainers in returning the festival to full operations very quickly. Once the storms left the area, attendees were treated to beautiful weather conditions and a seasonably cool evening. The sun shined bright on Sunday, bringing attendees out in droves. The large crowds provided opportunities for artisans and vendors to catch-up on sales missed on Saturday.
"The dedication of our Volunteers, Public Safety Departments and Festival Operations is what makes Main Street Fest special year after year," said Festival Chair Brian Lucas.
Patrons in the Craft Brew Experience, sponsored by Gaylord Texan Resort, voted for their favorite style of craft brew. The winning style was IPA. Other craft brew styles sampled in the Craft Brew Garden included Porter, Cider, Stout, Ale, Hazy IPA, Wit, Pilsner, Pale Ale, Amber, Lager, Gose/Sour, Bock, Helles and Blonde Ale.
"Back to the Future" fans relived their childhood by sitting inside a DeLorean Time Machine, an exact replica car from the "Back to the Future" films. Doc Brown and Marty McFly impersonators added to the excitement interacting and posing with attendees while they captured their "Great Scott!" photo op. Additionally, admirers of the films had the opportunity to watch "Back to the Future" Parts I, II and II at the Historic Palace Theatre Friday and Saturday, and a screening of Parts I and II Sunday.
Festival goers were also able to experience the Lone Star State of Mind Pavilion showcasing various unique products from the Go Texan program, a division of the Texas Department of Agriculture. The featured products have been certified as being Texas-grown and produced and included handcrafted marshmallows, craft soda, barbeque sauces, seasonings, pralines, honey and more.
Live music could be heard on the Audi Grapevine Stage and Gazebo Stage throughout the weekend. People were moonwalking, cabbage-patching and electric sliding while righteous tunes played on both stages from the likes of new wave pop band ABC, featuring original lead singer Martin Fry; hit country singer Darryl Worley; country crooner Ray Scott; dynamic trio the Rock Bottom Boys; fan-favorite nerd-rock party band, The Spazmatics; and many more.
More than 85 artisans, marketplace merchants and food vendors lined Main Street with an array of handcrafted goods, including jewelry, clothing, home decor, sculptures, fine art originals, metal work and more. Sustenance was in abundance and ranged from festival favorites, such as corn dogs, Frito pies, steak-on-a-stake and turkey legs, to decadent delights, including fried crawfish, fried macaroni and fried Oreos. At any given time during the festival, guests could be seen eating an empanada in one hand and a chocolate covered cheesecake in the other.
"Main Street Fest was an electrified celebration and an incredibly successful festival," said Lucas. "All weekend, patrons enjoyed the Craft Brew Experience while guests of all ages were entertained by the Doc Brown and Marty McFly impersonators, DeLorean Time Machine and KidZone with Cinnamon Creek Ranch Archery. Guests also had their favorite festival food, shopped the artisans and danced to live music."
The 36th Annual Main Street Fest will be held May 15, 16 and 17, 2020. Photos are available upon request. For more information about Grapevine, call 817.410.3185 or visitGrapevineTexasUSA.com.
About Bank of the West
Bank of the West is proud to be an Independent Community Bank, headquartered in Grapevine and serving North Texas for more than three decades; helping to create flourishing communities by putting your dollars to work LOCALLY...with decisions made LOCALLY.
Bank of the West, Member FDIC, Presenting Sponsor of the 35th Annual Main Street Fest.