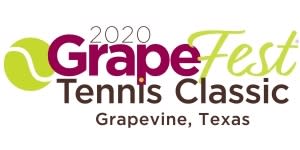 GRAPEVINE, TEXAS (September 24, 2020) – Steve and Maggie Haley, Co-Chairs for the 34th Annual GrapeFest – A Texas Wine Experience, presented by Bank of the West, are proud to announce the results of the 2020 GrapeFest Tennis Classic, produced by TNT Tennis.
While the street festival element of GrapeFest did not take place this year, the popular all-ages tournament was held at various locations throughout Grapevine on September 19 and 20 and attracted 480 participants, from ten different states, to compete for a $5,500 cash prize.
The 2020 GrapeFest Tennis Classic featured various draws, including Open Singles and Doubles prize money events, Men's and Women's Singles and Doubles, and Boys' and Girls' Singles and Doubles by age group and levels.
The winners for each age group are:
Doubles Champions

Colin Markes (Austin, TX)
Adrian Ortiz (Austin, TX)
 

Doubles Finalists

Alex Rybakov (Coral Springs, FL)
Max Kurzban (Fort Worth, TX)
Singles Champion

Alex Rybakov (Coral Springs, FL)
 

Singles Finalist

Josh Sheehy (Fort Worth, TX)
35+ Doubles Champions

Sascha Kiehne (Irving, TX)
Byron Talbot (Dallas, TX)
35+ Doubles Finalists

Scott Eddins (Southlake, TX)
Robert Novotny (Keller, TX)
The prize money events brought in players from nine different colleges, including University of Tennessee, University of Oklahoma, Texas Tech University, Texas Christian University, Abilene Christian University, University of Texas Arlington and Dallas Baptist University.
Prize money was available for both singles and doubles, which added depth to the overall level of players that attended the event making it the strongest field in the tournament. In the singles event, there were eight prize money draws, and two prize money draws for doubles and one draw for 35+ doubles.
TNT Tennis will be making a $500 donation to the Holiday Relief Fund for Veterans who helps military families in need of assistance during the holiday season.
For more information regarding the GrapeFest Tennis Classic, please contact the Grapevine Convention & Visitors Bureau at 817.410.3195 or visit GrapeFest.com/Tennis.
ABOUT THE GRAPEVINE CONVENTION & VISITORS BUREAU
Historic Grapevine, Texas, centrally located between Dallas and Fort Worth, is the premiere go-to destination when planning a getaway or vacation in North Texas! Step back in time on Historic Main Street with a collection of charming boutiques, art galleries and bistros and cafes. Enjoy fantastic hotels and resorts, great attractions for the entire family, a wide variety of outdoor recreational activities, exquisite winery tasting rooms, world-class shopping and much more. For more information, visit GrapevineTexasUSA.com.
ABOUT GRAPEFEST – A TEXAS WINE EXPERIENCE, PRESENTED BY BANK OF THE WEST
GrapeFest is a celebration of Texas wines. Home to more than 400 wineries and 4,400 acres of vineyards producing nearly three million gallons of Texas wine each year, Texas is the fifth largest wine producing state in the United States. Grapevine is home to the Texas Wine & Grape Growers Association and Texas' premier Urban Wine Trail. For additional information, please visit GrapeFest.com.