Largest Wine Festival in the Southwest U.S. – September 12, 13, 14 and 15, 2019 – Highlights Wines from Texas, the Piedmont Region of Italy and the Traverse Wine Coast of Michigan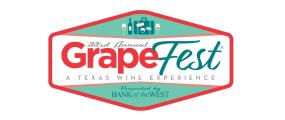 GRAPEVINE, TEXAS (September 9, 2019) – Celebrate wine and the golden age of travel at the 33rd Annual GrapeFest – A Texas Wine Experience, presented by Bank of the West, September 12, 13, 14 and 15. The festival's theme is going to make you feel as if you've stepped back to an era when "Planes, Trains and Automobiles" reigned supreme; vintage luggage trunks matched and stacked; and mid-century travelers dressed elegantly in colorful, high fashion wares and tailored suits.
Attendees can explore wines of the 45th parallel from the Piedmont Region of Italy and the Traverse Wine Coast of Michigan inside the Liberty Park Plaza Wine Experience, sponsored by Gaylord Texan Resort. In this one-of-a-kind, separate ticketed event, guests receive a souvenir wine glass and six one-ounce tastings from one region of their choosing. Tickets are $12 in advance before 11:59 p.m. Thursday, September 5, and $15 on or after September 6. Wine from Grapevine's Sister Cities, Krems, Austria and Parras de la Fuente, Mexico will also be available for purchase by the glass.
Located in northwest Italy, the Piedmont Region is approximately 9,802-square-miles in size and nestled at the foot of the Alps on three sides. The region borders Switzerland to the northeast, the Aosta Valley to the northwest, France to the west, Liguria to the south and Lombardy and Emilia-Romagna to the east. Of Italy's 20 wine regions, Piedmont is the most acclaimed and sixth highest producer by volume in the country. The region is known for producing Barolo and Barbaresco wines which come from the Nebbiolo grape. Guest wineries from Piedmont are Beni di Batisiolo, Enrico Serafino, Michele Chiarlo, Pico Maccario, Prima Mazzo, Prunotto and Stefano Farina.
Two American Viticultural Areas (AVAs) make up the Traverse Wine Coast – Leelanau Peninsula and Old Mission Peninsula. With vineyards covering more than 1,700 acres within the two AVAs, more than fifty percent of Michigan's wine grapes are grown in the Traverse Wine Coast. Sitting on the 45th parallel, the varietals the 40+ wineries grow and produce are similar to the Piedmont Region of Italy, Austria, Germany, France's Burgundy, Champagne, Alsace and Loire Valley regions. The visiting Traverse Wine Coast wineries at GrapeFest include 45 North Vineyard & Winery, Black Star Farms, Brengman Brothers, Brys Estate Vineyard and Winery, Chateau Grand Traverse, Good Harbor Vineyards, L. Mawby Vineyards, Mari Vineyards, Shady Lane Cellars and Verterra Winery.
The 33rd Annual GrapeFest – A Texas Wine Experience, presented by Bank of the West, will open on Thursday, September 12 at 10 a.m. Admission is free to everyone all day Thursday and until 5 p.m. on Friday. Hours are Thursday, 10 a.m. to 10:30 p.m., Friday and Saturday, 10 a.m. to 11:30 p.m. and Sunday from 11 a.m. to 6 p.m. Admission prices are $8 for adults, $5 for seniors (62+) and children (6-12). Weekend pass pins are available for $18 and souvenir pins are $23. Admission is free for children five and under. For more information, call the Grapevine Convention & Visitors Bureau at 817.410.3185 or visit GrapeFest.com.
About GrapeFest
GrapeFest is a celebration of Texas wines. Home to more than 400 wineries and 4,400 acres of vineyards producing nearly three million gallons of Texas wine each year, Texas is the fifth-largest wine producing state in the United States. Grapevine is home to the Texas Wine and Grape Growers Association and Texas' premier Urban Wine Trail.
About Bank of the West
Bank of the West is proud to be an Independent Community Bank, headquartered in Grapevine and serving North Texas for more than three decades; helping to create flourishing communities by putting your dollars to work LOCALLY...with decisions made LOCALLY.
Bank of the West, Member FDIC, Presenting Sponsor of the 33rd Annual GrapeFest.