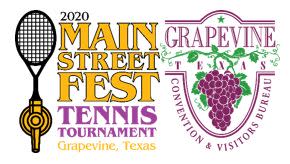 GRAPEVINE, TEXAS (July 7, 2020) –With social distancing, the Main Street Fest Money Madness Tennis Tournament took place, June 27 and 28. The two-day tennis tournament was produced by TNT Tennis and consisted of both Junior and Adult players who competed in either the four single or two double prize money divisions winning a cash prize of $2,300.
The Main Street Fest Money Madness Tennis Tournament drew 215 participants combined from both the United States Tennis Association (USTA) and Universal Tennis Rating (UTR) organizations. Prize money was available for both singles and doubles which added depth to the overall level of players that attended the event making it the strongest field in the history of the tournament. In the single's event, there were four prize money draws and two money draws for doubles. The doubles and singles prize money events brought in players from over a dozen colleges, including University of Norte Dame, University of Oklahoma, Texas Tech University, Texas Christian University, Abilene Christian University, University of Texas Arlington, Dallas Baptist University and more.
Doubles champions were Zeke Clark and Pierce Rollins, both from Tulsa, Oklahoma and second place winners were Franco Ribero from Lubbock, Texas and Parker Wynn from North Richland Hills, Texas. The Singles Champion was Zeke Clark from Tulsa, Oklahoma.
A $250 donation was made to Tennis Thanks the Troops, a nonprofit organization honoring the men and women of the United States Armed Forces by providing need-based scholarships and pathways to employment for their spouses and children.