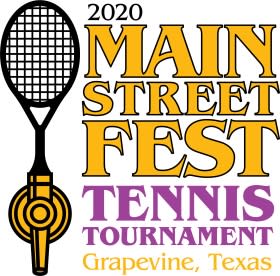 GRAPEVINE, TEXAS (JUNE 11 2020) – Grab your racket and join the fun on June 27 and 28 at the Main Street Fest Money Madness Tennis Tournament. The family-friendly event, produced by TNT Tennis, welcomes junior and adult players to compete in a two-day tournament for a cash prize of $1,500.
The 2020 Main Street Fest Tennis Tournament will feature various draws including Men's and Women's Open Double prize money events, Men's and Women's Singles as well as Boys' and Girls' Singles and Doubles by age group. Matches will take place at various Grapevine tennis courts including Dove Park, Grapevine High School and Colleyville Heritage High School from 8 a.m. to 6 p.m. on Saturday, June 27, with most finals being held Sunday, June 28.
Entry fees for the adult and junior opens are $21 per player for singles and $19 per player for doubles.   Entry fee includes tournament participation and an official Main Street Fest Tennis Tournament t-shirt. The deadline to register for tournament is Tuesday, June 23.
This tournament is open to all ages, abilities and genders. This is a level based tournament. Participants can register through Universal Tennis Rating (UTR) at tnttennis.net/main-street-fest. For additional information, please contact, Austin Wynne at 214.668.1619 or austinwynne@gmail.com or visit grapevinetexasusa.com/main-street-fest/tennis/.
The 36th Annual Main Street Fest, Presented by Bank of the West was cancelled earlier this month, however the Festival's Tennis Tournament will be held June 27 and June 28.