"Tall in Texas" Award presented as part of Grapevine's 33rd Annual GrapeFest® – A Texas Wine Experience, Presented by Bank of the West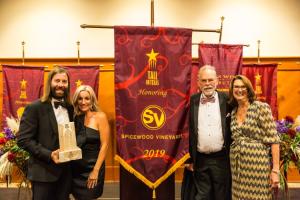 Photo: Ron and Jessica Yates, Grapevine Mayor William D. Tate and Glena Yates
GRAPEVINE, TEXAS (September 11, 2019) – On Saturday, September 7, the Texas Wine Tribute Gala and Auction opened festival week for Grapevine's 33rd Annual GrapeFest – A Texas Wine Experience, presented by Bank of the West. This annual black tie gala is one of the most prestigious annual Texas Wine Industry events and features the presentation of the highly-anticipated "Tall in Texas" award. This honor is bestowed upon a Texas winery in recognition of the winery's leadership role in the dedication to, support of and promotion of the Texas Wine Industry. The 2019 recipient of the "Tall in Texas" award is Spicewood Vineyards of Spicewood, Texas.
Set among the rolling hills of a scenic Texas vista, Spicewood Vineyards is located in an ancient riverbed on the edge of the Llano Uplift in the Texas Hill Country. With farming and the Texas Hill Country in their veins, Ed and Madeleine Manigold vowed to find land where they could grow wine grapes and produce high quality Texas wines. They succeeded in 1990 when they located land 35 miles outside of Austin and planted vines on their first acre with the goal of producing wine from estate-grown grapes.
Before planting their first vines, the Manigolds studied, traveled to conventions, read extensively, and joined wine associations and guilds to learn more about growing the right grapes. Their first acre included Merlot (Ed's favorite), Cabernet Sauvignon, Chardonnay, Sauvignon Blanc and Riesling. In 1993, they expanded to five acres and then to ten acres in 1994 when they added small amounts of Zinfandel, Muscat and Cabernet Franc. Of the original 17 acres of grape vines, nine acres are still producing excellent fruit on vines over 24 years old. Hands-on owners, the Manigolds participated in every step of the process from planting the vines, to personally bottling the wine. From its beginning, Spicewood has remained true to its vision and stayed closely in tune with the ground realizing the correlation of quality grapes to quality wine.
In 2007, Ron Yates began spending time with the Manigolds. In time, he successfully convinced them he had the dedication and gumption to take the reins of the winery. Yates' love of wine began and developed during a semester in Spain while a student at the University of Texas. He lived with a host family whose son was a grape grower in the Ribera del Duero wine region which enabled Yates to learn in the vineyards firsthand. Living fully immersed in a culture where meals revolve around wine resonated with Yates and left a lasting impression.
Upon his return to Texas, Yates realized the Texas Hill Country was very similar to Spain's Ribera del Duero region with its limestone bedrock and hot days. While continuing his education at St. Mary's University School of Law, wine became an essential part of Yates' meals just as it had been in Spain. It was during this time he began serious discussions with winery-owning relatives Ed and Susan Auler about his desire to join the wine industry. Despite their words of caution that owning a winery would be the hardest thing he'd ever do, Yates persisted and his dream came true in 2007 when he purchased Spicewood Vineyards from the Manigolds.
Spicewood Vineyards wines have received numerous awards and garnered international recognition. Awards include Double Gold at the 2019 Finger Lakes International Wine Competition and Silver at the 2019 TEXSOM International Wine Awards for its 2016 Tandem; Silver at the 2019 Finger Lakes International Wine Competition and Silver at the 2019 Lone Star International Competition for its 2016 Tenny Wren; and Silver at the 2019 Great American International Wine Competition for its 2018 Tempranillo Rosé.
Built 900 feet above sea level, the winery is a lovely architectural blend of strength, design and functionality. The original handcrafted winery building resembles a 19th century Texas Hill Country home with its board and batten walls and large, covered front porch. With the scenic Hill Country vineyard as a backdrop, Spicewood Vineyards' event center is the tasteful combination of a Texas gentleman's ranch with all the amenities to host an elegant affair.
Continuing daily the "hands in the dirt" approach to vineyard management, Yates and his team work year-round to ensure they are growing the best fruit possible. Yates' philosophy is that by working in the vineyards through each season, they are able to help the vines flourish in spite of debilitating frost, destructive hail and scorching Texas heat. Beyond their own estate-grown fruit, Spicewood works with well-established grape growers across Texas who also share the same desire to be in the vineyard to ensure a steady supply of high-quality grapes. Working closely with the vines makes it possible to produce the quality of wines Spicewood is proud to sell year in and year out. 
Each year, an industry panel consisting of academic scholars and Texas wine leaders selects the recipient of the "Tall in Texas" award. The panel members are:
Dr. Tim Dodd, Director of Texas Wine Marketing Research Institute, College of Human Sciences, Texas Tech University;
Michael Zerbach, Chair, Lone Star International Wine Competition and past President and former Board Member of the Texas Wine and Grape Growers Association;
Dacota Haselwood, Executive Director, Texas Wine and Grape Growers Association;
Paul W. McCallum, Executive Director, Grapevine Convention & Visitors Bureau.
Proceeds from the Texas Wine Tribute benefitted Metroport Meals On Wheels.
The 33rd Annual GrapeFest – A Texas Wine Experience, presented by Bank of the West, will take place September 12, 13, 14 and 15 in Historic Downtown Grapevine. For tickets or more information about the 33rd Annual GrapeFest, call the Grapevine Convention & Visitors Bureau at 817.410.3185 or visit GrapeFest.com.  
About GrapeFest
GrapeFest is a celebration of Texas wines. Home to more than 400 wineries and 4,400 acres of vineyards producing nearly three million gallons of Texas wine each year, Texas is the fifth-largest wine producing state in the United States. Grapevine is home to the Texas Wine and Grape Growers Association and Texas' premier Urban Wine Trail.
About Bank of the West         
Bank of the West is proud to be an Independent Community Bank, headquartered in Grapevine and serving North Texas for more than three decades; helping to create flourishing communities by putting your dollars to work LOCALLY...with decisions made LOCALLY.
Bank of the West, Member FDIC, Presenting Sponsor of the 33rd Annual GrapeFest.