There is something inviting about a farmers market. Everything inside emits a piece of unmatched je ne sais quoi: organic fruits and vegetables; lotions and soaps made plain and simple without additives; homemade jams, jellies and salsas; freshly baked goods; kettle corn; artisanal cheeses; and meats from our own "backyard."
Luckily, we have our very own hometown market in the Farmers Market of Grapevine, which sits on Main Street in Historic Downtown Grapevine. You'll find and feel the culture of Grapevine and Texas, which has a lot to do with the owners, Jack and Racquel Morehead.
The Moreheads, who are in their third year with the indoor, brick-and-mortar market, and their ninth year with the outdoor, seasonal market behind the Town Square Gazebo, aren't new to the industry. Both come from Dumas, Texas farming lineage. Their two families, who were friends and business advocates, began running fruit stands in 1939, lighting the fire of their agricultural love story. Since joining the family business, Jack and Racquel have grown their vendors to include not only Texas farmers, but farmers from across Arizona and California, too, a byproduct of Jack's father's hard work.
And that hard work has rubbed off.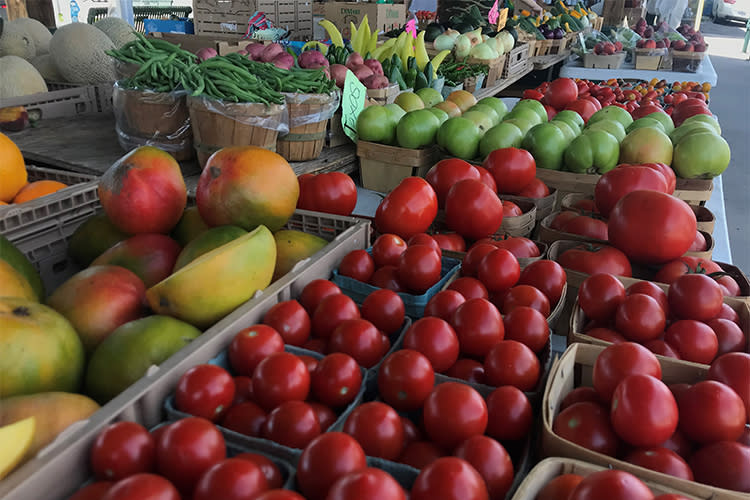 The Moreheads are known for being very transparent with both their customers and vendors. Whether Jack has known a vendor for two years or twenty, he opens every lid and tastes every product, guaranteeing Grapevine gets the highest quality available. It doesn't stop there. The Moreheads go out of their way to have dietary respect and sell many products that are available as allergy-free and/or vegan. Their goal is to educate their customers and earn their trust and respect in return.
As you walk into the Farmers Market, you are instantly hit with color and that one-of-a-kind, classic garden aroma. From there, you look around and take in everything offered. Tomatoes, some as big as fists, are their number one seller and are displayed front and center. During their peak seasonal time, peaches and cantaloupe battle for the top spot, and during the winter months, citrus thrives and competes as well; think oranges and grapefruit. The Moreheads sell farm fresh eggs from a dozen local vendors, and interestingly enough, these are seasonal, too. In fact, the Moreheads say they have an egg shortage about twice a year. This happens when the chickens' bodies naturally acclimate to the change in Texas temperature. You'll also find traditionally crafted vegan tamales which meat-lovers insist taste like meat. This is a testament to the type of vendors the Moreheads bring on – hardworking people who are some of the best at their craft. They have pasta and dog treats; an entire spice, coffee and tea section in the back of the store. And make sure you open the gorgeous Tiffany-blue antique refrigerator to see other goodies available. They make homemade salsa, guacamole and dips from the fresh crops brought in to the store. They even have seasonal homemade ice cream, sans dairy, and you'll currently find available the flavors of strawberry and peach ice cream. And insider tip: you can taste just about anything inside of the market. Just ask (that includes the ice cream)!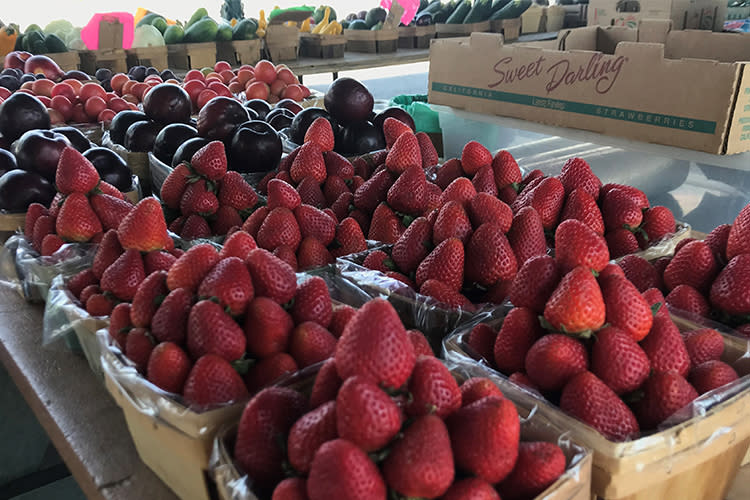 Not only do the Moreheads run a fruit-ful business, they run eggs-cellent social media accounts, too. The Farmers Market has two weekly hashtags: #WowzaWednesday, which lets their followers know about weekly savings and discounts, and #SampleSaturday, which lets their followers know new products are in and are available for sampling. They also let their fans know if the offers from Wednesday are still available. Oh, and be sure to watch their "stories," as that's how they release their hot sales on products they have in limited quantities. So if you enjoy discounts (hint, hint), bright photos and engaging content, follow them on Facebook, Twitter, Instagram and SnapChat.
And if you can't visit their market, don't worry, they have an online store. You can order your products and have them shipped to you, and if you don't see the product you're looking for listed online, call the market and ask if they have it in stock. If they do, they'll ship it right to your door!
Whatever you're looking for, the Farmers Market of Grapevine has it all. And like they say on their website, "it's a passion." They'd love to share it with you.
Indoor Market                                                Outdoor Market
Open seven days a week, year round                Open Fridays & Saturdays, April – October
M–Sat.: 8 a.m. – 8 p.m.                                       Town Square Gazebo
Sun.: 9 a.m. – 6 p.m.                                            8 a.m. – 4 p.m.
520 S. Main St., #203                                          325 S. Main St.                     
Grapevine, TX 76051                                          Grapevine, TX 76051
Insider Tip: They have special hours. During the summer, on Fridays and Saturdays, they're open until 9 p.m.