Whether it's spending time with the ones you love or doing what you love, Grapevine has a multitude of perfect options for what you're looking for.
Grab your friends or your special someone on Saturday, February 8 and celebrate the month of love in a unique and festive way by participating in the Sweetheart Wine Trail. From 10 a.m. - 6 p.m., you'll spend the day getting to know the wineries and tasting rooms along Grapevine's Urban Wine Trail with three wine tastings and food samplings at each participating winery tasting room and a souvenir wine glass. For more information, visit GrapevineWineryTrail.com.
Have a love for classic films? Catch one (or all) of six movies at the historic Palace Theatre in Downtown Grapevine. From romance to action, fantasy to comedy, there is a movie for everyone. 
12 Angry Men, Friday, February 7 at 7:30 p.m.
Finding Neverland, Friday, February 8 at 7:30 p.m.
Love Story, Friday, February 14 at 7:30 p.m.
Batman, Saturday, February 15 at 7:30 p.m.
Ghost, Friday, February 21 at 7:30 p.m.
Legally Blonde, Saturday, February 29 at 7:30 p.m.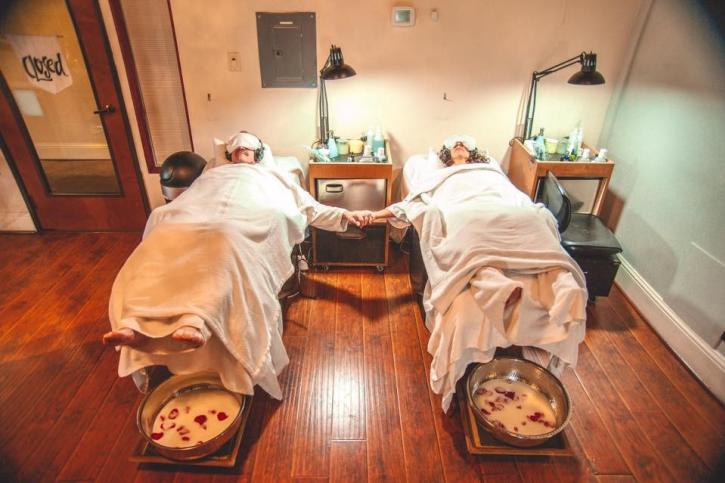 Looking for a quick way to relax? Lifestylez Nails in Historic Downtown Grapevine is offering three different couples sweetheart packages. No matter which one you choose, you'll feel the southern hospitality as soon as you walk through the door!
The changing culinary scene in Grapevine is a great reason to love visiting. Main Street's newest restaurants Piaf (129 S. Main St., St. 130), Sauce'd (110 N. Main St.) and Stellini Trattoria (400 E. Dallas Rd.), albeit not directly on Main Street, add to the more than 200 restaurants that call Grapevine home, and complement the selection of restaurants available to patrons on/near Main Street. All about that sweet life? Stop in to Chocolate Moonshine Co., Dr. Sue's Chocolate, Judy Pie or Kilwin's for a delicious dessert.
However you choose to spend Valentine's Day in Grapevine, you're guaranteed a wonderful time. We raise a glass to you and yours!
Cheers!