September 2020
For more than 90 years, Americans across the country have loved and celebrated the classic cheeseburger. This American cuisine staple has evolved over time to where no two restaurants offer the same exact cheeseburger. With lots of variety out there and with National Cheeseburger Day on the horizon, we wrangled some of the most diverse burgers in Grapevine here for you. Keep reading and enjoy!
Chez Fabien
A burger with chimichurri? Sign us up! That's exactly what Chez Fabien, located at 316 S. Main St., serves every day for lunch along with other delicious cheeseburger options.
Willhoite's Restaurant
With a variety of burger options, Willhoite's Restaurant located at 432 S. Main St. offers ½-pound burgers that are cooked to order, served open-faced on a toasted bun and with a choice of sides including fries or tots.
Gaylord Texan – Texan Station Sports Bar & Grill
Touted as "not your average sports bar," Texan Station Sports Bar & Grill, located inside Gaylord Texan Resort, has more than 50 flat screen televisions so that every sports fan can grab a burger and cheer on their favorite team! We promise their Kobe beef burgers won't disappoint.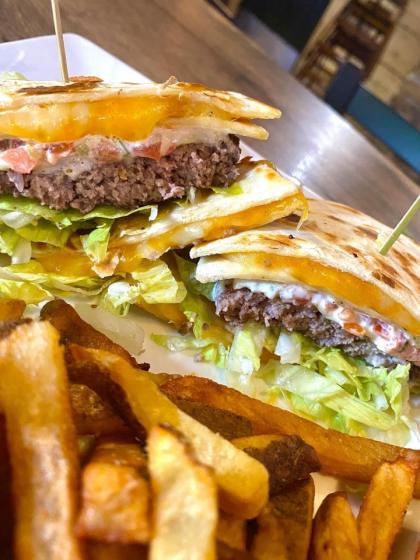 Chill Bar & Grill
Buckle up because Chill Bar & Grill's September burger of the month is about to blow your mind. For only a couple more weeks, guests can enjoy the "Quesadilla Burger" which is their famous burger in between two quesadillas with pepper jack cheese, pico, lettuce and ranch dressing. Chill Bar & Grill is located at 814 S. Main St.
Cotton Patch Café
Located at 129 S. Main St., Cotton Patch Café offers a variety of cheeseburgers for guests walking through the door. Our personal favorite, though? Hands down the "Nacogdoches Burger" which hails from their hometown. This cheeseburger includes a 7 oz. angus beef patty, stacked with american cheese, chili, a giant, crispy fried onion ring, bacon-mayo and pickles.
Flips Patio Grill
With lots of patio seating available, consider catching a burger at Flips Patio Grill located at 415 W. State Hwy. 114. Order a beer and chow down on one of their specialty burgers that range from "The Carnivore" to "The Impossible."
Jake's Burgers and Beer
Jake's Burgers and Beer is located in the heart of Historic Downtown Grapevine at 520 S. Main St. Old fashioned since 1985, Jake's Burgers and Beer serves up classic burgers including its September burger of the month – "The Fire Truck." The spicy burger includes chipotle cheddar melted on two meat patties. Next, they add jalapeño bacon, hangover sauce and pico. To top it off? Their signature jalapeño bottle caps are sprinkled on top.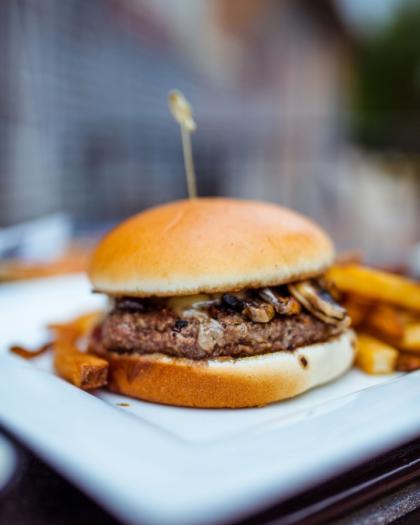 Piaf Kitchen + Wine + Bar
Looking for a burger that's a little bit outside the box? Check out Piaf Kitchen + Wine + Bar's "Harissa Lamb Burger" that includes free range lamb, lettuce, tomato, goat cheese and tzatziki sauce all sandwiched between a brioche bun. Piaf Kitchen + Wine + Bar is located at 129 S. Main St.
Tolbert's Restaurant & Chili Parlor
Ever had Tolbert's Restaurant & Chili Parlor's famous Texas Red Chili? Well, we suggest trying it on one of their flame-grilled burgers to celebrate National Cheeseburger Day. Nestled at 423 S. Main St., grab the family or grab a friend and join us.
Winewood Grill
Winewood Grill is located at 1265 S. Main St. and serves up a classic cheeseburger during their lunch hours. Brought to you on a toasted bun, this cheeseburger includes hickory bacon, cheddar cheese, tomatoes, red onion, lettuce and horseradish pickles with house spread.
LA Burger
Veteran owned and located at 210 N. Main St., LA Burger offers Asian-fusion burgers with a twist like the "K Town Burger." This house specialty includes kimchi, pickled jalapeño, bulgogi glaze, lettuce, tomato and sriracha mayo with a recommendation to add cheese and ez egg.
Along with these unique burgers, Grapevine is also home to nearly every fast food burger chain under the sun. From McDonalds to Whataburger, Grapevine has you covered for National Cheeseburger Day 2020.