July 2020
It's summer time in Grapevine and for some folks, that means kicking back and enjoying a cool beverage in the shade. Lucky for you, Hop & Sting has quite the selection of craft beverages that can be enjoyed from the comfort of your own backyard. Cans and growler fills are available for purchase with special new releases coming up. During this unpredictable year, the Hop & Sting team has provided an inclusive atmosphere that welcomes people from all walks of life and all generations. The team has worked so hard to be innovative during a time of adversity and has succeeded because of the caring community that has rallied behind them.
For the Hop & Sting crew, brewing amazing beer isn't the only thing they're passionate about. They feel called to give back to the local community and people in need. In fact, the brewery has donated $30,000+ to charities in the Metroplex area in the last two years – talk about a local brewery with a big heart. Here's a glimpse into some of the organizations that Hop & Sting supports throughout the year –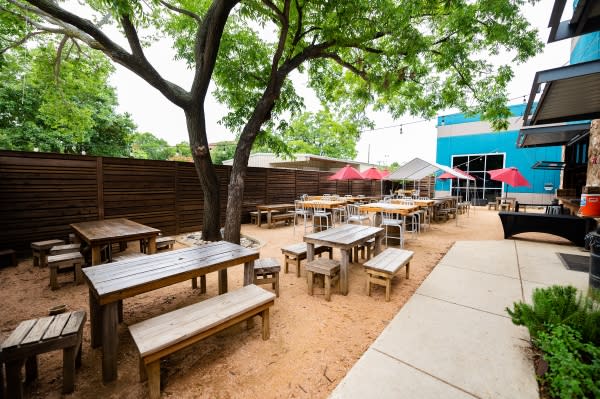 3113 Grapevine Firefighter's Association
As one of the original community organizations, 3113 Grapevine Firefighter's Association is supported with two special beers throughout the year. Coming soon, the 3113 Oktoberfest Lager is a popular seasonal brew that honors the brave men and women of the organization. In addition to this special Oktoberfest recipe, Fire Engine Red, a malty easy drinking American red ale also supports the organization with year-round sales and merchandise.
Dallas Pets Alive!
Next time you visit, Hop & Sting, you'll likely be greeted by the sweetest brewery pup you ever did see. Dixon was adopted from a wonderful organization called Dallas Pets Alive! and is now a very special team member. To honor Dixon and this organization, the team created the Dixon Pale Ale which happens to be the same acronym for Dallas Pets Alive! This beer is part of a rotating series that varies slightly each month which means customers will always have something new to try while supporting furry friends in the area.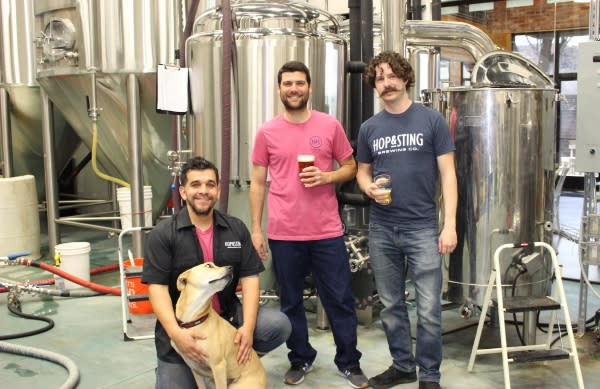 The Miracle League
Many of the team members for Hop & Sting have personally volunteered with The Miracle League, an organized youth baseball league for children with disabilities. Supporting this organization was an easy choice given the special bond between the coaches and players. Miracle Wheat is an unfiltered American wheat beer with a seasonal fruit addition that supports this organization throughout the year.
Monthly Charity Rotation
The team couldn't decide on just one more charity to support along with the three above, so they support a variety of charities on a monthly basis depending on special release beers and the time of year! However, this is for certain, each charity has either a unique connection to the Grapevine community or is a cause dear to the Hop & Sting staff. Lupus Foundation Lone Star Chapter, Grapevine AMBUCS and the Gallant Few are some of the groups that have benefited from the monthly batch series.
New beer releases are coming soon and that means additional charity support! Head to Hop & Sting's website to join their official pint club where you can enjoy $3 off your first beer and every time your visit. Follow Hop & Sting on Facebook, Twitter and Instagram to get the latest scoop on what's coming up – you won't want to miss it.
As the Hop & Sting team likes to say, "we've got a beer for everybody."