Welcome Spring!  Check out these events and things to do in Grapevine for an amazing spring getaway in Texas.
Nash Farm Chuck Wagon Supper
Friday, April 8
6:30 p.m.
Join the cowhands for a Chuckwagon Supper at Nash Farm.  Experience 19th-century flavors paired with award-winning Texas wine.  All proceeds support education programs at Nash Farm.
Spring Into Nash
Saturday, April 9
10 a.m. - 2 p.m.
Bring the entire family to Grapevine's Historic Nash Farm for the 20th Annual Spring Into Nash, and experience what life was like when the city's earliest settlers made their home in Grapevine.  Free activities include woodworking, gardening, house tours, wood stove cooking, campfire cooking, butter making, farm animals, laundry, field games, grain tables, corn grinding, wagon rides, and more.  Additional ticketed activities include carpentry, leatherwork, jump rope making, pony rides, and more.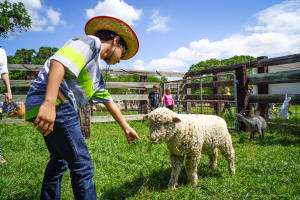 30th Annual New Vintage Wine and Gallery Trail & Blessing of the Vines
Saturday, April 9
10 a.m. - 6 p.m.
Toast the new release wines of the season at New Vintage Wine and Gallery Trail & Blessing of the Vines.  Blessing of the Vines, a centuries-old European tradition performed by a priest to ensure a bountiful harvest, is a time-honored Grapevine favorite that will take place at 10 a.m. at Peace Plaza.  Then, spend the day strolling Main Street while enjoying wine tastings and light bites at Grapevine's seven winery tasting rooms, perusing art galleries and urban art, and relaxing to live entertainment.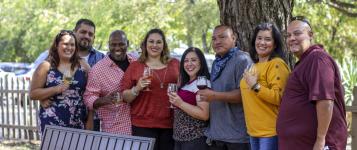 Satisfaction – A Tribute to the Rolling Stones presented by Tribute Masters
Saturday, April 9
3 & 7:30 p.m.
Come to Grapevine's Historic Palace Theatre for Satisfaction – the top touring tribute to the world's greatest Rock & Roll band.
Grapevine Lake Celtic Heritage Festival and Highland Games
Saturday, April 9
8 a.m. - 8 p.m.
Celebrate Scottish and Irish culture at the annual Grapevine Lake Celtic Heritage Festival and Highland Games at Meadowmere Park. Cheer on kilt-wearing athletes as they compete in nine different ancient-style strength competitions.  Enjoy live performances from Celtic bands and dancers and visit vendors offering traditional Celtic goods, food, and beer.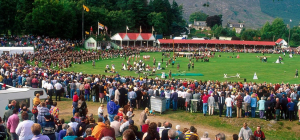 Carpenters Legacy: A Recreation of the 1976 UK Tour presented by Tribute Masters
April 15 - 16
Friday at 7:30 p.m. and Saturday at 3 & 7:30 p.m.
Direct from Las Vegas to Grapevine's Historic Palace Theatre, don't miss this unparalleled show celebrating the music and legacy of the famed brother-sister duo.
Easter Bunny Trains
Saturday, April 16
Boarding begins: 9:30 a.m., 11:30 a.m. and 1:30 p.m.
Hop on board, meet the Easter Bunny, and receive a delicious Easter treat on one of our eggs-citing, one-hour train eggs-cursions!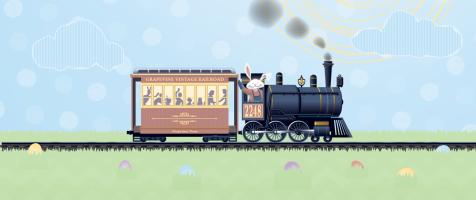 Jazz Wine Trains
Friday, April 29 and Sunday, May 1
7:30 p.m. on Friday & 2:00 p.m. on Sunday
For an unforgettable experience, grab a friend or a date for jazz, wine, and a trip back in time on Grapevine Vintage Railroad's popular Jazz Wine Train.
Enjoy a ride on vintage coaches while listening to live onboard jazz entertainment and enjoying pairings of Grapevine wine and local hors d'oeuvres and desserts.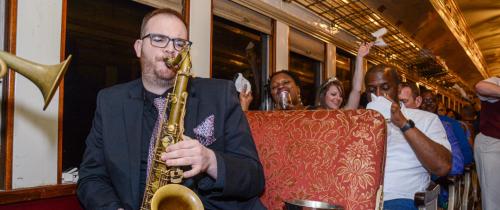 All Month Long
Enjoy a classic movie on the big screen at the beautifully restored art deco-style Palace Arts Theatre, or take your youngest movie buffs to a Classic Cartoons & Craft event at neighboring Lancaster Theatre.
April 1:             To Kill a Mockingbird
April 2-3:          North Central Ballet presents Coppelia
April 5:             Classic Cartoons & Crafts (Cartoon: Scooby-Doo, Craft: Under the Sea Jewel Mosaics)
April 8:             An American in Paris
April 22:           To Catch a Thief
April 23:           Sabrina & Breakfast at Tiffany's
 
Spring it On at Gaylord Texan
Thursdays – Saturdays now through May 8
Overnight and day guests can choose from numerous Once Upon a Spring events and activities, including Paint Me a Fairytale interactive storytelling adventure, School's Out! Spring Breakout and The Heist escape rooms, Spring Art Studio, Bloomin' Buddies Animal Encounters, Spring-A-Long Scavenger Hunt, and an Easter Bunny Meet and Greet!
Make sure to check out our events calendar for more fun activities for the entire family!