Didn't get tickets this year?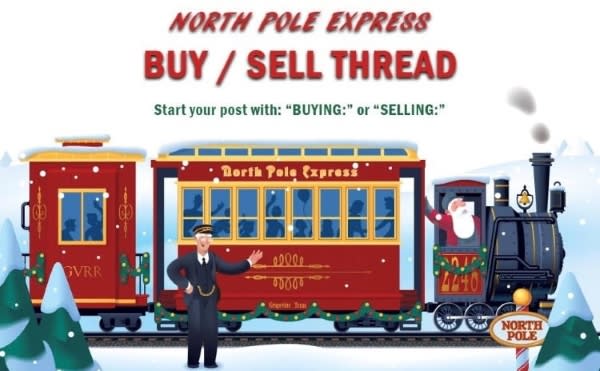 Do you have a couple of extra North Pole Express tickets to get rid of? Are you searching for a last second gift?
Use the pinned post at the top of the North Pole Express Facebook page as a "resell marketplace" of sorts! For easy readability, please start your post with either "Buying:" or "Selling:" and include dates and ticket quantity. (Example: "Buying: 4 tickets for any Friday or Saturday date.") More details about good practice uses of this thread and additional information from the Grapevine Vintage Railroad (GVRR) and Grapevine Convention & Visitors Bureau are below.

Best uses of this thread and additional information:
- The Grapevine Vintage Railroad (GVRR), which operates the North Pole Express, does not offer direct refunds for tickets purchased, nor offers the ability to "switch" ticketed ride times. For this reason, GVRR does not facilitate direct resell of tickets.
- Persons that have purchased tickets may sell their own tickets to other persons without needing to notify or involve GVRR or North Pole Express of the sell.
- If tickets are resold to another person besides the one that originally purchased the tickets, there is no need to change the original name displayed on the ticket.
- Note that North Pole Express tickets are tiered this year at $34 per person for Touring Class Coach Tickets, $38 per person for First Class Coach Tickets and $5 per child for Lap Child Tickets (12 months and younger only).
- GVRR and North Pole Express request, in the spirit of the holidays, those reselling their tickets to not charge more than face value. However, GVRR and North Pole Express CANNOT control the dollar amount an individual resells their tickets for.
- If you have purchased tickets from an individual, be sure to request they forward you the electronic email confirmation which will include the PDF version of the tickets.
- They may have also received a cellphone text confirmation of the ticket purchase as well (if applicable, ask that they forward the text confirmation, too).
- Please use caution and do not list personal information directly on this thread. Personal information can include email, cell phone number or home address. It is suggested that you "Direct/Private Message" a person you are wanting to purchase tickets from in order to have a private conversation.
- If there is a reason to meet in person as to exchange cash or printed versions of the tickets, it is suggested to meet in a public place. Many police departments have "safe exchange" places now in their lobby or parking lot. Other suggestions include at the front doors of a major retail store (such as Wal-Mart or Target). It is not suggested you give a home address or meet a person at a place that may be secluded.

If you have any questions about any tickets you have purchased from an individual, you may contact the Grapevine Vintage Railroad at +1.817.410.3185.