Cookie Cutter Making Classes
Thursdays, December 10 and 17
4 p.m., 5 p.m., 6 p.m. and 7 p.m.
$60 per session of four people
For larger groups, please call Cody Jolliff, Manager of Heritage Museums & Education Programs, at +1.817.410.3558 or email CJolliff@GrapevineTexasUSA.com.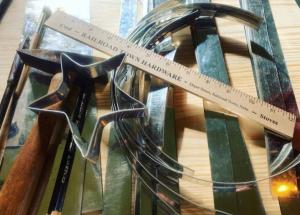 Grapevine Tin Shop at the Bragg House
Inside the North Pole Neighborhood
703 S. Main St.
Grapevine, TX  76051
Join the tinsmiths in a one-hour session crafting your own Christmas cookie cutter inside the Grapevine Tin Shop at the Bragg House. Guests will also enjoy hot cider and cookies. All attending must purchase admission for the session.
Note: Payments at North Pole Neighborhood by credit card only
For more information, please call the Grapevine Visitor Information Center at +1.817.410.3185 or email VisitorInfo@GrapevineTexasUSA.com.

To slow the spread of COVID-19, the City of Grapevine requires all guests ages 10 and up to wear a mask or face covering for the duration of this event. It is also recommended that guests younger than 10 years of age wear a face covering if they are able to.