Parades & Celebrations
It will be a memorable winter wonderland this Christmas in Historic Grapevine, Texas. Grapevine is the essence of holiday décor as the city becomes blanketed with millions of lights, enormous decorations and a whole lot more! With all of this plus great shopping for everyone on your list, Grapevine truly is the "Christmas Capital of Texas."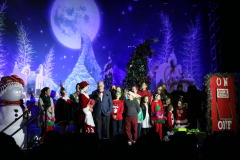 CAROL OF LIGHTS
Historic Downtown Grapevine
Grapevine City Hall
Monday, November 23
4 p.m. - Food and family-friendly activities
5:30 p.m. - Doors for optional reserved seating open
7 p.m. - Street Lighting show begins
Rediscover the magic of Christmas at Grapevine's annual Carol of Lights and lighting of Historic Downtown Main Street! This FREE community event features live performances, dazzling dance numbers, spectacular light shows and breathtaking fireworks that are sure to get the entire family in the Christmas spirit. Show up early and embrace the greatest time of year with family-friendly activities such as sledding down our new snow hill, taking photos with live reindeer, creating seasonal crafts and savoring tasty food vendors, all beginning at 4 p.m. Take advantage of our $5 reserved seating option for the Carol of Lights show, which allows you to enjoy all the food and fun festivities knowing your seats will be waiting for you come show time! Reserved seating for the 7 p.m. show will go on sale at GoGrapevine.com/CarolofLights

For additional information or questions, please call The REC at +1-817-410-3450.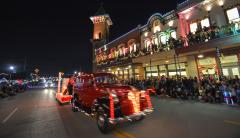 PARADE OF LIGHTS
Historic Downtown Grapevine
Thursday, December 3
7 p.m.
Bring the entire family to the Parade of Lights, the largest lighted Christmas parade in North Texas. This Grapevine tradition features more than 100 lighted floats and marching bands. Look for Santa Claus on the last float! Come early to claim your spot along Historic Main Street to watch this exciting holiday event. This event is free.
The Parade is coordinated by the Grapevine Chamber of Commerce, which also coordinates applications for entries into the parade.
More information, including maps, will be at grapevinechamber.org/events/grapevine-parade-of-lights
TWINKLE LIGHT BOAT PARADE
Lake Grapevine
Date TBA
6 p.m. - 8 p.m.
If you're looking for a different sort of Christmas parade to float your boat, make your way to the Twinkle Light Boat Parade. This is one of the most unique Christmas parades you will ever see! You will find water crafts decorated in all of the finest sparkling lights to celebrate the season. This floating festival begins at Twin Coves Marina and picks up entries at each marina including Scott's Landing and Silver Lake. The parade is visible from Silver Lake Park and Rockledge Park. Parking fees apply. This event is free.