Grapevine Vintage Railroad Excursions
This excursion starts in Downtown Grapevine at the Cotton Belt Depot. Passengers will then ride along the rails on the historic Cotton Belt Route for 30 minutes before returning to the Grapevine Depot. It's perfect for families with small children or those who just want to get the experience of riding on a train. 
Train robbers may also strike on the Tahwahkarro Creek Train Excursion which runs every Saturday through November 20, excluding October 30, departing Grapevine from the Historic Cotton Belt Depot at 11 a.m. Passengers will ride along the historic Cotton Belt Route before returning to Historic Grapevine.
Families with small children may also enjoy a round-trip ride on the Trinity River Train Excursion which originates at the Historic Fort Worth Stockyards and travels along the Cotton Belt Route. The Trinity River Excursion runs every Saturday and Sunday through November 21, excluding October 30, departing at approximately 3 p.m. and returning to the Stockyards at approximately 3:45 p.m. This excursion does not travel to Grapevine.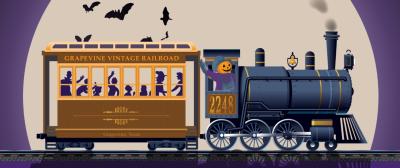 Tickets are still available for the Trick r' Treat Trains on October 30 and the North Pole Express®, presented by Great Wolf Lodge and Trinity Metro TEXRail® running various days between November 26 and December 23.
Ticket prices vary by excursion. Schedules are subject to change. Please check GVRR.com for the most up-to-date information. (705 S. Main St.)
Please note that schedules - including departure times, return time, and days of operation - are tentative and are subject to change based on freight train delays, federal track maintenance, holidays or weather related closures. While the GVRR makes every attempt to adhere to posted schedules, please understand that delays in arrival times or sudden cancellations of a trip are beyond our control.