Location: Main St. and Wall St.
Cost: $5/person
Does not include festival admission.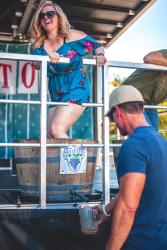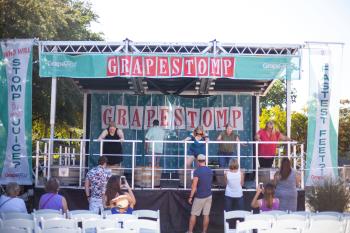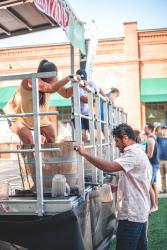 Grab your friends, your significant other, or even your co-workers to squish and stomp at the ever-popular GrapeStomp.
So, just how fast can your feet fly at GrapeStomp? Two-person teams create their own special "I Love Lucy" moment and take turns stomping approximately 18 pounds of grapes for two minutes in authentic wine barrels while. Teams that stomp the most juice in the session are eligible to participate in the Grand Championship StompOff on Sunday. GrapeStomp is great fun for the whole family. Sessions are held throughout the weekend and fill up quickly so get there early to register as tickets are not currently sold in advance.  
Children must be at least 13 years old to compete. Children ages 13 and under can stomp it up for free at the nearby Kids Stomp. The GrapeStomp stage is located near Grapevine City Hall at the intersection of Main and West Wall Street and provides audience seating for your team's cheering section. The GrapeStomp Grand Champions will be awards the highly-coveted Purple Foot Award, created this year by Vetro Glassblowing Studio.