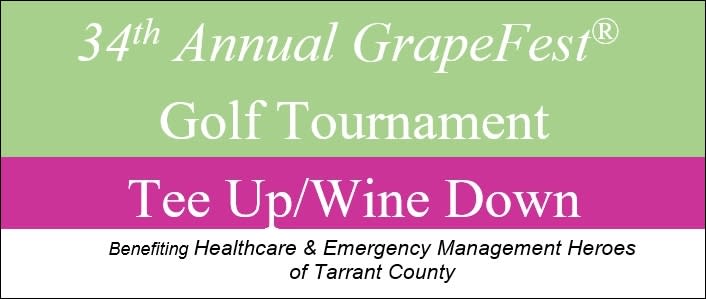 Thursday, September 3, 2020
10:30 a.m. - Check-in
1 p.m. - Shotgun Start
Grapevine Golf Course | 3800 Fairway Dr.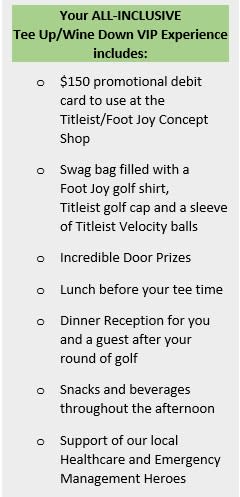 The new and improved GrapeFest® Golf Tournament now boasts a totally fresh look, an all-inclusive VIP golf experience AND a new benefactor! Tee Up/Wine Down is a highly-anticipated event leading into the largest wine festival in the Southwest. This is your opportunity to enjoy Grapevine's renowned hospitality on the golf green.
Tee Up on the beautiful Grapevine Golf Course after being treated to a tasty lunch. Shop the Titleist/Foot Joy Concept Shop with a valuable gift card, courtesy of the GrapeFest Golf Tournament. These high-quality items will be at discounted prices available only in the Concept Shop the day of the tournament. There will also be plenty of snacks and beverages available throughout the afternoon.
After an exhilarating round, Wine Down and celebrate (along with a guest) at a reception followed by a delectably-catered dinner. The Wine Down experience will also include a chance at valuable door prizes. Sink the Putt in grand style and close out the day on an exceptional experience.
AND . . . your experience doesn't begin or end there!  We are proud to be recognizing and extending a heartfelt thanks to Healthcare and Emergency Management Heroes of Tarrant County. You have the opportunity to thank these tireless workers in a number of ways: 
Host a twosome of HEROES to play on your team;
Sponsor a foursome of HEROES;
Sponsor a HERO(ES) for dinner that evening;
Buy an extra gift card or two for a hero to purchase items in the Concept Shop
Sign up below and see a full listing of playing and sponsorship opportunities.
Register early to avoid missing out.
ENTRY FEES: