Thank you for celebrating wine and the golden age of travel with us at the 33rd Annual GrapeFest® - A Texas Wine Experience, presented by the Bank of the West. Be sure to mark your calendars for the 34th Annual GrapeFest on September 17, 18, 19 and 20, 2020. We hope to see you again next year!
ItalianCarFest™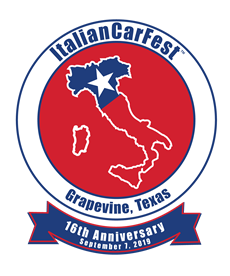 Saturday, September 7, 2019
10 a.m. - 3:30 p.m.
Nash Farm
626 Ball St.
Thanks to all who attended. Hope to see you again next year!

Italian Car Club of North Texas and the Grapevine Convention & Visitors Bureau, present ItalianCarFest 2019, an annual prelude to the 33rd Annual GrapeFest®. This is the premier show of Italian automobiles in the southwest. There will be more than 90 vehicles, from Fiats & Alfa Romeos to Lamborghinis & Ferraris. Admission is free. Guests of all ages are encouraged to attend.
You may also tour the Nash Farm house from 11 a.m. - 1 p.m.
For more information about ItalianCarFest or to see last year's winners, be sure to visit their homepage.
If you would like additional information about becoming a partner for ItalianCarFest, contact:
Abby Morales, Sponsorship Sales Manager, AMorales@GrapevineTexasUSA.com, +1-817-410-3551.