Be sure to mark your calendars for the 34th Annual GrapeFest® - A Texas Wine Experience on September 17, 18, 19 and 20, 2020.
ItalianCarFest™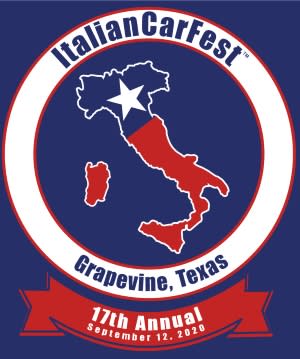 Saturday, September 12, 2020
10 a.m. - 3:30 p.m.
Nash Farm
626 Ball St.

Italian Car Club of North Texas and the Grapevine Convention & Visitors Bureau, present ItalianCarFest 2020, an annual prelude to GrapeFest®. This is the premier show of Italian automobiles in the southwest. There will be more than 90 vehicles, from Fiats & Alfa Romeos to Lamborghinis & Ferraris. Admission is free. Guests of all ages are encouraged to attend.
You may also tour the Nash Farm house from 11 a.m. - 1 p.m.

For more information about ItalianCarFest or to see recent winners, be sure to visit their homepage.
If you would like additional information about becoming a partner for ItalianCarFest, contact:
Abby Morales, Sponsorship Sales Manager, AMorales@GrapevineTexasUSA.com, +1-817-410-3551.