Sorry, but the 32nd Annual GrapeFest® - A Texas Wine Experience, presented by Bank of the West has come and gone! But be sure to save the date for the 33rd Annual GrapeFest® set for September 12, 13, 14 & 15 of 2019!
Thanks to all our guest wineries who appeared at the 32nd Annual GrapeFest®!
Taste some of the finest wines from the Rioja Region of Spain in the Liberty Park Plaza Wine Experience, sponsored by Gaylord Texan Resort.
Tickets:   $12 per person until September 13 at 10 a.m.
                $14 per person after September 13 at 10 a.m.
                Ticket does not include festival admission
Tasting hours are as follows:
Thursday, September 13:  10 a.m. to 10:30 p.m.
Friday, September 14:  10 a.m. to 11:30 p.m.
Saturday, September 15:  10 a.m. to 11:30 p.m.
Sunday, September 16:  Noon to 6 p.m.

ABOUT THE RIOJA REGION OF SPAIN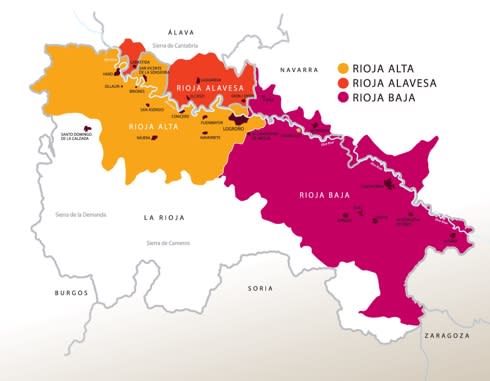 Composed of more than 600 wineries, Rioja can refer to the region or the wine made in that region.  Located in north-central Spain, along the Ebro River, Rioja is about 210 square miles in size and is a one-hour drive southeast of Bilbao. 
The region benefits from the confluence of two distinctly opposed climates, Atlantic and Mediterranean, which provide ideal conditions for growing grapes.  The most commonly used grape in Rioja wines is Tempranillo.  Tempranillo is indigenous to Spain, but most experts would agree that Tempranillo finds its finest expression in the Rioja Region, much like Pinot Noir in Burgundy.  Other grapes commonly used in red winemaking are Garnacha, Graciano, Mazuelo and Matura Tinta, a varietal not grown anywhere else in the world. Common white grapes in Rioja include Viura, Malvasia and even Tempranillo Blanco.   Although the character of Tempranillo is influenced by the conditions in which it's grown, Rioja wines can be elegant and ethereally subtle or powerful and lush.  Across the board, you can expect vibrant red and black fruit accompanied by toasty spice.
Source: Rioja Wine Council
PARTICIPATING WINERIES
Agusti Torelló (AT) Roca
2015 Brut Reserva
Apple, pear and fennel create a balanced soft elegance with persistent bubbles
2015 Rosé Reserva
Balanced and lively, this cava is full of elegant notes of strawberries
Barón de Ley
Rioja Blanco
Fresh and well-balanced with exotic aromas
Rosado
A crisp, refreshing rosé with red-berry fruit and white blossom aromas
Beronia
Rosado
Fresh, well-rounded with intense aromas of red fruit complemented by florals that add finesse
Viura
Intense and fresh with apple and mango fruit aromas
Bodegas Domino de Berzal
2017 Viura
Fresh, fruity and well-balanced with hints of tropical citric fruits blended with apple and pear
2014 Crianza
Ripe red and black berry notes accented by elegant tannins and a good level of acidity
2013 Seleccion Privada
Expressive black fruits balanced by elegant tannins and good acidity
Campo Viejo
2013 Garnacha
A bright and lively red with notes of sweet spices and toast that wrap the fruit
2013 Gran Reserva
Polished tannins blend together with ripe red-berry fruits, smoked wood, spice, minerals and tobacco
2013 Reserva
A balanced, full-bodied red with elegant notes of red berries, wood, clove, pepper and vanilla
2013 Cava Brut Rosé
Bright and rounded with strong flavors of ripe red berries
2013 Cava Brut Reserva
Well-balanced and elegant with complex flavors of white fruits
David Moreno
2016 Rosado
Wild berries and peaches blend with a hint of effervescence for an outstanding freshness
Encomienda de Cervera
2010 4T4 Tempranillos
A delicate full-bodied red blend of ripe red berry, caramel and roast
Marqués de Riscal
Sauvingnon Blanc
Fresh, clean and aromatic with citrus, pineapple and melon
Riscal Proximo
Medium-bodied red with hints of strawberries, red cherries and slight toasted oak finish
Riscal Rueda
A fresh verdejo with aromas of tropical fruit and hints of fennel and fresh grass. Syrupy and smooth.
Martinez Alesanco
bodegasmartinezalesanco.com/en
2013 Reserva
Blackcurrants, blackberries and ripe cherries blend with a touch a vanilla for a lasting richness
Ondalán Bodegas
2014 Ondalán Matured Tempranillo
Structured notes of fruit, earth and biscuit with round and silky tannins
Oxer Old Vines
2013 Iraun
A textured full-bodied white, vanilla and minerals blend with dry apple and hints of orange and lime
Tasting Notes
**Wines subject to change.  Some wines subject to availability due to limited quantities.