Swashbuckler Express
Ahoy, matey!  All aboard the Grapevine Vintage Railroad's Swashbuckler Express, a pirate-themed adventure!
Join us this summer and sail the rails on this one-hour-long train ride, complete with onboard activities. All little buccaneers will receive a special gift and little lads and lassies are encouraged to dress in their pirate best!
The Swashbuckler Express Sails the Rails on Fridays, July 5, 12, 19, 26 & August 2, 9, and 16, 2019
Check-in:  10:45 am & 12:45 pm
Doors close:  11:10 am & 1:10 pm
Departs:  Grapevine 11:15 am & 1:15 pm
Arrives:  Grapevine 12:15 pm and 2:15 pm (time approximate)
Pricing:
First Class:  $14.00
(Coaches are heated and air-conditioned, seats are cushioned.)

Touring Class:  $12.00
(Coaches are open air, seats are wooden benches.)
Passengers 13 months and older must purchase a ticket.  Tickets are non-refundable.

While you're in Grapevine, check out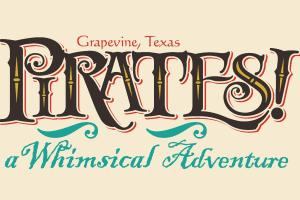 _____________
All tickets purchased are non-refundable. Missed trains will not be refunded.
Minors under the age of 18 must be accompanied by a parent or legal guardian on all Grapevine Vintage Railroad excursions.