If you have already purchased tickets and are arriving for your scheduled departure time, please advance to the "Cotton Belt Depot" (yellow building). Walk-up ticket sales are available at this location for same-day rides. (Note: tickets subject to availability. Some trains do sellout. Walk-up ticket sales close 5 minutes prior to departure time. Click here to purchase tickets online. Please note online ticket sales close at 11:59 p.m. the night prior to the listed ride)
If the Cotton Belt Depot is closed, please cross Main Street to the Grapevine Visitors Information Center, also known as the "Grapevine Vintage Railroad Headquarters". During normal business hours, the center attendants can assist with purchasing tickets or in answering general questions.
Grapevine Cotton Belt Depot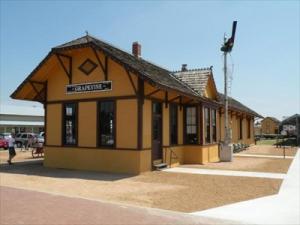 705 S. Main Street
Grapevine, Texas 76051
+1.817.410.3185
Typical Business Hours*
Fri:  10 a.m. - 5 p.m. (Memorial Day through Labor Day)
Sat & Sun:  11 a.m. - 1 p.m.
*(hours subject to vary for holidays,
seasonal events, or special excursions)
Grapevine Vintage Railroad Headquarters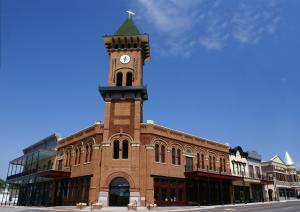 636 S.Main Street
Grapevine, Texas 76051
+1.817.410.3185
Typical Business Hours*:
Mon-Fri:  8 a.m. - 5 p.m.
Sat & Sun:  12 p.m. - 5 p.m.
Sun: Closed
*(hours subject to vary for holidays
or special festivals/events)
CONTACT INFO
Phone: +1.817.410.3185
Email: please fill out the form below, or you may also reach out to us at VisitorInfo@GrapevineTexasUSA.com  Please note that this email is not monitored 24 hours a day. If you have urgent questions - especially regarding a same-day ride - please call us at the number above during normal business hours.  Depending on when you send your message, please allow up to 24 hours for a response.
MEDIA CONTACT INFO
The Grapevine Vintage Railroad welcomes all media inquiries and requests!
Please note that filming for commercial or production purposes is not allowed on the trains without prior consent from the GVRR team.
For media questions or filming requests related to the train, please contact:
Holly Gaddy
Director of Communications
+1.817.410.3195
HGaddy@GrapevineTexasUSA.com
_________________
DONATIONS
The Grapevine Vintage Railroad does accept request for donations, however certain qualifications must be met to be considered. Any donation requests must be made at least a minimum of 45 days prior to your event to allow time for processing and consideration by GVRR.  Any requests made later than 45 days prior to the event may be rejected. Any organization or group requesting a donation must be a 501(c)3 non-profit entity. You may be requested to provide your tax exempt letter from the state to verify your non-profit status.  A group or organization may only make one donation request per calendar year.  Groups/organizations based in the Dallas-Forth Worth metroplex area are given first consideration, however other groups/organizations based in other Texas cities may still make a request.  All donation requests will be reviewed by Grapevine Vintage Railroad staff and Grapevine Convention & Visitors Bureau management personnel to determine approval status. A request may be denied for any reason or without cause.  If you have more questions about the donation process or would like to make a request, please contact Brian Gentry at BGentry@grapevinetexasusa.com
SCHEDULES & REFUNDS POLICY
The Grapevine Vintage Railroad cannot guarantee arrival times due to sharing rails with freight trains and Amtrak. Delays or cancellations may also occur due to TEXRail construction or emergency track maintenance. The GVRR is considered an excursion train and is essentially a guest on the tracks and other railroads get higher priority with the dispatcher. The Grapevine Vintage Railroad does not offer refunds or compensation due to delays. On rare occasions, delays can be an hour or longer.  Refunds will be given due to cancellation.
If you miss the train, please call +1.817.410.3185 to reschedule for a different day based on availability.  Refunds and reschedules are not offered if you miss the return trip from Fort Worth at 4:05 p.m.