Sponsored by Gaylord Texan Resort
Save the date for the 35th Annual Main Street Fest set for May 17, 18, & 19 of 2019!
Thanks to all our guest breweries that appeared in 2018 and brought their delicious craft brews to our Craft Brew Garden!
Note: The information below is for the 2018 festival, and is here only for reference purposes to answer any questions you may have about the festival. New information regarding the 2019 festival will be updated as it is available, so check back starting January of 2019!
Main Street Fest wouldn't be complete without craft brews! And in the Craft Brew Garden sponsored by Gaylord Texan Resort you'll discover a special Craft Brew Experience you won't find anywhere else on the festival grounds!
This unique area features craft brews from across the United States, many of which you can't normally get in Texas - even at a specialty beer and wine store!
Ticket Info At A Glance:
- Tickets $15 each in advance ($18 at festival)
- Access to 75 craft brews from 35 guest breweries*
(*number subject to change - check back for updates)
- Eight individual three-ounce tastings
- Souvenir keepsake tasting glass
Keep scrolling to learn more about the Garden and/or click the bottle caps below to get more in-depth information
Ready to buy? Click the button below!
Sorry, online ticket sales have closed for the 2018 Main Street Fest.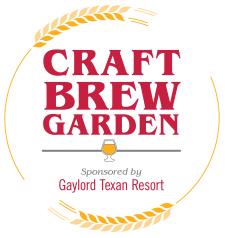 You say: "I'm confused - isn't all of Main Street Fest a Craft Brew Experience? How is this area different?"
The answer is yes - you can experience and purchase craft brews throughout the entire festival grounds.
However, the Craft Brew Garden features an extra level of craft brews, as it is the only place on the festival grounds where you can find these special guest breweries.
"So does my festival ticket grant me entrance to this special area? Do I get beer tastings including with my ticket?"
Yes, and no. While your "general admission" festival ticket does allow you to visit the Craft Brew Garden at no additional charge, if you wish to sample the craft brews you will have to purchase a separate "tasting ticket" which comes with a souvenir glass, eight (8) of 3-ounce tastings from any of the breweries featured in The Garden, as well as access to limited release brews. Craft Brew tastings are not included in your standard "general admission" festival ticket.