Flavors of Harvest Hall
Be the first to meet the faces and savor the flavors of Harvest Hall's seven kitchens, as they'll be featured as food vendors during Main Street Fest! This unique food hall concept in Grapevine Main station opens in late summer and we're excited to welcome them to the Historic District!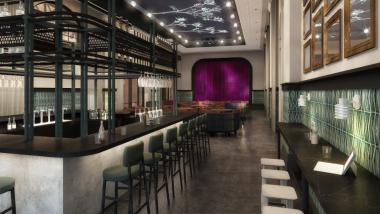 Harvest Hall, a European-style food hall opens in the summer of 2020. Operated by Coury Hospitality and connected to Hotel Vin, Autograph Collection, Harvest Hall is a spacious food and entertainment venue that is a part of Grapevine Main, the $114 million mixed-use development in Grapevine, Texas. Harvest Hall is committed to providing a unique experience for visitors and locals alike by featuring thoughtfully selected restaurateurs who showcase high-quality, chef-driven, specialty foods. Each of the first four restaurants is family-owned-and-operated and focuses on preparing meals that are made from scratch.
Arepa TX – Latin Kitchen specializes in Latin cuisine and artisanal pops. People will find beautiful arepas made from scratch in small batches and prepared to order, in addition to tacos, empanadas and rice bowls. The menu, featuring handmade, gourmet comfort food with a Latin twist, was created by Executive Chef and Partner Mary Ann Allen of the original Arepa TX on Royal Lane in Dallas. She is perhaps best known as the Frugal Chef, a popular online personality who offers insight, tips and humor on budget-friendly, healthful eating.
Chick & Biscuit – Comfort Cuisine pays homage to one of the South's superstar staples, the made-from-scratch biscuit, paired with traditional favorites such as fried chicken, Nashville Hot Chicken, pulled pork and brisket. Dedicated to using the freshest ingredients, Chick & Biscuit honors a timeless tradition with a modern and seasonal approach. Open for breakfast, lunch and dinner, Chick & Biscuit is the newest sibling of Grapevine's very own Mason & Dixie, a famous Southern-style eatery from Owner and Chef Beth Newman.
Four Sisters – A Taste of Vietnam features a unique twist to traditional Vietnamese home-style dishes. Inspired by his mother's passion for cooking while helping her prepare meals for his four sisters growing up in Texas, Owner and Operator Chef Tuan Pham's focus is on cuisine that is full of authentic flavors, including his 18-hour pho broth served over fresh housemade noodles. Chef Pham is a rising star on the Fort Worth culinary scene with his original Four Sisters location receiving numerous accolades in 2019.
Spuntino – Bites of Italy is committed to using the highest quality ingredients to prepare authentic recipes from homemade lasagna and pastas as well as creative regional dishes from Ravenna, Italy. Owners Stefania and Andrea Matteucci are former architects who felt compelled to bring their love of Italian food to the U.S., where they opened their flagship restaurant, Loveria Caffe – Taste of Italy, in Colleyville, Texas. Spuntino, an Italian word meaning 'a bite to eat,' will surely bring big flavors to Harvest Hall guests.
Harvest Hall features seven kitchens, two bars, a live entertainment venue, an entrance to the Observation Tower (150 feet high), and the city of Grapevine's Visitor's Information Center.