DFW Icon Competition
Sorry, but the 34th Annual Main Street Fest has come and gone! But be sure to save the date for the 35th Annual Main Street Fest set for May 17, 18, & 19 of 2019!
CONGRATS TO THE 2018 WINNERS:
Carmen Bell (GRAND CHAMPION) - 15 - Rowlett, TX
Aulona Azemi - 9 - Keller, TX (Age group 7-11)
Elle Read - 12 - Grapevine, TX (Age group 12-14)
Grace Nish - 15 - The Colony, TX (Age group - 15-18)
Davante Thornton - 23 - Hope, AR (Age group - 19-30)
Note: The information below is for the 2018 festival, and is here only for reference purposes to answer any questions you may have about the festival. New information regarding the 2019 festival will be updated as it is available, so check back starting January of 2019!
Hit a Lone Star high note this year at the 5th Annual DFW Icon vocal competition presented by JG Entertainment! Singers between the age of 7 and 30 can take a shot at winning a grand prize performance package including a guaranteed appearance on the Main Stage at GrapeFest!
Register today by clicking the button below or scroll down for more info!
(*DFW Icon registration does not include entry to Main Street Fest. General festival admission also required)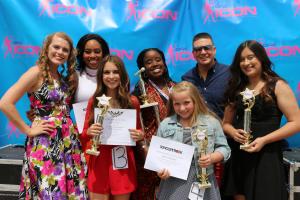 2017 Finalists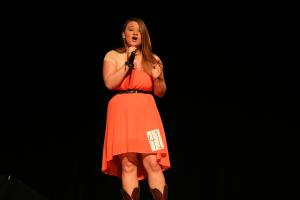 Preliminary Rounds
The Main Stage Finals
As part of the 34th Annual Main Street Fest, presented by Bank of the West, held in Historic Downtown Grapevine May 18, 19 and 20, JG Entertainment will host the 5th Annual DFW ICON vocal competition. At this exciting competition, JG Entertainment expects to find promising talent in hopes of launching the next big star. 
Three former DFW Icon contestants that have honed their skills with JG Entertainment have gone on to make appearances on American Idol and made it to the Hollywood rounds! 28-year-old Kaci Whitby was selected as the "Grand Champion" by judges at the 2017 DFW Icon contest.
CONTEST AT A GLANCE
Ages 7 to 30
May 18 & 19 - Prelim Rounds // May 20 - Finals
Registration fee $40
Cash prizes for first place winners in each age category
$500 cash prize for Grand Prize winner including scholarships to "Hollywood Launch Summer Intensive" and "School of Rock" and chance to perform on Main Stage at 2018 GrapeFest in Grapevine, TX
FAQ
Do I have to buy a gate ticket for Main Street Fest?

A: Yes, all persons attending the DFW Icon performances (including contestants) must purchase a general admission ticket. DFW Icon registration is separate from festival entrance. Click here to purchase your festival tickets!

Is there a deadline? Can I register at the door?

A: You must register online on the DFW Icon website by the early afternoon of May 18 before the preliminary rounds begin (by or before approximately 5 p.m.). Walk-up registrations at the door are not accepted.

Where and when does DFW Icon happen?

A: The anticipated schedule is as follows:

Friday May 18 -- 6 p.m. - 9:30 p.m. (Palace Stage)
Saturday May 19 -- 10 a.m. - 2 p.m. (Palace Stage)
Sunday May 20 (FINALS) -- 12 p.m. - 2:45 p.m. (Main Stage)

Can anyone watch the contest for free? Or is the area closed to entrants only?

​A: Yes, all Main Street Fest attendees are welcome to watch any portions of the contest! You just may see the next superstar on stage! While there is no additional ticket required to access the stage seating area where the contest takes place, all festival attendees will require a general admission ticket to enter the Main Street Fest grounds.

My child advanced to the next round - do I have to buy another day entry ticket?

​A: Yes, any day you plan to enter the Main Street Fest grounds you will require a ticket.

I still have lots more questions - who do I contact?
DFW ICON was created by Dallas native Jonathan George, CEO of JG Entertainment. George currently lives in LA and is responsible for producing some of the biggest young names on Disney, Nickelodeon, MTV, Universal, Sony and more. He is responsible for developing American Idol's Dalton Rapattoni as well as Top 12 Guys Trevor Douglas. George states, "It is exciting to come home to Dallas to find the most promising talent. We are always looking for new and up coming stars. Stars are not born, they are created."
Proceeds from DFW ICON will also benefit Kidd Kraddick's foundation, Kidd's Kids.