Congratulations to the Winners of the 2018 Main Street Fest Open and Mixed Doubles Tournament

Save the date for the 35th Annual Main Street Fest set for May 17, 18, & 19 of 2019!
Note: The information below is for the 2018 festival, and is here only for reference purposes to answer any questions you may have about the festival. New information regarding the 2019 festival will be updated as it is available, so check back in early 2019!
Ready to ace your way to victory?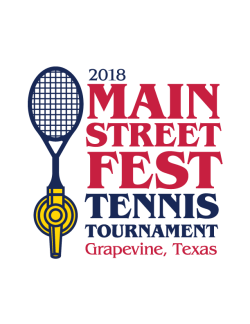 The Main Street Fest Open and Mixed Doubles Tournament, produced by TNT Tennis, is a non-sanctioned tournament featuring both junior and adult events.  The tournament takes place during Main Street Fest, with this year's matches taking place on May 19 and 20, 2018.
All players that enter the tournament also receive a ticket to Main Street Fest, along with a tournament t-shirt!
Think you're the best doubles team in the region? Try your handle at the Mixed Doubles Money Madness and you could walk away with $1,200 cash!
Entry fees are $21 per person for singles, $19 per person for doubles, and $33 per person for the mixed open doubles. Registration deadline is May 16, 2018.  For more details or to register, click here.