June 27 and 28, 2020

Thanks to all who participated! Check out photos from the 2020 event below.

The Main Street Fest Tennis Tournament, produced by TNT Tennis, is a non-sanctioned tournament featuring both junior and adult events. The tournament was held June 27th and 28th at Grapevine High School, Colleyville Heritage High School and Dove Park and included all junior and adult events..
All players that entered the tournament also received a tournament T-shirt!
The Mixed Doubles Money Madness winners received $1,500 cash!
2020 Winners
Open Singles Champion: Zeke Clark
Mixed Doubles Champions: Zeke Clark & Pierce Rollins
Mixed Doubles Runner-Up: Franco Ribero & Parker Wynn

Congrats 2020 Main Street Fest Singles and Mixed Doubles Tournament winners!
From left to right: Stacy Holt (Festival Co-Chair), Zeke Clark (Open Singles Champion​), Gail Holt (Festival Co-Chair)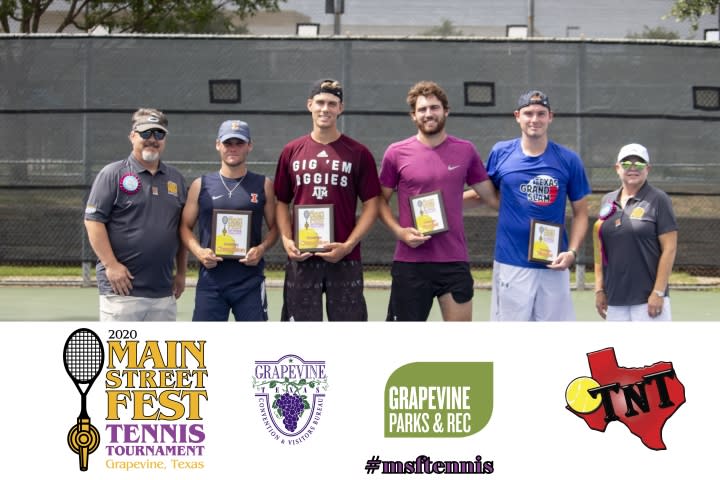 From left to right: Stacy Holt, Zeke Clark & Pierce Rollins (Champions) Franco Ribero & Parker Wynn (Runner-Up), Gail Holt
Hotel Deals