2021 Featured Artists
We're proud to announce the Featured Artists for this year's New Vintage Wine and Gallery Trail, presented by Park Place Dealerships. All of the Featured Artists will be on exhibit at the specified art galleries on Saturday, April 10. Stroll into each gallery and enjoy amazing works of art.
Naomi Brotherton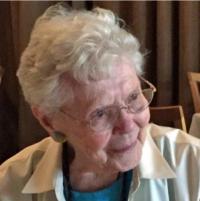 Nationally acclaimed artist, Naomi Brotherton, will showcase her remaining works of art to collectors, designers and Fine Art enthusiasts at Giddens Gallery of Fine Art. Macular degeneration has stopped Brotherton from painting, but her art lives on through her work as she prepares to celebrate her 101 birthday soon! 
What started out as a means by her parents to keep her quiet during church, Brotherton quickly took an interest in drawing, resulting in average grades in school. She sought and achieved her Art Degree at Baylor University and started working in commercial art. Brotherton also attended the Art Students League for a couple of years and painted/exhibited in Carnegie Hall in New York City.
Brotherton's book, "Variations in Watercolor" (co-authored with Lois Marshall), was published by North Light in 1981. Her book was sold through a national art book club resulting in many invitations to teach watercolor with an emphasis on 'times of day' and 'kinds of weather.'  Her work and painting techniques have been included in several other books and magazine articles and she has won numerous awards. Her paintings hang in many public and private collections.
This is a rare opportunity for you. Naomi has authorized the Gallery to offer her remaining work at 50% off on all framed and unframed work. Although you can't go wrong on any painting by Naomi, act now for the best selection.
If you don't live in the area and/or cannot make it into the Gallery, they will be doing digital FaceTime shopping by appointment. Naomi has several paintings that have not been photographed and put on social media. Call the Gallery at 817-488-8600 to set an appointment time.
Donna Palmershiem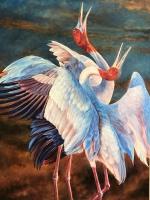 Donna Palmershiem is a self-taught oil painter specializing in birds in a dynamic style. Her background as a graphic artist is reflected in her bold compositions.
Background: Motion Graphics - Hollywood, California
Subjects: Birds, Koi
Style: Realism
Resides: Southlake, Texas
Ann Hardy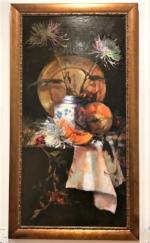 Ann Hardy is a renowned beloved artist in the DFW Metroplex. She embraces life with passion and has painted for 50 years with an emphasis on oil paintings. Hardy's accomplishments in her field are unparalleled and her awards are too numerous to list.  She is also an author.
Background: Lifelong Experience in Painting
Subjects: Landscapes, Still Life, Animals, People
Style: Old Masters Style Realism
Resides: Colleyville, Texas
Mark Hyde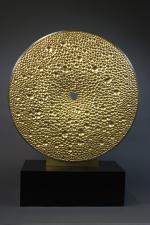 Mark Hyde uses familiar symbols in unfamiliar ways to represent the human condition within the natural world. His aim is to remove the scales from the viewer's eyes and free the mind to wander to a place outside of our current circumstance. A Fort Worth sculptor working in wood, stone and ceramic, Hyde brings his distinct style using wood and, more recently, in stone. The colors of marble, onyx, red travertine, Texas limestone and honeycomb calcite all represent his transition from wood to the hard-honed surfaces of stone.
Background: Furniture Making, Architectural Components
Style: Contemporary
Resides: Fort Worth
Vetro Glassblowing & Fine Art Gallery
David Gappa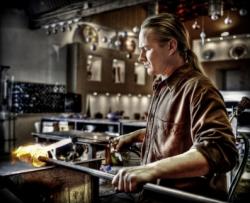 David Gappa has found the passion of his life is working with the shifting energies of molten glass.  Gappa chose glass as an artistic medium for many reasons: the complexity of color and light; the classic beauty of glass; the challenging mental and physical discipline required; and the poetic and seductive nature of molten glass. 
Gappa's work is primarily inspired through sectional glimpses into our surroundings. Objects within a space are equally important as the negative space the objects create, and it is his desire to infuse the viewer into a special realm of transparency and color. As a viewer approaches a glass installation, Gappa craves they are drawn into the vignettes of negative space. He wants the viewer to get lost in the simple complexity of form, shadow and light, or enveloped within the hues of color that only glass can emit.
Grapevine Foundry
Linda Lewis
The Viking of Bronze & Dreams, artist Linda Lewis, is the owner of the Grapevine Foundry. In nine short years, she has sculpted 17 and cast 22 monumental sculptures.