Sip, Seek & Find
Public Art installations line Main Street and we invite you to participate in Sip, Seek & Find as part of your New Vintage Wine and Gallery Trail Art experience.
Sip some wine, browse some art and capture those memories for a shot at an art-inspired prize!

Take a selfie with as many public art pieces on Main Street as you can on Saturday, April 9th.

To be eligible to win, you must post on Instagram using the hashtags #GrapevineTX and #ExpertsInExcellence. Don't forget to tag @VisitGrapevine!
For a list of art pieces and a map, scan the QR code in your passport or at registration. The deadline to post is 11:59 p.m on Saturday, April 9th.
Still have questions? Check out our FAQ section or call us at +1.817.410.3185!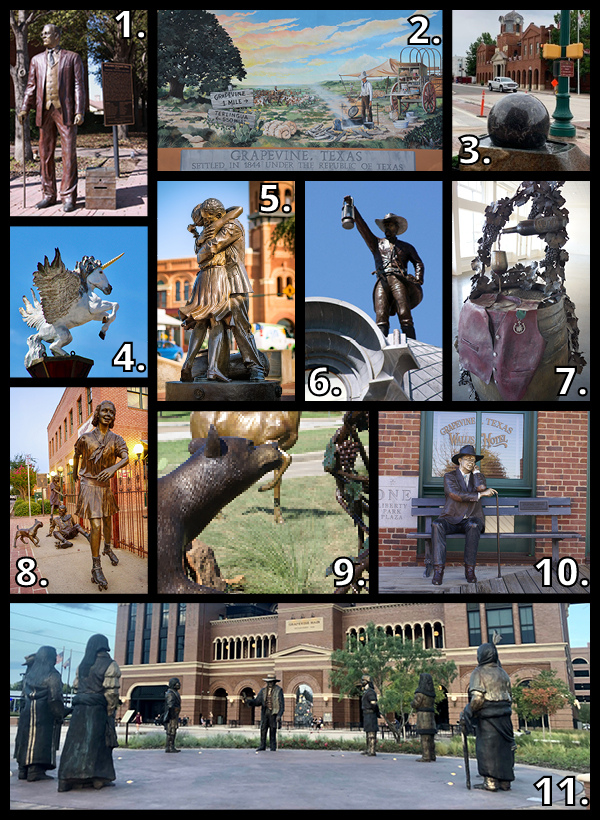 1. Benjamin Richard Wall
Archie St. Clair – 2004
2. Is it Chili Yet?
Stylle Read – 2017
3. Possible
D. Hunt Contracting, LLC, Old Faithful Fountains, Donnie Hunt and Lloyd Krutsinger
4. Imagine – The Flying Unicorn
Linda Lewis – 2015
5. Coming Home
Grapevine Veterans Memorial Artist Michael Paviovsky
6. TheGrapevineNightWatchman
Jack Bryant – 1997
7. Serving Texas Wine One Glass at A Time
Sculptor: Dawn Sharp - 2011
Design: Sonya Terpening - 2010
8. Sunday Skaters
Sculpted by Archie St. Clair, Artist-In-Residence - 2006
9. A Wilderness Welcome
10. Sidewalk Judge
J. Seward Johnson, Jr.
Sited by Sculpture Placements. Washington, D.C.
11. Peace Circle
Linda Lewis - 2021