Sports Watching Hot Spots
For those sports enthusiasts, Grapevine has a lot to offer.  From 81 holes of golf at Grapevine's beautiful courses, to outdoor hike and bike trails, to indoor rock climbing and more, those with an active lifestyle won't be disappointed.
If you left the athletic wear at home but still want to catch the big game, Grapevine offers many different places to watch your favorite team on the big screen.
In fact, many of Grapevine's restaurants have some sort of television that regularly have some sort of game showing.  Be sure to check out our entire restaurant list to discover the right place.
But to help with fulfilling your sports watching needs, here are a few places that are setup with multiple screens for an extra enhanced game viewing experience.  (Click on the restaurant name to find location, phone number and website information)
_______________________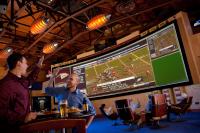 TEXAN STATION
at Gaylord Texan Resort
With an almost 60-foot wide
screen, along with more than
40 more flat-screen TV's
scattered around the
restaurant, this is one
sports watching experience
you won't soon forget.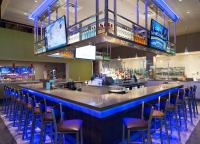 You may think of Main Event
first for bowling, but it also offers
a large bar and dining area
with multiple screens. Plus, there's
screens above every bowling lane
and surround the pool table area.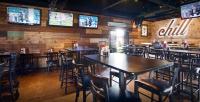 Located right in Historic Downtown
Grapevine on Main Street,
Chill Sports Bar & Grill offers a
view of a flat screen TV from just
about every seat in the house.
Above the bar alone you'll find five
screens usually all showing a
different sports team or game.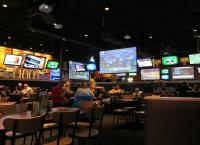 Need a hot wing fix? This
is your place. With more than
a dozen sauce combinations
and more than 30 flat screens
surrounding the seating area,
this is the perfect spot to
watch the big game.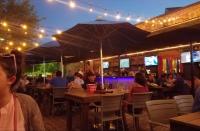 Inside the main dining area of
Flips Patio Grill you'll find a
handful of television, but it's in
the bar area and outdoor patio
where your game watching
experience will be elevated.
On a cool weather day come
early as patio seating will be at
at premium.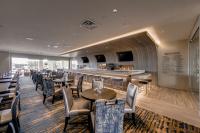 You don't have to be a golfer
to come dine in the upscale
Dallas Cowboys Golf Club
"Legends Bar". Open to the
general public without need
for a tee time, the lounge
offers breakfast and lunch service
and is the perfect spot to watch
an NFL game on Sundays.