Storyland Participating Merchants Map
Click on map for a larger version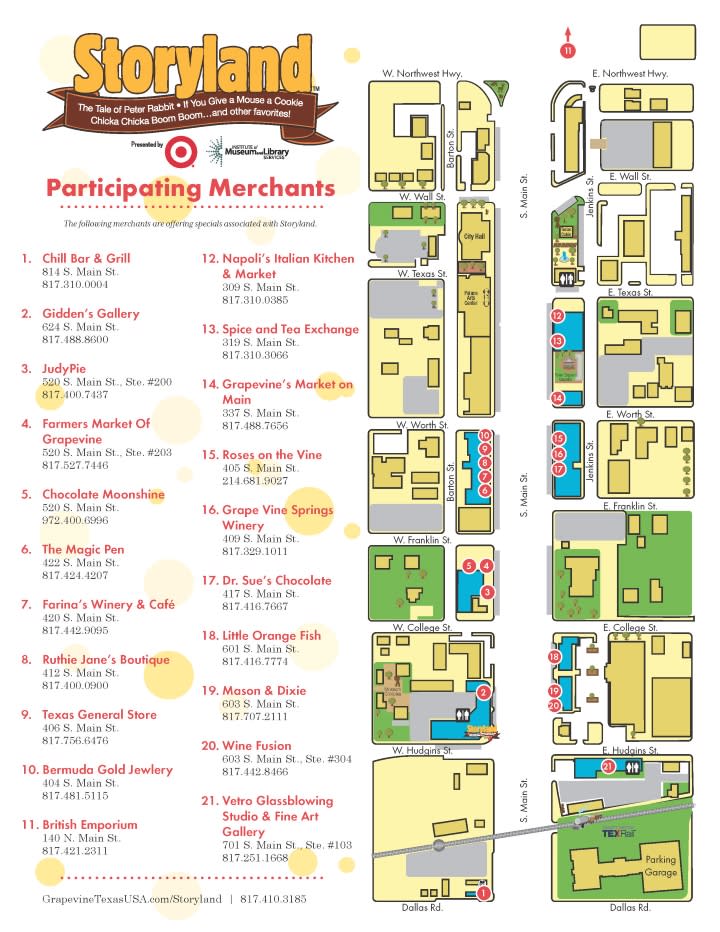 Storyland Merchant Partner Promotions
 
South to North -
West Side
 
Chill Bar & Grill
814 S. Main St.
817.310.0004
Chill Lemonade and Pizza Specials
Gidden's Gallery
624 S. Main St.
817.488.8600
"Mr. Magoo's Ride," inspired by the fictional cartoon character Mr. Magoo, is just one of the fictional characters represented in Jay Garrison's whimsical creations.  Gidden's Gallery of Fine Art in Grapevine has several others of Jay's creations for children and adults to enjoy. Stop by the gallery to excite your children while you view the fine artwork of more than 17 other professional artists.
JudyPie
520 S. Main St., Ste. #200
817.400.7437
Some of JudyPie's favorite children's books are in the shop. "Piggie Pie," "Goodnight Moon" and "The Velveteen Rabbit" round out JudyPie's favorites. Enjoy a special "Piggie Pie" kids' pie.
Farmers Market Of Grapevine
520 S. Main St., Ste. #203
817.527.7446
Offering special peach ice cream for "James and the Giant Peach!"  $4.99 for 8 oz.
Chocolate Moonshine
520 S. Main St.
972.400.6996
Offering flavors of fudge - Cotton Candy: Rainbow Fish; Blue Raspberry/Strawberry/White Chocolate: Captain America; Maple Bacon: Three little Pigs - and flavored chocolate bars - Orange Bourbon: Tiger from "Winnie-the-Pooh;" Piña Colada: Winnie the Pooh; Pink Champagne: Piglet.
The Magic Pen
422 S. Main St.
817.424.4207
Stop by The Magic Pen to pick up their children's line of fun note cards, book marks and a pencil to write your story about visiting Grapevine. Customizeable notecards can be created while you browse the store. Other notecards will read: "Tell your story Down on Main Street." The Magic Pen can do customize invitations and stationery, too!
Farina's Winery & Café
420 S. Main St.
817.442.9095
10% off if you mention Storyland
Ruthie Jane's Boutique
412 S. Main St.
817.400.0900
"Old MacDonald Had A Farm" theme. Farm animal figurines for sale.
Texas General Store
406 S. Main St.
817.756.6476
20% off Grapevine notebooks, journals, Texas coloring books and book marks. Free postcard with purchase.
Bermuda Gold Jewelry
404 S. Main St.
817.481.5115
20% discount if you mention Storyland
 
 
 
 
North to South -
East Side
 
British Emporium
140 N. Main St.
817.421.2311
English Books and Cook Books
Napoli's Italian Kitchen & Market
309 S. Main St.
817.310.0385
Storyland cookies for sale
Spice and Tea Exchange
319 S. Main St.
817.310.3066
Featuring a "Sleeping Beauty" theme. "Beauty Rest" teas and various flowers and herbs for teas to relax can be found throughout the store, as well as flavored sugars for baking cookies, cakes, etc. that are fun, too. "Sleeping Beauty" themed products are 10% off. Before entering the store, enjoy their decorative window display with cool elements from the book, then once you're inside, don't miss the themed display with their products.
Grapevine's Market on Main
337 S. Main St.
817.488.7656
Character Finger Puppets for sale.
Roses on the Vine
405 S. Main St.
817.310.0065
Scholastic pop-up story books, activity books for car rides, and charator pillows, all located in the kid corner of the shop. 
Grape Vine Springs Winery
409 S. Main St.
817.329.1011
Featuring Blueberry Bandito and beloved children's book "Blueberries for Sal" by Robert McCloskey.
Dr. Sue's Chocolate
417 S. Main St.
817.527.4424
Storyland chocolate molds 
Little Orange Fish
601 S. Main St.
817.416.7774
Offering an assortment of fairy tale inspired clothing in sizes newborn through 10 years, as well as various gifts, games, and children's books.
Mason & Dixie
603 S. Main St.
817.707.2111
Featurring "Monster's Lunch Box" by Marc Brown and boxed kids meal lunches as a special this summer.
Wine Fusion
603 S. Main St., Ste. #304
817.442.8466
Based upon the children's book "Lemons," by Melissa Savage, Wine Fustion is offering it's new Lemon Carlota dessert at 30% off this summer.
Vetro Glassblowing Studio & Fine Art Gallery
701 S. Main St., Ste. #103
817.251.1668
Vetro Glassblowing has chosen the book "Elmer the Patchwork Elephant" by David McKee because it is David Gappa's son's favorite book! Vetro created glass elephants that are available for purchase in our gallery. Gappa has one at his house and it sits right next to them when he is reading this book to his son! 
 
 
 
 
Other Locations
 
Grapevine Public Library
701 S. Main St., Ste. #103
817.251.1668
"Imagine Your Story" is the theme of the Grapevine Public Library's summer programming.