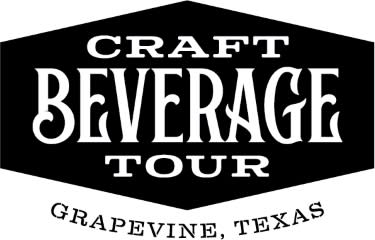 Free to participate but you must purchase the craft beverages at the local establishments.
Sip, Sip, Horray!
The Grapevine Craft Beverage Tour is an opportunity for locals and visitors to discover Grapevine's local craft beverage scene! This includes fine Texas wines, craft brews, handcrafted ciders, locally-brewed coffees, craft sodas and so much more. Become a Grapevine Connoisseur by completing your Craft Beverage Tour Passport and get a free t-shirt!
How Does it Work?
Pick up a Passport at the Grapevine Visitor Information Center (815 S. Main St.) or any participating location.
Grab some friends and enjoy a beverage at any (or all) of the participating locations.
Ask your server to initial or stamp your Grapevine Craft Beverage Tour Passport.
Become a "Grapevine Connoisseur" by visiting a minimum of nine participating locations.
Turn in your Passport with a minimum of nine stickers, inside the Grapevine Visitor Information Center and complete a survey to receive your exclusive Grapevine Craft Beverage Tour t-shirt (while supplies last) and brag about your new favorite spots!
Don't forget to tag your pictures with @VisitGrapevine and #VisitGrapevine to be featured on our social media channels.
Locations:

 = Pet-Friendly Locations 
Don't leave your pet behind!  Bring your furry friend along to these establishments that offer patio seating. 
Winery Tasting Rooms
Breweries
Coffee Shops
Craft Sodas
Rocket Fizz (317 S. Main St.)  Pets are welcome inside the store.
Make it an overnight stay with one of our many hotels!
Bringing your furry friend along for the ride? See our pet-friendly hotels.