Harvest Hall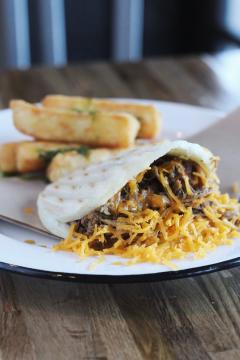 Harvest Hall is a 20,000-square-foot food and entertainment destination located at the crossroads of Main Street and Dallas Road. Situated at the gateway to historic Grapevine, the food hall will feature seven different chef-driven kitchens, craft coffee and cocktails, as well as an intimate venue for public and private events.
A reflection of Grapevine's vibrant energy and character, Harvest Hall brings people together through shared and elevated experiences, and in addition to gourmet offerings, includes frequent events including live music, comedy nights, special food, and beverage pairings as well as DJs and live sports broadcasts. 
Harvest Hall provides guests the opportunity to select their preferred ambiance within one unified concept. In total, Harvest Hall offers indoor and outdoor seating for approximately 500 people and is divided into three separate yet complementary areas – North Hall, Great Hall and South Hall.
NORTH HALL: Looking out over Grapevine's train station, the North Hall features three kitchens, large panoramic windows, and an inviting patio area.
 
GREAT HALL:  The Great Hall features unique art installations, as well as four kitchens, a main bar, and the Visitor Information desk for the city of Grapevine.
 
SOUTH HALL: An intimate space ideal for a business lunch, work session or lounging during the day. At night the South Hall transforms into a hip and inviting space for live music, food pairings, private events, and much more.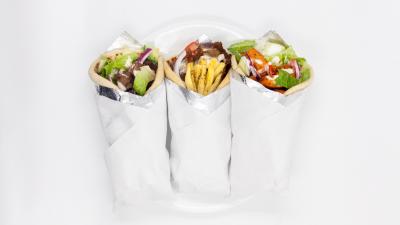 Harvest Hall Kitchens
Harvest Hall offers all-day dining for breakfast, lunch, and dinner seven days a week.
Main Line Coffee Bar
Daily, 6:30 a.m.-Close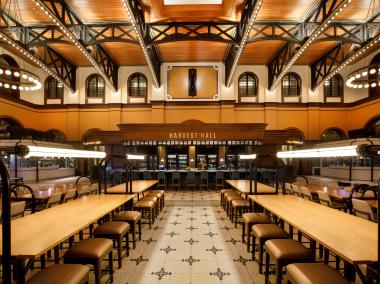 Harvest Hall Hours
Monday: 11 a.m.-9 p.m.
Tuesday: 11 a.m.-9 p.m.
Wednesday: 11 a.m.-9 p.m.
Thursday: 11 a.m.-9 p.m.
Friday: 11 a.m.-11 p.m.
Saturday: 11 a.m.-11 p.m.
Sunday - 11 a.m.-9 p.m.
Harvest Hall is the perfect intimate gathering spot to grab a meal or drink, hold a private meeting, catch some live music, meet with friends or connect with new acquaintances. 
Harvest Hall is connected to Hotel Vin, and both are a part of Grapevine Main, a $114-million-dollar transit-oriented development, which also features a 552-space parking garage and a 38,000-square-foot expansive outdoor plaza which will be large enough to accommodate 3,500 guests, yet intimate enough for small groups.
For more information visit HarvestHall.com.