Vintage, Cowboys & Culture
Day 1 - Arrival
Your tour starts upon your arrival into Grapevine, centrally located between Dallas and Fort Worth and host of the Dallas Fort Worth International (DFW) Airport.

Tonight, enjoy dinner at one of our local restaurants in Historic Downtown Grapevine or attend the Texas Star Dinner Theater for their murder mystery dinner theater (Friday & Saturday evenings).

After dinner, feel free to enjoy the live musical entertainment available along Main Street in Grapevine's winery tasting rooms and restaurants.  You'll find everything from country to classic rock, jazz to singer-songwriters.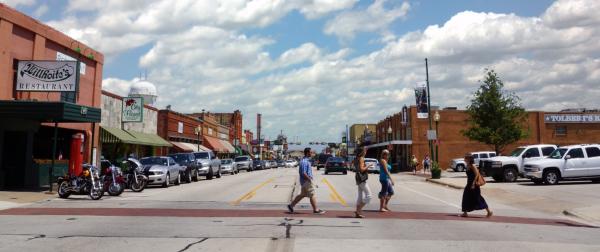 Day 2 - Grapevine
Visit the Settlement to City Museums, which tell the story of Grapevine's history.

Be sure to make your way across the street to the Cotton Belt Railroad Historic District, to view the Grapevine Glockenspiel, featuring the "Would-Be Train Robbers" each day at 10 a.m., Noon, 2 p.m., 4 p.m., 6 p.m., & 8 p.m. in the Grapevine Visitor Center's clock tower.

While in the Cotton Belt Historic District, be sure to experience a live artisan demonstration at Vetro Glassblowing Studio & Gallery, The Grapevine Foundry or Millican Blacksmith Shop.

Shop and sightsee in beautifully restored ca. 1900 buildings in Historic Downtown Grapevine, listed on the National Register of Historic Places.  Unique boutiques offer treasures and one-of-a-kind finds.

Enjoy public art like the "Coming Home," "The Sidewalk Judge," "Night Watchman" and "Sunday Skaters" that celebrate characters and events that shaped Grapevine's spirit!

Lunch should be enjoyed at any one of a variety of family-owned eateries in the Historic District.

Follow the Grapevine Urban Wine Trail!  Tour a number of winery tasting rooms and learn about grape growing and winemaking in Texas as you savor the flavor of Texas wines!

Enjoy dinner at one of Grapevine's local winery tasting rooms, including Wine Fusion Winery or Sloan & Williams Winery, or one of our popular Texas steakhouses, including Bob's Steak & Chop House or Perry's Steakhouse.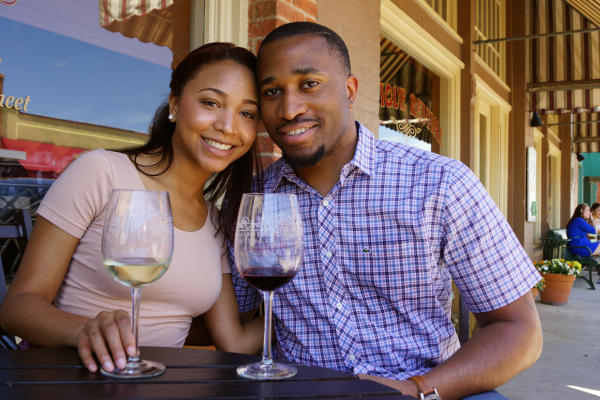 Day 3 - Fort Worth
Widely considered the "Museum Capital of the Southwest," Fort Worth is a must-see for the art and architecture crowd.  In the cultural district, you'll find many sensational Fort Worth museums within easy walking distance of one another — including the Kimbell Art Museum, Modern Art Museum of Fort Worth, Fort Worth Museum of Science and History, Amon Carter Museum and National Cowgirl Museum & Hall of Fame.

Lunch can be enjoyed at the Modern Art Museum of Fort Worth or head on into the Stockyards National Historic District for some good old Texas Barbeque!

Explore the Texas Cowboy Hall of Fame, western shops and local saloons while in the Stockyards National Historic District.

View the live cattle drive, which takes place twice daily along Exchange Avenue.

This evening, enjoy dinner at one of the Stockyard's area steakhouses, or the famous Joe T. Garcia's Mexican Restaurant right up the road.

After dinner, attend the Stockyards Championship Rodeo (Friday & Saturday evenings only) or head on over to Billy Bob's Texas, "The World's Largest Honky-Tonk."
Day 4 - Dallas
Start your morning with a tour of the Sixth Floor Museum at Dealey Plaza, which allows you to view all perspectives of the events surrounding the assassination of President John F. Kennedy.

Take a break at Pioneer Plaza featuring the world's largest bronze monument - 40 longhorn steers being driven by three cowboys on horseback - on a 4.2 acre landscaped area.

Be sure to visit Dallas' Art District, home to more than 160 museums, galleries and artistic attractions making their arts district one of the largest in the United States.

Tour Southfork Ranch, famous for its representation in the TV show Dallas before departing for Abilene (approximately a three-hour drive).
Day 5 - Abilene
Visit Frontier Texas! in downtown Abilene, where visitors relive the Old West with the help of state-of-the-art technology. Here, visitors experience the Texas frontier from 1780 - 1880, as they "meet" cowboys, soldiers, Indians, and others who lived and died on the Texas frontier.

Tour the Grace Museum, a combined children's, art and history museum.

Visit nearby Buffalo Gap Historic Village, where Texas heritage is preserved through storytelling. The village interprets the history of the area from the 1870s to the 1920s.

Tour the Buffalo Gap Fine Arts Center to enjoy or purchase works by local artists.

This evening, depart for Lubbock (approximately a three-hour drive).
Day 6 - Lubbock
The story of Panhandle ranching is told at the National Ranching Heritage Center. In addition to the 19-acre historical park, the NRHC has 42 life-size bronze outdoor art pieces and a 44,000-sq. ft. museum with seven galleries featuring permanent as well as temporary exhibits of art, photography and artifacts that capture historic and contemporary Western life.

Visit the American Windmill Museum to see how windmills helped tame the West. More than 120 windmills tell their story from the 1800s to the present.

Visit the Bayer Museum of Agriculture, which displays machinery and artifacts dating back to pioneer days including a variety of tractors and horse-drawn equipment.

Celebrate the life and achievements of Lubbock's favorite son at the Buddy Holly Center. Visitors can see items donated by family and friends of the famous musician, such as his guitar and his famous glasses.

Visit the Silent Wings Museum which presents the story of the U.S. Combat Glider Program and its role in World War II.

Savor the flavor of one of Lubbock's award-winning wineries with a tour and tasting at one of their many wineries, including Llano Estacado Winery and Pheasant Ridge Winery.
Day 7 - Departure
Continue your tour west, or make your way back to Grapevine for departures from DFW Airport.
Happy Trails from the Great State of Texas!