Grapevines & Rosebushes
Grapevine & Tyler, Texas
Day 1 - Tyler
Upon arriving in Tyler, Texas plan on visiting the 1859 Goodman-LeGrand House & Museum, a Texas Historic Landmark listed on the National Register of Historic Places.
 
Visit the American Freedom Museum, featuring a Hall of Presidents and Hall of American Freedom that documents our nation's military from the American Revolution to the sands of Iraq.
 
Enjoy a tour and tasting at the beautiful Kiepersol Winery and Distillery, located just a short drive outside Tyler.
 
Dinner tonight can be at the Potpourri House, a unique restaurant with varying fare from light meals to heavy dinners.  Here you will find an upscale gift shop and clothing store, with a variety of specialty and local items available.
 
A second dinner option is FD's Grill House, a contemporary American Restaurant, known for using fresh ingredients and their great pricing; a favorite with visitors and locals alike. The menu offers a very good selection, including steak, seafood and comfort foods.
Day 2 – Tyler / Grapevine
Start the day off with a visit to the Historic Tyler Municipal Rose Garden and Tyler Botanical Garden (located inside the Rose Garden).  The Tyler Municipal Rose Garden was recently placed on the National Register of Historic Places (it's rare for a Garden to be listed on the Register)
 
Visit the Tyler Rose Museum, located in the Rose Garden Center to learn about the history of the Texas Rose Festival, which began in 1933. See costumes, crowns and other memorabilia from Rose Festivals past. You will also get a glimpse into the history of the rose growing industry.
 
After a visit to the Rose Garden & Museum, take a short trip outside Tyler to enjoy a tour of the historic Roseland Plantation. This fantastic antebellum home and plantation is a real local treasure, which includes a Greek Revival style home (The Hambrick House), log cabin and quaint Antique Shop, housing amazing pieces of art, for your viewing at the end of the tour.
 
This afternoon, you will depart for Grapevine (120 miles – approximately a two-hour drive).  Upon arriving in Grapevine, enjoy a welcome reception at Historic Nash Farm, where you can learn about early life on the Grapevine prairie.
   
Tonight, enjoy dinner at Farina's Winery & Café in Historic Downtown Grapevine featuring an expansive menu ranging from artisan cheese, starters, soups, salads, sandwiches, pizzas, pastas and steaks, as well as fantastic wines!  Be sure to check out the beautiful grape cluster chandelier in the main dining room.
 
After dinner, feel free to enjoy the live musical entertainment available along Main Street in Grapevine's winery tasting rooms and restaurants.  You'll find everything from country to classic rock, jazz to singer-songwriters.
Day 3 – Grapevine
Make your first stop the Grapevine Visitor Information Center, and even visit the Settlement to City Museums, providing an insight into the history of Grapevine.

Across the street in Grapevine's Cotton Belt Railroad Historic District, you will find Grapevine's working artisans demonstrating their skills of pottery making, canvas painting, glassblowing, bronze sculpting and blacksmithing.
 
Experience the Grapevine Glockenspiel, the only one in North America, featuring the "Would-Be Train Robbers" Nat Barrett and Willy Majors.  Watch an exciting interaction between the larger-than-life mechanical figures as they emerge from the clock tower every day at 10 a.m., Noon, 2 p.m., 4 p.m., 6 p.m. and 8 p.m.
 
Take a ride 150-feet up in the newly opened Grapevine Main Observation Tower at and take in the magnificent 360-degree view including Lake Grapevine, Downtown Dallas and Fort Worth.  While at Grapevine Main, enjoy lunch at Harvest Hall, featuring seven different local kitchens.
 
Shop and sightsee in beautifully restored ca. 1900 buildings in Historic Downtown Grapevine, listed on the National Register of Historic Places.  Unique boutiques offer treasures and one-of-a-kind finds.
 
Follow the Grapevine Urban Wine Trail!  Tour a number of winery tasting rooms and learn about grape growing and winemaking in Texas as you savor the flavor of Texas wines.
 
This evening, take in a show at the Texas Star Dinner Theater located on Main Street where you will enjoy an unforgettable evening of fun with a great meal and a hysterical, award-winning, murder mystery (Friday & Saturday evenings only).  Or select from any of Grapevine's locally-owned restaurants in Historic Downtown Grapevine.
Day 4 - Grapevine
Start your day with mega-shopping at Grapevine Mills. Grapevine Mills offers "shoppertainment" with 180 stores, amusement centers and themed restaurants.
 
This afternoon, ride the rails of nostalgia when you experience the Grapevine Vintage Railroad.  The train operates a seasonal schedule including a round trip excursion from Historic Grapevine to the Historic Fort Worth Stockyards (Saturdays & Sundays only).  TEXRail also offers a daily schedule from Grapevine to Fort Worth.
  
In the Fort Worth Stockyards, see Texas Longhorn Cattle, shop Stockyards Station and visit the Texas Cowboy Hall of Fame before your return trip to Grapevine.
 
Dinner tonight may be arranged at a variety of Grapevine restaurants.  After dinner, enjoy from a wide selection of live entertainment at restaurants and winery tasting rooms along Main Street.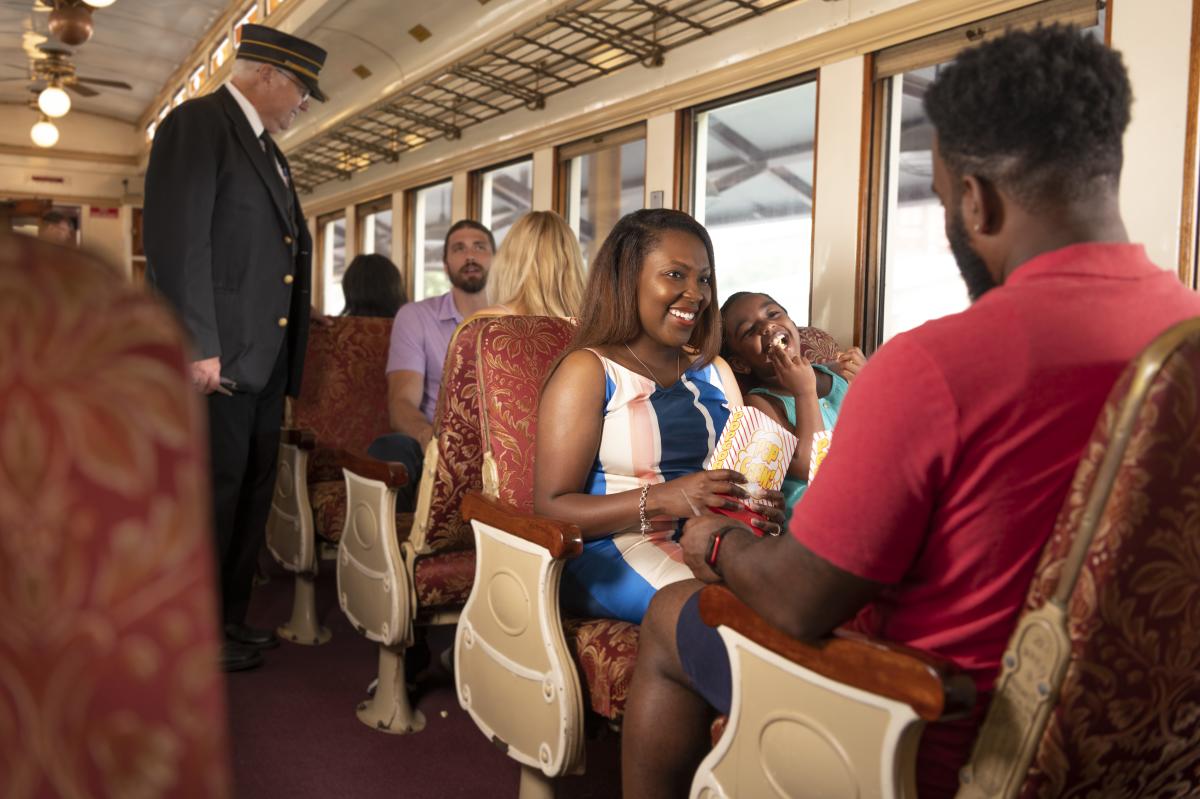 Day 5
*For gamers, Shreveport is located one-hour west of Tyler and Winstar is located one-hour north of Grapevine.  Both can easily be added to itinerary.