Membership
As a member of the Grapevine Heritage Foundation, you will be part of a group of individuals dedicated to protecting the heritage of the Grapevine community. Members are an active part of keeping the city's history alive. Being a member of the Grapevine Heritage Foundation allows you and your family the opportunity to build relationships with other families, neighbors, and groups. It is an exciting time to be part of the Grapevine community by volunteering and fostering the city's unique culture and heritage.
The Grapevine Heritage Foundation relies on the support of its members to help continue the preservation of Grapevine's award-winning historical sites, educational outreach and free family events such as Spring Into Nash and Fall Round-Up. The Grapevine Heritage Foundation was incorporated by the State of Texas in 1991 and operates as part of the Grapevine Convention & Visitors Bureau.
Grapevine Heritage Foundation events at Nash Farm during the past year included: First Fridays, Spring Break Farm Life week, Spring-into-Nash, Spring Farm-to-Fork Fundraiser Ice Cream Social, Dairy Day, Nash Farm Harvest Moon Supper, Fall Round-Up, Barn Dance, Bewitched by the Barn, Christmas Parlor Sociable, Farmstead Christmas Celebration, Victorian Christmas Tours, Home School Days Week,  and more. We encourage you to join us this year in the fun of learning and exploring these and other Nash Farm activities.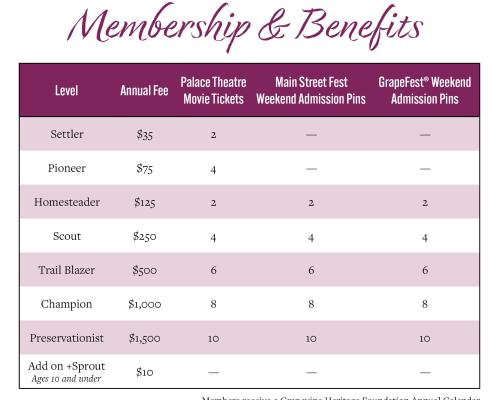 If you would like to download the application and mail it in, click here. Otherwise, please complete the electronic application below:
The Grapevine Heritage Foundation is a 501(c)(3) organization and your contribution is tax-deductible. All membership fees are nonrefundable, nontransferable and subject to change. If paying by check, please make it payable to: Grapevine Heritage Foundation.