October 1-17, 2020
Tower Gallery | Grapevine Convention & Visitors Bureau
Theme: Spirit of the Monarch
 

Monarch butterflies have often been considered messengers of inspiration, beauty and the power of transformation. This fall Butterfly Flutterby will celebrate the "Spirit of the Monarch" with a special monarch-themed exhibit, virtual art and costume contests and live stream versions of the always popular live butterfly releases.
 

2020 WINNERS
Kindergarten – First Grade
1st Place - Liam Ashmead
2nd Place - Moises Hernandez
3rd Place - Aurora Morgan
GRAND PRIZE - Tanisha Mallick
Honorable Mentions: Adhitre Balaji | Cade 'Parker' Bass Jr. | Angela Chen | Bradley Green | Elena Nambo | Clara Scott
Second – Third Grade
1st Place - Kavin Jain
2nd Place - Ava Green
3rd Place - Reed Daniel
​GRAND PRIZE - Isabel Reid
Honorable Mentions: Victoria Chacon | Jax Clary | Clarissa Corr | Mackenzie Gutierrez | Sadie Halvorson | Kitty Terry
Fourth – Fifth Grade
1st Place - Sophie Reyna
2nd Place - McKenna Smith
3rd Place - Isaac
​GRAND PRIZE - Zaina Ali
Honorable Mentions: Anita De Bod | Joleen Bolden | Kinlee Cox | Ruby Miller | Ariana Valliani | Amy Wang

Ages 0-2
1st Place - Violet Cross
Ages 3-5
1st Place - Lulu Foltz
2nd Place - Adalynn Kmetz
3rd Place - Willow Morgan
Ages 6-12
1st Place - Brisbane Myers
2nd Place - Eppie Foltz
3rd Place - Aurora Morgan
Honorable Mention: Allison Keith
Pets
1st Place - Jewel, Diamond and Smores
2nd Place - Daphne
3rd Place - Shamsee
Honorable Mentions: Agustus 'Gussie' Foltz | Dakota and Diesel | Olivia Hodges | Sunny the Cat-erpillar

•October 1–17
     Tower Gallery | 636 S. Main St.
• Live Butterfly Display
     October 2–4, 9–11 and 14–16
• Monarch Butterfly Facts
• Preserved Butterfly Display
• Educational Science Activities
• Plants & Habitat
• Life Cycle of the Monarch
• Monarch Waystations
• Interactive Butterfly Activities
• Photo Opportunities
• Grapevine Garden Club

 


Saturday, October 17 at 11 a.m.
Join us for a live stream featuring the Mayor's Monarch Pledge, educational videos promoting monarch conservation, announcement of art and costume contest winners and the final butterfly release. Live on the GrapevineTX Facebook page.
In conjunction with: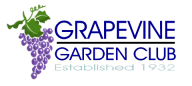 Read the full Monarch Pledge below!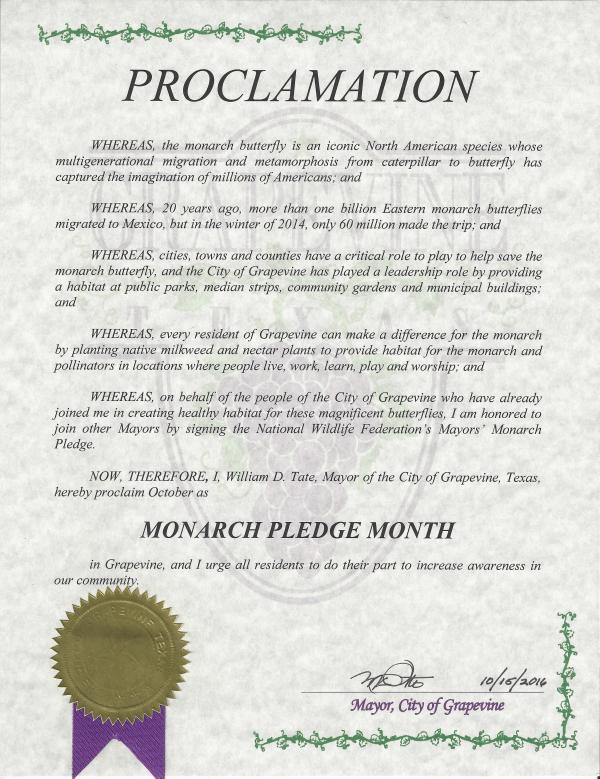 Grapevine's Hidden Treasures