Art Gallery
Palace Arts Center
300 S. Main St. 

On the beautiful brick interior walls of the Lancaster Theatre, visitors can find an ever-changing variety of beautiful works of art in media ranging from photography to paintings to sculpture. Many of the works on display are available for purchase. The gallery features the work of local and regional artists on a bimonthly rotation.
ARTIST SHOWCASE
Charice Cooper
Website: charicecooper.com
Facebook:     facebook.com/ChairceCooperFineArt
Instagram:  @charice_art
ABOUT THE ARTIST
A Texas girl, I was born in the Dallas/Fort Worth area.  I was raised in a very musical and artistic family where creativity was encouraged and well nurtured.  While I enjoyed music and dance, animals and art were my deepest passions.  With a menagerie of pets of my own, it was only natural for me to combine my obsessions and I spent countless hours devoted to both.  This love and appreciation for animals and art are still tightly and beautifully intertwined, with one fueling the other.  Whether it's a beloved companion or seagulls floating above the shoreline of a favorite vacation spot, memorializing that emotional connection for others is very gratifying.  
Despite my upbringing, I found myself in the corporate world for many years.  My paint brushes sat untouched in their holder as I battled the rigors of the corporate arena.  As the stress mounted, I began to seek refuge in my art.  Turning to my art for relief would also turn the page to a brand new and exciting chapter of my life.  A year after picking up the brushes again, I left my full time job in 2000 at a financial institution to become a full time artist.  
Murals were the initial staple of my business.   As the diversity of my client's requests expanded, so did my repertoire.  I covered the mural gamut designing uniquely beautiful works of art in homes and businesses alike.  While I have since transitioned my time from atop the ladder to behind the easel, I continue to paint an endless array of subjects on canvas for my clients.  Left to my own devices however, I always gravitate back to painting what is near and dear to my heart, animals.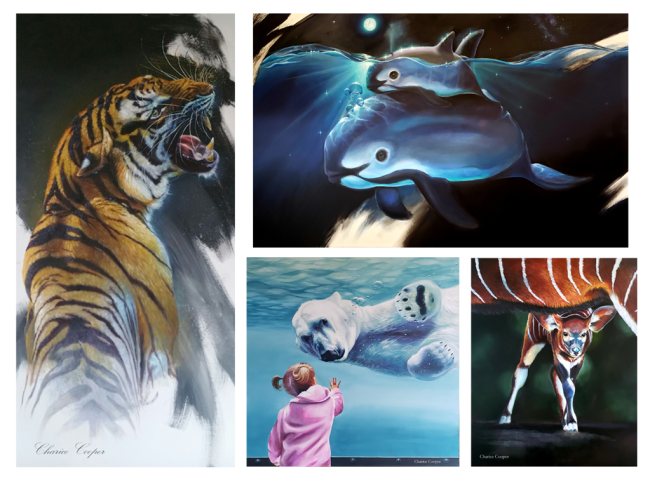 Art Exhibit Viewing Times: Monday - Friday 9 a.m. - 5 p.m. and during other special events.