Art Gallery
Palace Arts Center
300 S. Main St. 

On the beautiful brick interior walls of the Lancaster Theatre, visitors can find an ever-changing variety of beautiful works of art in media ranging from photography to paintings to sculpture. Many of the works on display are available for purchase. The gallery features the work of local and regional artists on a bimonthly rotation.
JULY - AUGUST ARTIST SHOWCASE
ABOUT THE ARTISTS
"It's Pink Not Purple" is a collaboration of three artists, painting mostly in triptychs. Each canvas represents their individual and unique style but comes together to form one painting. All three are self-taught artists who share an interest in expressing themselves through their paintings. They met at an art class 15 years ago and a few years later "It's Pink Not Purple" was created. Their art has been displayed and sold at various art events round the Metroplex, (i.e Grapevine, Southlake, McKinney, Galveston and Bryan, TX) . They are also members of the Grapevine Art Project. 
Sylvia Stehsel 
Sylvia is a native Texan and has lived in the DFW area for over 25 years. She has a Bachelor of Science and ended her career in audit to pursue a lifelong dream of becoming an artist, proving that it's never too late to rekindle your passion. Fascinated by texture and color, she considers herself an eclectic artist.
Yvonne Gambino 
Yvonne was born in Berlin, Germany and currently resides in Flower Mound, Texas. She graduated with a Bachelor in Liberal Arts from the University of Northridge in California.  Her source of inspirations comes from her enjoyment of nature, as well as her travels throughout Europe and the United States. 
Beatrix Krell 
Beatrix was born in Germany where she graduated as a registered nurse and immigrated to the United States in 1991. After spending several years in Florida, Pennsylvania and New Jersey Beatrix moved to Flower Mound, TX in 2001, where she still resides. Beatrix was interested in art most of her life, but it was not until 2003 that she started to paint on a regular basis and today enjoys painting the human figure, landscapes and abstracts.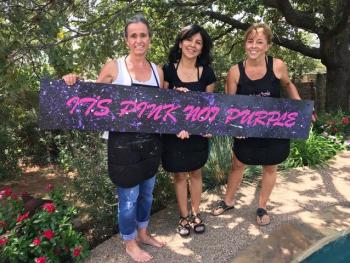 Art Exhibit Viewing Times: Monday - Friday 9 a.m. - 5 p.m. and during other special events.