Art Gallery
Palace Arts Center
300 S. Main St. 

On the beautiful brick interior walls of the Lancaster Theatre, visitors can find an ever-changing variety of beautiful works of art in media ranging from photography to paintings to sculpture. Many of the works on display are available for purchase. The gallery features the work of local and regional artists on a bimonthly rotation.
NOVEMBER & DECEMBER ARTIST SHOWCASE
ABOUT THE SHOW
"A Walk on the Wild Side"
This exhibit highlights the beauty of some of the world's most iconic inhabitants as well as some species that are virtually unknown to majority of people. Along with the paintings, I will provide information on these beautiful animals, many that are on the endangered species list. It is my hope this exhibit inspires, educates and motivates the public to help our wildlife in whatever capacity they can. We are the stewards of this planet and it's wildlife, and by ensuring their well being, we ensure our own.  
ABOUT THE ARTIST
Born in the Dallas/Fort Worth area, I was raised in a very musical and artistic family where creativity was encouraged and well nurtured. While I enjoyed music and dance, animals and art were my passion. Always with a menagerie of pets, it was only natural for me to combine my obsessions and I spent countless hours devoted to both. 
Despite my upbringing, I found myself in the corporate world for many years. My paint brushes sat untouched in their holder as I battled the rigors of the corporate arena. As the stress continued to mount, I began to seek refuge in my art. Turning to my art for relief would also turn the page to a brand new and exciting chapter of my life. A year after picking up the brushes again, I left my full-time job at a financial institution to become a full-time artist. March 3rd marked the 19th year of my business.  
This love and appreciation for animals and art are still tightly and beautifully intertwined, with one fueling the other. I continue to be fascinated and deeply moved by the diversity, beauty and sheer wonder of the animal kingdom. From creatures we've domesticated over thousands of years, to the ones that can't be tamed, they are all an inspiration.   
It is my hope to motivate others to action in helping our wildlife by bringing awareness to the challenges animals face as well as a renewed appreciation of their existence by capturing their essence through the instruments of my craft.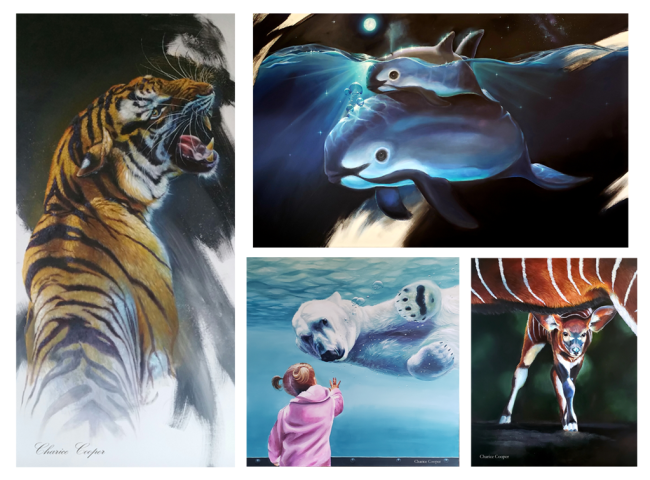 Art Exhibit Viewing Times: Monday - Friday 9 a.m. - 5 p.m. and during other special events.