Live Entertainment
The historic Palace Arts Center is the perfect venue for enjoying a live show. Nearly every weekend, performers ignite the Palace Arts stage, bringing fabulous entertainment to Historic Downtown Grapevine.
Some of the shows you'll see include Kraig Parker as Elvis during Grapevine's Christmas Capital of Texas®, The Grapevine Opry Reunion Shows and local and regional artists performing on various weekends and holidays throughout the year as part of the Grapevine Live series.
The Palace Arts Center is also a part of many art, culinary, and public events including New Vintage Wine & Gallery Trail, Main Street Fest and GrapeFest® as well as shows by local artist groups such as Grapevine Art Project and the Texas Pottery and Sculpture Guild.
So whether you want to see a live music, dance, or theater performance, the Palace Arts Center is the place for live entertainment in the heart of downtown Grapevine.

JANUARY - FEBRUARY - MARCH - APRIL - MAY - JUNE - JULY
AUGUST - SEPTEMBER - OCTOBER - NOVEMBER - DECEMBER
Christmas Concerts and Live Events
Christmas at the Palace ticket sales begin at 9 a.m., Tuesday, July 9

The Texas Tenors
Deep in the Heart of Christmas
December 10, 11, 12 & 13 at 7:30 p.m.
December 11, 12 & 13 at 2 p.m.
Reserved Seating
Tickets $44
Groups (20+) $38
The Palace Arts Center is proud to welcome back Emmy Award Winners and Billboard #1 Recording Artists, The Texas Tenors, as they sleigh ride back into Grapevine with their heartwarming holiday concert "Deep in the Heart of Christmas!" From seasonal favorites, like "O Holy Night" and "Joy to the World," to The Righteous Brothers' crowd-pleaser "You've Lost That Lovin' Feelin'" and original hit "Rise," The Texas Tenors bring a unique blend of music to the stage with thrilling harmonies and award-winning arrangements. Make this Christmas magical by celebrating with The Texas Tenors!

The Texas Tenors are the most successful music group and third highest selling artist in the history of America's Got Talent® (AGT). Since appearing on the show in 2009, JC Fisher, Marcus Collins and John Hagen have earned impressive recognition through four studio albums and DVDs, had two Emmy winning PBS specials, multiple #1 singles, a children's book and being named Billboard Magazine's 2017 #10 Classical Crossover Artist in the World. Their most recent albums "Rise" and "A Collection of Broadway & American Classics" both debuted at #1 on the Billboard Classical Chart.
The Texas Tenors are launching their "10th Anniversary Tour" for the 2019-2020 season. Earlier this year, they were honored to be among the top 50 acts in the world and the only vocal group from the US invited to compete on NBC's primetime series AGT: The Champions.

Rocky Gribble presents
"A Grapevine Opry Christmas"
Saturday, December 14 at 7:30 p.m.
Reserved Seating (15 tickets left!)
Tickets $25
Groups (20+) $20

We all have traditions but those associated with our most beloved holiday of the year carry special meaning. This year will mark the 32ndAnnual Grapevine Opry Christmas show at the Palace Theatre. "A Grapevine Opry Christmas" is filled with holiday music, both old and new, and offers an incredible yuletide experience for fans. Whether you are a faithful follower or are discovering the show for the first time, you will find the show never fails to illustrate the story of Christmas, and may possibly inspire a new holiday tradition. And remember, sun or snow, there is always a Christmas celebration in store at "A Grapevine Opry Christmas."

Mélange Musical
Sunday, January 12 at 4 p.m.
LANCASTER THEATRE
General Admission
Tickets $22
Seniors (65+) $17
Students $5
Mélange Musical presents our first Chamber Music Concert of the season on Sunday, January 12 at 4 p.m. in the Lancaster Theatre. The concert features Piano Quintet #1 in D Minor by Gabriel Fauré, Café Music for Piano Trio by Paul Schoenfield, Oboe Quartet by Carl Philipp Stamitz and world premier of Lotus in the Moonlight by Vietnameses composer Đặng Hồng Anh. Our guest artists are Irina Schuck (Violin), Chuong Vu (Violin) and John Landefeld (Cello), along with our core musicians Michael Schneider (Piano), Iris Messinger (Viola) and Susanna Hilliard (Oboe). Our speaker, Derrick Brown, will be introducing each piece of music with thought provoking, educational anecdotes. Visit MelangeMusical.com for more information.

The Petersen Band
Friday, February 28 at 7:30 p.m.
Reserved Seating
Tickets $25

The Petersens are an award-winning bluegrass band in their ninth season of shows in Branson, MO. In 2015, the band received international attention when banjo player, Ellen Petersen, competed in the singing reality TV show, American Idol, and placed in the top 48. The family has toured throughout the United States, Canada, and recently completed their third international tour to Ireland. Audiences will be entertained as the band performs bluegrass standards, gospel favorites and their sibling humor on stage. The intimate setting of the Palace Theatre and The Petersens will make any audience member feel like part of the family.

For additional information, visit petersenband.com.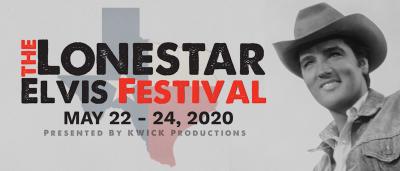 Lone Star Elvis Festival
May 22 – May 24, 2020
Reserved Seating
Tickets $100-$325

KWICK Productions presents The Lone Star Elvis Festival,  a three-day tribute to the King of Rock and Roll, Elvis Presley. It will feature three, fun-filled days of music and entertainment featuring a number of top Elvis tribute artists, including Cody Ray Slaughter, Bill Cherry, Donny Edwards, Diogo Light, Ted Torres Martin, Cote Deonath, Cliff Wright and more! 
For additional information and tickets, visit KwickProductions.com.