Live Entertainment
The historic Palace Arts Center is the perfect venue for enjoying a live show. Nearly every weekend, performers ignite the Palace Arts stage, bringing fabulous entertainment to Historic Downtown Grapevine.
Some of the shows you'll see include Kraig Parker as Elvis during Grapevine's Christmas Capital of Texas®, The Grapevine Opry Reunion Shows and local and regional artists performing on various weekends and holidays throughout the year as part of the Grapevine Live series.
The Palace Arts Center is also a part of many art, culinary, and public events including New Vintage Wine & Gallery Trail, Main Street Fest and GrapeFest® as well as shows by local artist groups such as Grapevine Art Project and the Texas Pottery and Sculpture Guild.
So whether you want to see a live music, dance, or theater performance, the Palace Arts Center is the place for live entertainment in the heart of downtown Grapevine.

JANUARY - FEBRUARY - MARCH - APRIL - MAY - JUNE - JULY
AUGUST - SEPTEMBER - OCTOBER - NOVEMBER - DECEMBER

The Petersen Band
Friday, February 28 at 7:30 p.m.
Reserved Seating
Tickets $25

The Petersens are an award-winning bluegrass band in their ninth season of shows in Branson, Missouri. In 2015, the band received international attention when banjo player, Ellen Petersen, competed on American Idol and placed in the top 48. The family has toured throughout the United States, Canada and recently completed their third tour of Ireland. Audiences will be entertained as the band performs bluegrass standards, gospel favorites and their sibling humor on stage. The intimate setting of the Palace Theatre and The Petersens will make any audience member feel like part of the family.

For additional information, visit petersenband.com.

Mélange Musical
Thursday, March 12 at 7 p.m.
LANCASTER THEATRE
General Admission
Tickets $22
Seniors (65+) $17
Students $5
Mélange Musical presents Peter Shikele's "The Emperor's New Clothes" for piano, strings, oboe and kazoos with narration, which was nominated for a Grammy Award for Best Spoken Word Album for Children in 2004. Demonstrations will finish this concert with each instrument used playing a solo piece described by our narrator. This will be a humorous, educational and entertaining concert for all ages. Come join in the fun for the whole family during spring break!
Visit MelangeMusical.com for more information.

Rocky Gribble presents
The Grapevine Opry Reunion Show
Saturday, April 18 at 7:30 p.m.
Reserved Seating
Tickets $25
Groups (20+) $20
With a resurgent wave of popularity, this country variety show returns to the Palace Theatre for the first of three 2020 installments. Complete with a trademark mix of great music and off-the-cuff repartee, performers are up-close and personal in this intimate venue. Showcasing some of the best vocalists in the state, singer-songwriters offer up a mix of golden classics with the best contemporary selections on record, all accompanied by a group of multi-talented musicians. Join the Reunion Show crew for an evening of the best live country music variety entertainment in the Metroplex. Always entertaining, always fun!

Mother's Day Elvis Gospel Brunch
starring Kraig Parker
Sunday, May 10 at 11:30 a.m.
Lancaster Theatre
Reserved Seating
Tickets $50/$55
Show mom how much you love her on her special day by bringing her to Kraig Parker's popular Elvis Gospel Brunch. Parker is known worldwide for his spot-on tribute to Elvis, selling out theaters and arenas around the world with his Las Vegas and gospel tribute shows. Critics call him one of the best in the world and the next best thing to seeing Elvis in person. Parker will astound you with his looks, moves, charisma and amazing voice! This is an up-close-and-personal opportunity to enjoy his rare, live gospel show. Tickets include a delicious brunch, a rose presented to each lady and his inspiring two-hour gospel performance. This special annual event always sells out early so do not wait to purchase tickets. Mom will love you for it!
Doors open and brunch starts at 11:30 a.m.
Show begins at 1 p.m.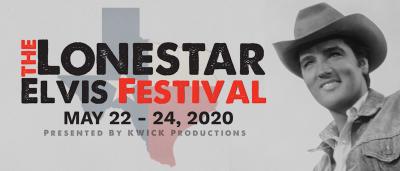 Lone Star Elvis Festival
May 22 – May 24, 2020
Reserved Seating
Tickets $100-$325

KWICK Productions presents The Lone Star Elvis Festival,  a three-day tribute to the King of Rock and Roll, Elvis Presley. It will feature three, fun-filled days of music and entertainment featuring a number of top Elvis tribute artists, including Cody Ray Slaughter, Bill Cherry, Donny Edwards, Diogo Light, Ted Torres Martin, Cote Deonath, Cliff Wright and more! 
For additional information and tickets, visit KwickProductions.com.

Rock-n-Roll Heaven - A Salute to the Legends
Saturday, July 25 at 7:30 p.m.
Reserved Seating
VIP Tickets $40
Tickets $30/$25
Groups (20+) $25/$20
Kids (under 12) $15

Take a trip to Rock and Roll Heaven - A Salute to the Legends starring Kraig Parker as Elvis Presley and Al Nelson as Roy Orbison. From "Blue Suede Shoes" to "Pretty Woman" these two award-winning tribute artists have the look and the voices to make you "All Shook Up" and "Crying" in the aisles.

Learn more about Kraig Parker at TheKingLives.com
Learn more about Al Nelson at AlNelsonShow.com