Live Entertainment
The historic Palace Arts Center is the perfect venue for enjoying a live show. Nearly every weekend, performers ignite the Palace Arts stage, bringing fabulous entertainment to Historic Downtown Grapevine.
Some of the shows you'll see include Kraig Parker as Elvis during Grapevine's Christmas Capital of Texas®, The Grapevine Opry Reunion Shows and local and regional artists performing on various weekends and holidays throughout the year as part of the Grapevine Live series.
The Palace Arts Center is also a part of many art, culinary, and public events including New Vintage Wine & Gallery Trail, Main Street Fest and GrapeFest® as well as shows by local artist groups such as Grapevine Art Project and the Texas Pottery and Sculpture Guild.
So whether you want to see a live music, dance, or theater performance, the Palace Arts Center is the place for live entertainment in the heart of downtown Grapevine.
All ticket sales are final. No refunds or exchanges. 

JANUARY - FEBRUARY - MARCH - APRIL - MAY - JUNE - JULY
AUGUST - SEPTEMBER - OCTOBER - NOVEMBER - DECEMBER
MAY

The Lone Star Elvis Festival
May 26-29
Reserved Seating
Tickets: $235-$385
Come enjoy the 4th Annual Lone Star Elvis Contest with four days of Elvis music. Shows include professional tribute artists and contestants singing all of Elvis' classics. Licensed by Elvis Presley Enterprises, we are excited to be a preliminary competition for the Ultimate Elvis® Tribute Artist Contest™, in Memphis 2022. Elvis Tribute Artist's will compete for the right to represent the Lone Star Elvis Festival in the Ultimate Elvis® Tribute Artist Contest™, Semi Final during Elvis Week 2022.
Purchase tickets by calling 213.328.4600​

Sweet Baby James – America's #1 James Taylor Tribute Artist
Thursday, June 16 at 7:30 p.m.
Reserved Seating
Tickets $30
BACK BY POPULAR DEMAND: Nashville's Sweet Baby James – America's #1 James Taylor tribute artist – returns to Grapevine with his popular acoustic "Walking Man" show.
Join us at the Palace for the timeless music of 6-time Grammy winner and Rock & Roll Hall of Fame member James Taylor, with a performance you have to hear to believe. Bill Griese (aka "Sweet Baby James") sounds so much like Taylor vocally and plays his signature guitar style so faithfully, you can close your eyes and imagine you're listening to the legend himself. But rest assured, SBJ is not a James Taylor "impersonator" — expect a natural, authentic presentation; a respectful & fitting tribute to an American original.
Come enjoy all of your favorites, like Fire & Rain, You've Got a Friend, Handy Man, Shower the People, and of course Sweet Baby James. Get ready for some deep cuts. And see why audiences are raving: "The next best thing to seeing James himself," "It's like having James Taylor in your living room," and "If you're a James Taylor fan, you must see Sweet Baby James!"
Purchase your Sweet Baby James tickets here.

Will Hearn's
The Grand Ol' Americana Show
Thursday, June 30 at 7 p.m.
All Reserved Seating
VIP Tickets* $50
Tickets $36
Groups (20+)* $31

The Grand Ol' Americana Show is a one-of-a-kind tribute to the original, traditional, family-truckster-holiday-roading, red-blooded, two-fisted, route 66-ing, All-American Summer; celebrating culture, comedy, and music that define the American spirit. Performed and presented as a live retro radio broadcast from the 1776 AM L-B-R-T "Liberty" Radio Theatre. Hosted by Will Hearn and featuring internationally-touring Americana standout group Blue Water Highway, the Liberty Radio Orchestra & Gospel Singers, and the best entertainers in the Lone Star State.

Will Hearn's Grand Ol' Americana Show is the perfect nostalgic complement to your Independence Day festivities and will transport you to long floats on lazy rivers and backyard BBQs by the poolside, hot summer nights under big starry skies lit-up flickering fireflies and fireworks on the 4th of July. 

* VIP Tickets include seating in the first five rows and a cast meet-and-greet prior to the performance (6 –  6:30 p.m.). Group tickets not eligible for seating in the first five rows.


Purchase your Grand Ol' Americana Show tickets here.

 

The Petersens
Saturday, July 2 at 3 & 7:30 p.m.
Reserved Seating
VIP Tickets $44 (seating in the first three rows)
Tickets $34
The Petersens are an award-winning Americana Roots family band based in Branson, MO. The family has shared their music all over the world through tours and online video content. The band includes Ellen Petersen Haygood, an American Idol Top 48 finalist, on banjo and vocals, Katie Petersen on fiddle, Matt Petersen on guitar, Julianna Petersen on the mandolin, the Petersen matriarch, Karen Petersen, on the bass and the newest member and family friend, Emmet Franz, on the dobro. Join them for a live experience that will warm your heart and connect you with your American roots.

Purchase your Petersen tickets here.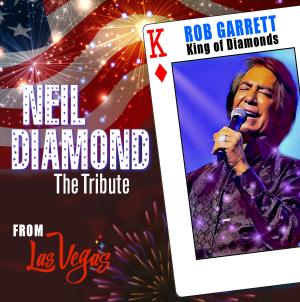 Neil Diamond – The Tribute
Presented by Tribute Masters
Saturday, July 23 at 3 & 7:30 p.m.
Reserved Seating
Tickets $38
Coming to Grapevine's Historic Palace Theatre, Neil Diamond - the Tribute, starring veteran Las Vegas performer Rob Garrett.  This is America's #1 Neil Diamond Tribute Artist and is unparalleled in his portrayal of the legendary performer.
From Vegas to Honolulu, to New York, to Berlin - Rob is known as the 'King of Diamonds' as he naturally captures the presence, passion, and energy of this iconic performer in all his youthful 'JAZZ SINGER' glory. Those who have witnessed Rob's stunning performances will testify that you simply can't get any closer!  And with his lavish music arrangements and captivating stage presence, this is a show everyone can enjoy!
In 2008 Rob was awarded the "Male Musical Tribute Artist of the Year" award in Las Vegas marking the first (and only) time a Neil Diamond tribute act has won such an honor.
Purchase your Neil Diamond - The Tribute tickets here.

The King Lives – A Salute to Elvis Starring Kraig Parker
Friday, August 19 at 7:30 p.m.
Reserved Seating
Tickets $32
VIP Seating (Rows 1-3) $42
Kids (under 12) $15*

The world lost the King of Rock and Roll, Elvis Presley, 45 years ago – but thanks to Elvis tribute artist entertainers like Kraig Parker, Presley's music will never die. Parker has been bringing the music of Elvis Presley back to life all over the world for the past 20 years. Both critics and those who performed with Elvis say Parker is the closest thing to Presley you will ever see.  Kraig and his Royal Tribute Band will have you rockin' in the aisles and cheering for more!  With his looks, voice, moves and stage presence, Kraig will sweep you back to Vegas with hits from the 70s. Don't miss this electric, fast-paced show.  Join us for a tribute to the king that's not to be missed. Elvis has not left the building!
* Child discounts not available on seating in the first three rows ($42 ticket)
Purchase your The King Lives - A Salute to Elvis tickets here