Outdoor Fun in the Summertime
Lake Grapevine is a center for boating, water-skiing, wind surfing, fishing and camping with a sprawling 8,000 acres. Lake Grapevine is one of the finest hiking and biking destinations in the Dallas/Fort Worth area with a beautiful rolling shoreline and more than nine miles of wilderness trails.
Learn to surf, ride a Stand Up Paddleboard (SUP) or take a Saturday SUP Tour at DFW Surf. Yoga enthusiasts will enjoy yoga on the lake with SUP Yoga.
Visit DFWSurf.com/GrapevineLake or call 972.427.4082 to book your lesson or paddleboard experience.
Scott's Landing Marina is the largest marina on the lake with easy access to the main body of Lake Grapevine. Silver Lake Marina is home to many of Lake Grapevine charter companies, which include Island Bound Adventures, Black Watch Sailing Charters and Sam's Dock.
Thinking of a great getaway for your family this summer?  Backyard swimming pools only offer so much fun. Why not treat your family to fabulous waterparks located in Grapevine, Texas.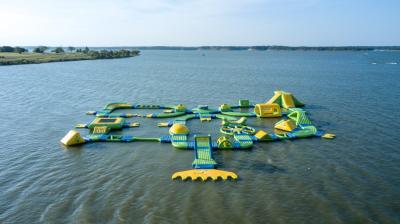 WhoaZone Grapevine: A visit to Grapevine isn't complete without stopping by the WhoaZone floating waterpark. WhoaZone features hours of high-energy fun for persons of all ages. WhoaZone's on-water obstacle course is an over-the-top outdoor adventure. Treat your family to acrobatic thrills that are active challenges and are safe, yet fun. 3000 Meadowmere Ln.
Paradise Springs: This is the Gaylord Texan Resort's water park where you can splash into fun at the 10-acre outdoor pool complex. Paradise Springs features a 6,000-square-foot family lagoon, giant water playhouse, 600-foot-long lazy river and multiple winding waterslides. In addition to spaced seating, guests can rent private cabanas, including soft seating, flat-screen televisions, refrigerators and dedicated pool servers.  1501 Gaylord Tr.
Great Wolf Lodge: Visit the largest indoor waterpark in North Texas! Guests can enjoy the impressive water attraction as part of their stay. Slides range from a six-story funnel to a kiddie version, and there's a wave pool, lazy river and more. Not staying overnight? No problem, a limited number of day passes to the water park can be purchased. 100 Great Wolf Dr.
Dove Waterpark: When summer comes to Grapevine, the best place to cool off is always in the refreshing water of a swimming pool. Dove Waterpark offers two slides, a diving board, lily pad crossing and zero depth entry, perfect for the littlest of swimmers. The sparkling water is surrounded by vigilant lifeguards and beautifully maintained grounds. 1509 Hood Ln.
Silver Lake Marina: Located along the shoreline of Lake Grapevine. Here, you will find a top boat and watersport rental and activity complex. Some of the fun includes boating, waterskiing, sailing, tubing, wakeboarding and more. Whether you are renting a jet ski or pontoon boat, Silver Lake Marina offers memories that will last a lifetime. 2501 Fairway Dr., Ste. 1
Don't try to do it all in one day, either. Come and stay a few days. With nearly 6,000 hotel rooms within 10 minutes of Historic Downtown Grapevine and great attractions, you'll always find a place to stay.
So, whether it's a day at Lake Grapevine, testing skills at Whoazone or swimming at a waterpark, Grapevine is your ultimate memory maker and destination.