Beautiful weather greets large crowds enjoying premium wines, family-friendly fun, festival food, live music and more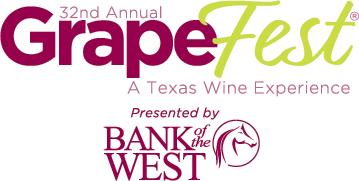 GRAPEVINE, TEXAS (September 16, 2018) – Large crowds celebrated Grapevine's 32nd Annual GrapeFest - A Texas Wine Experience, presented by Bank of the West, in Historic Downtown Grapevine, September 13, 14, 15 and 16. Visitors tasted and savored the wines of Texas, and unique wines from North Coast California and the Rioja Region of Spain. Guests participated in festival favorite events such as the People's Choice Wine Tasting Classic, the Liberty Park Plaza Wine Experience, GrapeStomp; experienced fun family-friendly activities and enjoyed a beautiful festival weekend.
As part of the Old-World Wines Revisted tasting experience in Liberty Park, visiting winemakers poured Coro, a signature blend that has been individually crafted from 100 percent Mendocino County, California grapes for 13 vintages. Coro must lead with 40-70 percent Zinfandel and may be blended with up to nine named varietals, honoring the "Old Italian" field blends of Mendocino. Coro wines must pass a review by a panel of winemakers in four blind tastings before the wine is accepted and certified to carry the Coro Mendocino label. The winemaker must adhere to strict protocols set by Consortium Mendocino. In addition to the varietal parameters, there are strict rules concerning wine chemistry, and barrel and bottle aging before the release of this extremely limited case production. Once certified, each Coro wine is bottled in a uniform bottle, label and marked with the Coro seal. Today's wine tasters are beginning to look for wines produced in the style of Old-World Wines. Parducci Wine Cellars, Testa Vineyards,Brutocao Cellars and Barra of Mendocino were four Coro wines served at GrapeFest.
"GrapeFest was a wonderful opportunity to showcase the wines of North Coast California," said Bob Swain, winemaker, Parducci Wine Cellars. "We were especially thrilled to introduce Coro to GrapeFest guests."
"It was a wonderful experience to bring Coro to a new audience in Texas and receive such a warm response," said Maria Testa Martinson, winemaker, Testa Vineyards.
The North Coast California winemakers received tremendous interest on many of their other varietals in addition to Coro.
"We have been absolutely thrilled by the response we have received from GrapeFest attendees," said Michelle Willoughby, winery owner, Seebass Family Vineyards "As of Sunday morning, more than 1,000 festival guests had provided email addresses to learn more about our wines."
In addition to wine tasting, GrapeFest festival-goers experienced four full days of festival fun.
"GrapeFest was a fantastic weekend of family-friendly fun," said Joe Szymaszek, 32nd Annual GrapeFest co-chair. "Throughout the weekend and in addition to wine tasting, guests of all ages enjoyed everything from the KidsWorld to live entertainment to wonderful shopping and festival food and so much more."
In addition to North Coast California, guests also had the opportunity to try wines from the Rioja Region of Spain. Spanish Wine Ambassador Aitor Madina, along with other winery representatives from Spain, showcased a variety of unique Spanish wines throughout the four-day event.
The 2018 Celebrity Mayoral GrapeStomp, sponsored by Tom Thumb/Albertsons, featured nine teams from across North Texas including Bedford, Combine, Euless, Grapevine, Forest Hill, Haslet, Hurst, Irving and North Richland Hills, as well as teams from Grapevine's Sister City of Parras de la Fuente, Mexico and West Lothian, Scotland. The winners of the Most Juice Stomped Award, with 29 ounces, was the team from North Richland Hills, featuring Councilman Scott and Tiffany Turnadge. Some of the other winners included the team from Bedford, which won the Cleanest Foot Award and the team from Parras de la Fuente, Mexico which won the Tip Toe Through the Grapes Award. Sporting bright green wigs, the team from Forest Hill was featured on the local evening news and they were also a hit on social media.
The juice and feet were flying at the daily GrapeStomp competitions. Four-time defending champions Lam and Jorge Bermeo, both from Dallas, won the Coveted Purple Foot Award for the fifth year in a row. Throughout the festival, teams of two stomped 18 pounds of grapes for two minutes. Under the team name Awesome & Awesomer, the Bermeos stomped 47.5 ounces in the Grand Champion StompOff.
One of the signature GrapeFest events, the People's Choice Wine Tasting Classic, sponsored by Audi Grapevine, is the largest consumer-judged wine competition in the nation. Guests had the opportunity to sample 151 Texas wines from 39 Texas wineries. Some of the Texas wineries in attendance included 4R Ranch Vineyard & Winery, Blue Ostrich Winery & Vineyard, Bull Lion Ranch & Vineyard, Silver Dollar Winery, Tall in Texas Award recipients, Haak Vineyards & Winery. After sampling the wines, guests then voted on their favorites in ten categories. 
The winners of the People's Choice Wine Tasting Classic are:
White: Dry
Gold: 4R Ranch Vineyard & Winery, Viognier Estate "Texoma," 2017
Silver: Kissing Tree Vineyards, Chardonel, 2016
Bronze: Landon Winery, Viognier, 2016
White: Off Dry
Gold: Messina Hof Winery, Father & Son Cuvée, 2017
Silver: Llano Estacado Winery, Pinot Grigio, 2017
Bronze: Silver Dollar Winery, Trebbiano, 2017
White: Sweet
Gold: Messina Hof Winery, Angel, Late Harvest Riesling, NV
Silver: Bella Stella Winery, R&R (Raspberry Riesling), 2016
Bronze: Landon Winery, Yellow Rose, NV
White: Blends
Gold: Silver Dollar Winery, IM'Peached, 2016
Silver: Bingham Family Vineyards, Cloudburst, 2014
Bronze: Old Man Scary Cellars, Brujita, 2017
Blush/Rosé
Gold: Blue Ostrich Winery & Vineyard, Rosato Muscato, 2017
Silver: Bella Stella Winery, Muscadine Medley, 2017
Bronze: Red House Winery, Sweet Azalea, 2016
Red: Light
Gold: Messina Hof Winery, Private Reserve Pinot Noir, 2016
Silver: Silver Dollar Winery, Peace*Maker Merlot Reserve, NV
Bronze: Landon Winery, Pinot Noir, 2015
Red: Medium
Gold: Bull Lion Ranch & Vineyard, Montepulciano, 2015
Silver: Blue Ostrich Winery & Vineyard, Dolcetto, 2017
Bronze: Messina Hof Winery, Private Reserve Merlot, 2016
Red: Bold
Gold: Texas Hills Vineyard, Kick Butt Cab Newsom, 2015
Silver: Lost Oak Winery, Tempranillo, 2017
Bronze: Blue Ostrich Winery and Vineyard, Tempranillo, 2016
Red: Sweet
Gold: Red Road Vineyard, Chocolate Lach Rua, NV
Silver: Chisolm Trail, Ghost Rider, NV
Bronze: Texas Hills Vineyard, Volare, NV
Red: Blends
Gold: Bull Lion Ranch & Vineyard, Texianti, 2015
Silver: Bingham Family Vineyards, Dirt Farmer, 2015
Bronze: Llano Estacado Winery, Viviano, 2015
In 2019, the 33rd Annual GrapeFest will take place September 12, 13, 14 and 15. For more information, visit www.GrapeFest.com