Enjoy never-ending, family-friendly fun and make lasting memories all summer long during Summertime in Grapevine
GRAPEVINE, TEXAS ( May 24, 2021) - Celebrate Summertime in Grapevine now through Labor Day! Summertime in Grapevine features fun for all including indoor and outdoor adventures, water parks, dining, shopping, a special July 4th Fireworks Extravaganza, and much more. Take your family away from it all without spending it all! Enjoy summer fun in Grapevine all summer long.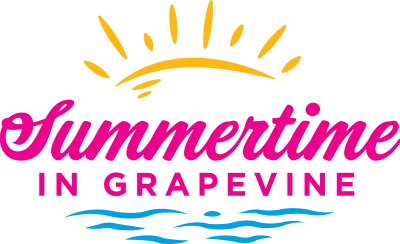 Shop at Grapevine Mills or unique boutiques along Main Street. Savor delicious flavors at locally-owned bistros and cafés, or stroll along the Urban Wine and Craft Brew Trail. Kids will have never-ending fun at attractions like LEGOLAND® Discovery Center, SEA LIFE Grapevine Aquarium, Peppa Pig World of Play, Grapevine Vintage Railroad, Nash Farm and Grapevine Pioneers Summer Passport activity.
SummerFest at Gaylord Texan Resort: Have some Texas-sized fun at the Gaylord Texan's SummerFest from May 21 through September 6. Enjoy pirate and princess-themed activities for the whole family, including The Princess' Shiny Stash Scavenger Hunt; the Pirate and Princess Academy interactive musical; and Pirate and Princess Art Studio. Swagger to the dance floor for a Pirate Dance Party on Saturday evenings. Experience live animal encounters or participate in the virtual Wildlife Rescue, an Augmented Reality Experience presented by bubly™ as the spacious atriums are transformed into an exciting safari. Test your skills in two escape rooms, "King Arthur's Stolen Chalice" and "School's Out Breakout!" Learn culinary skills in the Junior Chefs Camp on select Saturdays. Enjoy 10 acres of waterpark fun in Paradise Springs, which contains a giant lagoon, winding waterslides and a lazy river. Relax and enjoy live entertainment and breathtaking waterfront views at Glass Cactus.
Summer CampIn at Great Wolf Lodge: Enjoy the nostalgic fun of summer camp without the risk of rainouts during Great Wolf Lodge's Summer CampIn celebration from May 27 through September 6. Dive into summer and enjoy the resort's slides, lazy river, raft rides and water play areas for all ages. Additionally, sign up for the Trailblazer Challenge where participants complete fun and challenging activities and earn badges. Earn 10 badges to be named a true Trailblazer! Enjoy special appearances from Great Wolf Lodge's very own Wiley the Wolf, Oliver the Racoon, Sammy the Squirrel and other characters throughout the day. Special camp-themed programs include: pool parties complete with limbo contests and games; Hustle & Howl Family Dance Parties; arts and crafts activities making camp postcards, friendship bracelets and more. Enjoy evening s'mores by the lodge's own "s'moreliers." End the day in the lobby for Great Wolf Lodge's traditional Campfire Ceremony, sing a-long and story time.
Fun on Lake Grapevine: Learn to surf, ride a Stand Up Paddleboard (SUP) or take a Saturday SUP Tour at DFW Surf (3000 Meadowmere Park). Yoga enthusiasts will enjoy yoga on the lake with SUP Yoga.
Visit DFWSurf.com/GrapevineLake or call 972.427.4082 to book your lesson or paddleboard experience. Adventure enthusiasts of all ages can challenge their skills and have hours of fun on the action-packed floating obstacle courses at WhoaZone, located at Meadowmere Park (3000 Meadowmere Lane). Land lovers will enjoy outdoor games such as Cornhole or Spikeball with hourly game rentals. Not a thrill seeker? Relax in the shade and watch the waves. Rentable, shaded seating includes two lounge chairs and an umbrella. Visit Whoa.Zone/Grapevine/Tickets or call 866.946.2966 to book your adventure!
Watch Fireworks Paint the Night Sky on the 4th of July: Celebrate America's birthday at the 39th Annual July 4th Fireworks Extravaganza complete with spectacular fireworks set to patriotic music. Fireworks begin at 9:30 p.m. Viewing locations include some of Grapevine's lakeside parks and are subject to change, so check the website for a full list closer to the date. Parking or entry fees may apply. For an updated list of viewing locations or to download the music to accompany the show, visit GrapevineTexasUSA.com/Summer.
LEGOLAND® Discovery Center: Test the limits of your imagination with more than 2 million LEGO® bricks at your disposal, or stroll through MINILAND® where you can view some of DFW's most famous landmarks miniaturized with LEGO brick. In the LEGO Ninjago City Adventure, practice your ninja moves in the Airjitzu temple or Dojo training room. Ninjas-in-training can engage in a number of obstacle course challenges alongside their favorite Ninjago characters. Go on a quest to rescue a princess on the Kingdom Quest ride, or become the next wizard apprentice in Merlin's Apprentice Ride. Take in a 4D movie where you join your favorite LEGO characters on action-packed adventures. Watch out for supercharged wind, rain and snow effects as they burst off the big screen and bring the movies to life! There's family fun for kids of all ages! Adult Nights allow big kids who are 18+ to enjoy a night of LEGO activities, rides and the 4D cinema kid-free.
SEA LIFE Grapevine Aquarium: Whoa! You need to sea this! See all forms of sea life, from starfish to seahorses and sharks to jellyfish at this 45,000-square-foot aquarium. More than 30 displays housing thousands of sea creatures feature both exotic saltwater and native freshwater sea life. Learn firsthand what it's like to rescue sea turtles in the Sea Turtle Rescue Center, and say hello to the newest patients preparing for release in the sea turtle hospital. Catch an educational talk, watch a feeding demonstration or book a special behind-the-scenes tour. Immerse yourself in the oceanic wonders as you stroll through the underwater ocean tunnel, and catch a glimpse of Haggard, 150-pound nurse shark. Explore the depths of the Amazon rainforest where unique creatures lie hidden around every turn. See Seneca, the 13-foot- long Albino python, or dare to venture through the Piranha Tunnel. The aquarium offers family fun for everyone! Looking for a date night or night out with the girls? Visit on select Friday evenings from 6 p.m. to 7:30 p.m.
Peppa Pig World of Play: Escape the summer sun and have a world of fun and muddy puddles at Peppa Pig World of Play. Step into the exciting world of Peppa Pig and have an oink-tastic good time! With 14 themed areas to choose from, kids can play and giggle the day away with their favorite pig. Whether it's Rebecca Rabbit's Underground Adventure, Peppa Pig's Treehouse, Grandpa Pig's train, or the many other play areas, there are so many adventures that will bring snorts and giggles galore. Families will also find a cinema, gift shop and facilities for families to relax and play with plenty of photo opportunities. For more information, visit PeppaPigWorldofPlay.com.
Grapevine Vintage Railroad: All Aboard! Step back in time on the Grapevine Vintage Railroad (GVRR) One-Hour Excursions. On the GVRR Cotton Belt Route to the Historic Stockyards Station in Fort Worth, keep an eye out for greedy outlaws who may attempt a train heist! Check in for adventure in Downtown Grapevine at the Historic Cotton Belt Depot. The Cotton Belt Route runs Saturdays and Sundays from June 5 through August 15. Check in is at 12:20 p.m. Trains return to Grapevine between 6 - 6:15 p.m.
Families with small children may enjoy a ride on the Grapevine One-Hour Train Excursion or the Trinity River Train Excursion. Train robbers may also strike on the Grapevine One-Hour Train Excursion which runs every Friday beginning June 4 through August 13, departing Grapevine from the Historic Cotton Belt Depot at 11 a.m., 1:30 p.m. and 3:30 p.m. Passengers will ride along the historic Cotton Belt Route before returning to Historic Grapevine.
Enjoy a round-trip ride on the Trinity River Train Excursion which originates at the Historic Fort Worth Stockyards and travels along the Cotton Belt Route. The Trinity River Excursion runs every Saturday and Sunday from June 5 through August 15, departing at approximately 3 p.m. and returning to the Stockyards at approximately 3:45 p.m. This excursion does not travel to Grapevine. Ticket prices vary by excursion. Schedules are subject to change. Please check GVRR.com for the most up-to-date information. (705 S. Main St.)
Lone Star Murder Mysteries: Meet a cast of wiley characters and try to figure out whodunnit as the Texas Star Dinner Theater performs Lone Star Murder Mysteries (816 S. Main St.). Doors open each Friday and Saturday night at 7p.m. for a night of wild west adventure and mystery. From now through November 13, watch a live performance of "Dead, Dead on the Range" where the town is bustling with cattle drives, election scandals, railroad promises and murder!
New in 2021: "Derailed and Departed" is a new online, interactive murder mystery movie. Looking to stay in for the evening, but would still like to watch a mystery? Order "Derailed and Departed" online! Six Gun Sanders, a notorious gunslinger, has been found dead and it is up to you to figure out who killed the killer. This interactive, comedy murder mystery movie is nothing like anything you have ever seen before. Perfect for family fun or an online party game, no matter how you play one thing is certain: it's going to be a wild ride! See the film at the Historic Palace Theatre (300 S. Main St.) on July10.
Sizzling Summer Movie Series at the Palace Theatre: Every Tuesday and Wednesday, June 8 through August 4, catch a classic summer matinée at the Historic Palace Theatre in Downtown Grapevine. Watch kid-friendly favorites such as "Honey, I Shrunk the Kids," "The Sandlot," "A Very Goofy Movie," "Finding Nemo" and more! Showings are at 10 a.m and admission is $4. For the full schedule and more information, visit Palace-Theatre.com. (300 S. Main St.)
Explore Grapevine's Nash Farm: Experience the lives of the earliest settlers at Grapevine's Nash Farm. Purchased by Thomas Jefferson Nash in 1859, Nash Farm brings history to life through a series of interpretive programs. First Fridays at the Farm highlight different aspects of farm life. Summer First Friday events include: Commerce on the Grapevine Prairie, June 4; Patriotic Picnic, July 2; and Meme's Pickles, August 6. All First Fridays at the Farm events are 10 a.m. to 12 p.m. and require a $3 per person participation fee. Work alongside Nash Farmhands to learn heritage skills during monthly Heritage Workshops. On June 26, participate in the 1920s Ladies' Hat Workshop and wear it to the Ice Cream Social on July 10. Heritage Workshops are $35 per person. On July 10, from 7 p.m. until dark, enjoy a 1920s-style Ice Cream Social with fresh made ice cream and lawn games. Admission for the Ice Cream Social is $5. (626 Ball St.)
Participate in the Grapevine Pioneers Summer Passport program from May 15 to September 19 to learn historic skills and traditions. Activities include learning skills and games at the Historic Cotton Belt Depot, making a leather key or watch fob at Section Foreman House, and making a fishing pole or woolen toy sheep at Nash Farm. Grapevine Pioneers Summer Passports are $10 and include tickets for a variety of hands-on activities and a Historic Palace Theatre Summer Movie Series ticket. For more information and passport purchases, visit SummertimeInGrapevine.com.
Grapevine Art, Museums & Historic Sites: Walk Grapevine's Public Art Trail and experience bronze sculptures, art galleries, fine art working studios and creative crafting stores. The Settlement to City Museums give visitors a glimpse into the past, allowing them to discover what life was like more than 100 years ago for Texans in a small township. The museum is home to the Donald Schoolhouse Museum, the Keeling House Museum and the Grapevine Cotton Ginner's Museum which feature educational exhibits, hands-on activities and a collection of artifacts dating back to the 19th century.
Shop 'til You Drop at Grapevine Mills: Featuring 1.8 million square feet of shopping fun with more than 180 stores to explore, you'll find favorites such as Polo Ralph Lauren, Neiman Marcus Last Call, Saks Fifth Avenue OFF 5th, Michael Kors, Coach, Vera Bradley, Ann Taylor Factory Store, Loft Outlet, Banana Republic Factory Store, Under Armour Factory House, Francesca's, Puma, Luggage Factory, NIKE Clearance Store and Converse. Also at Grapevine Mills, enjoy attractions such as the AMC Grapevine Mills 30 Dine-In Theatres, LEGOLAND® Discovery Center, SEA LIFE Grapevine Aquarium, Peppa Pig World of Play, Round1 Bowling and Amusement, The Escape Game and Rainforest Café. Grapevine Mills is located off State Highway 121 and Grapevine Mills Parkway, just two miles north of DFW International Airport. For more information, visit GrapevineMills.com.
Book Your Staycation Today: Book your summer getaway and save as area hotels and resorts are offering various deals and promotions. Enjoy a range of lodging options, including resort-style, boutique and budget-friendly hotels. With more than 20 lodging options to choose from, there is a place for every type of vacation experience and every budget.
About Grapevine, Texas
Historic Grapevine, Texas, centrally located between Dallas and Fort Worth, is the premier go-to destination when planning a getaway or vacation in North Texas! Step back in time on Historic Downtown Main Street with a collection of charming boutiques, art galleries and bistros and cafes. Enjoy fantastic hotels and resorts, great attractions for the entire family, a wide variety of outdoor recreational activities, exquisite winery tasting rooms, world-class shopping and much more. For more information, visit GrapevineTexasUSA.com.