Spring Break in Grapevine
Bring the entire family to Grapevine for relaxation, adventure and family fun this Spring Break!
Enjoy train excursions, family-friendly attractions, classic movies and much more.
Spring Break Adventure Train
Grapevine Vintage Railroad Cotton Belt Railroad Adventure Train
March 14-17, times vary
Buy Tickets
Roll into the world of railroading while learning about railroad-related occupations. Ticket prices include a trip on Grapevine Vintage Railroad and access to the rail adventure activities.
Railroad Adventure Activities
Cotton Belt Railroad Historic District
March 14-17, 10 a.m. - 5 p.m.
Included with Grapevine Vintage Railroad Cotton Belt Railroad Adventure Train Excursion ticket.
Activities include learning:
Railroad Signals
Telegraphy
Tools of the trade
Making a can boiler
Kiss Me I'm Irish Express presented by TEXRail
Friday, March 17 @ 7 p.m.
Buy Tickets
Celebrate the luck of the Irish onboard the Kiss Me I'm Irish Express! Your purchase includes individually portioned Irish-style food items, two complimentary glasses of Texas craft brew served in a souvenir mug and Irish music during the two-hour experience. Additional brew will be available for purchase. Ages 21+ only.
Spring Break Movies
Palace Theatre Spring Break Movies
Daily at 10 a.m. and 2 p.m.
Buy Tickets
Take the family to the Historic Palace Theatre and enjoy one of these family-friendly movies:
Kung Fu Panda
The Swan Princess
Pete's Dragon
The Muppet Movie
Madagascar
& more!
Don't forget to bring your little ones to Classic Cartoons and Crafts. Keep them entertained with a fun show while making a fun craft to take home. They are different each day! Happening March 13-17 at 10 a.m.
Spring Break at Nash Farm
Daily, 11 a.m. - 4 p.m.
Join the farmhands and make cookies on the wood-burning stove! See what farm life was like in the early days of the Grape Vine Prairie.
Prehistoric Park
March 11-April 16, 9 a.m. - 6 p.m.
Medowmere Park
Buy Tickets
Learn about Grapevine's prehistoric past while roaming through an outdoor exhibition of animatronic dinosaurs. Dig into the action and enjoy hands-on activities for the whole family. 
Grapevine Main Station
Grapevine Main Station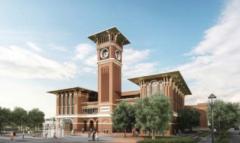 Daily
Visit the Grapevine Main Station featuring Harvest Hall, a European-style food hall; Third Rail, a live entertainment venue; and the Grapevine Observation Tower offering a magnificent 360-degree view 150 feet above Grapevine!
Additional Family-Friendly Attractions in Grapevine
Family Gaming Entertainment and Escape Rooms
Get Outdoors!
Get out and enjoy the great outdoors with a hike or bike ride around Lake Grapevine or plan a visit to Grapevine's beautiful botanical garden. Grab a go-to lunch from a number of Grapevine restaurants and enjoy a beautiful day with family!
Make it a Staycation!