Christmas Capital of Texas®
Create your Christmas memories in Grapevine, Texas!  Blanketed with millions of lights, enormous decorations, animated characters, and more than 1,400 events, it's easy to see why Grapevine is the Christmas Capital of Texas!

Day 1 - Friday
Enjoy dinner on your own or at one of our unique, group friendly restaurants in Historic Downtown Grapevine.
 
After dinner, take time to explore Historic Downtown Grapevine and enjoy the beautiful displays of lights and Christmas decorations including Grapevine's nightly City Hall Light Show Spectacular.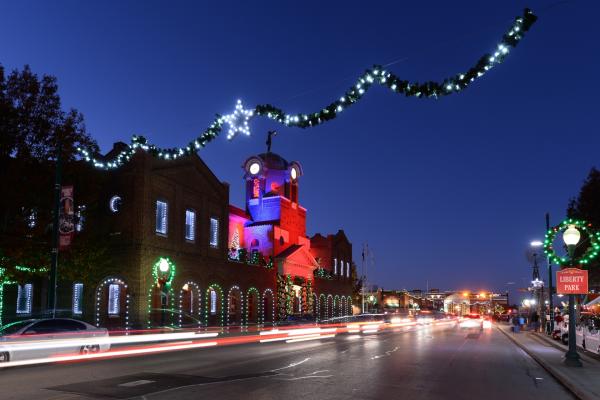 Day 2 - Saturday
Kick off your day with a guided tour of Historic Downtown Grapevine.
 
Following your tour, plan a visit to Vetro Glassblowing Studio & Gallery. In additional to shopping for hand-blown glass art in Vetro's fine art gallery, special events also allow guests to work alongside professional glassblowers to help create their own glass holiday ornaments.
 
View the Grapevine Glockenspiel, the only Glockenspiel in North America featuring the Would-Be Train Robbers, Nat Barrett and Willy Majors. Watch an exciting interaction between larger-than-life mechanical figures as they emerge from the clock tower daily at 10 a.m., noon, 2 p.m., 4 p.m., 6 p.m. and 8 p.m.
 
Enjoy lunch at one of the group-friendly restaurants located in Historic Downtown Grapevine followed by an afternoon exploring the shops, galleries and winery tasting rooms, all decked out in their holiday best.
 
Take a break from shopping to enjoy some holiday cheer with a tour at one of Grapevine's signature wineries, Delaney Vineyards. Here, you will gain insight into the wine industry from vine to wine; learning about grape-growing, harvesting, wine-making and bottling processes. (Add on a wine tasting at Delaney Vineyards for $10). Hours may vary. Please call for hours.
 
Next stop is Gaylord Texan Resort, where you can enjoy a Lone Star Christmas with beautiful holiday scenery featuring over a million twinkling lights, 12,000 ornaments, a 52-foot-tall rotating Christmas tree and a life-sized gingerbread house!
 
This evening, enjoy the Gaylord Texan's Holiday Entertainment. From stilt walkers to singing cowboys to Santa Claus, there's something delightful around every bend.

(Pictured: Ornament making class at Vetro Glassblowing Studio & Gallery)
Day 3 - Sunday
For more information, contact Heather Egan, Director of Leisure and International Sales, Grapevine Convention & Visitors Bureau at +1.817.410.3561 or HEgan@GrapevineTexasUSA.com.
Grapevine's Hidden Treasures