Main Street transforms into a street fair with outdoor shopping, dining & performances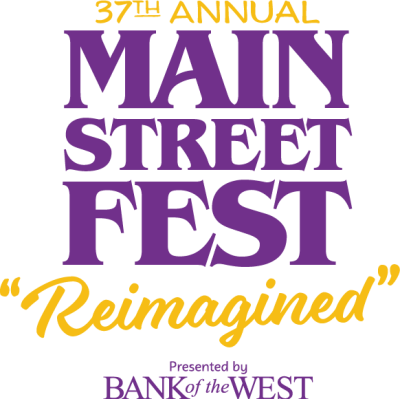 GRAPEVINE, TEXAS (April 29, 2021) - Make plans to attend the 37th Annual Main Street Fest "Reimagined," presented by Bank of the West in Historic Downtown Grapevine on Saturday, May 15 and Sunday, May 16 from 11 a.m. - 8 p.m.  This year's Main Street Fest harkens back to an earlier time and puts local businesses at the heart of the festival. Bistros, cafes and boutiques will extend their storefronts onto Main Street to provide unique alfresco dining and shopping experiences.  European-style theatrical street performers push the limits of imagination with their gravity-defying stunts and interactive comedy. Live music performances on three intimate stages immerse audiences in genre-spanning lineups.  Craft brews, tasty treats and festival food favorites are sure to satisfy kids of all ages. Activity Alleys invite visitors to leave their mark on a Gratuity Wall, participate in the Grapevine Escape, or play an oversized game of checkers or chess in the Game Garden. Admission to the 37th Annual Main Street Fest is FREE.
New Look & Feel
At Main Street Fest "Reimagined,'' shoppers will experience an outdoor paradise as more than 80 locally-owned shops with their uniquely crafted treasures spill onto Main Street.  With everything from locally-crafted jewelry to one-of-a-kind fine and decorative art, treasures abound. Hankering for traditional festival food or hungry for a hearty meal? Local restaurants, bistros and cafes take their menu outdoors to satisfy every craving. Indulge your sweet tooth or enjoy a savory bite while dining outside, surrounded by the sights and sounds of the festival.
Theatrical Performers
European-style theatrical street performances will wow the crowds during their recurring half-hour sets of gravity-defying shows and comedic banter.  Wonder and delight in the high-energy acrobatics of The Red Trouser Show as performers deftly balance on stilts and juggle a myriad of objects, including each other.  Rob & Miss Jane  are sure to entertain with rapid-fire circus stunts and outrageous, family-friendly comedy. Who knows? You might even become part of the show!
Visit the tropics and laugh till you cry as you witness the hula hooping antics and side-splitting comedy of The Flyin' Hawaiian. You won't want to miss her climb up a 15-foot high coconut tree! British super-secret circus agents, Honeymoon and Butterfly, are on a mission in  Her Majesty's Secret Circus Show to entertain you with their sharp wit and an arsenal of acrobatic antics.  Hop on by to check out multiple Guinness-world-record holder Pogo Fred with his gravity-defying 10-foot jumps on super-sized pogo sticks.
Magic Money
This year coupons are replaced by Magic Money touchless payments. in the form of Magic Money and will be used for festival food and drinks.  To get started, download the Magic Money app or load funds onto a Magic Money Gift Card, available for purchase from an onsite kiosk.  There is a one-time  $3.50 activation fee. Payment to Main Street restaurants and merchants can be made via cash or credit cards. 
Due to COVID-19 concerns, a modified duty of care has been adopted to keep guests safe. 
Craft Brews & Live Music
The Craft Brew Experience, sponsored by Gaylord Texan will open and offer more than 50 craft brews from 12 states.  Tastings are served in a collectible Belgian-style tasting glass. The 37th Annual Main Street Fest coincides with American Craft Brew Week and will be the largest celebration of its kind in North Texas. While enjoying a craft brew, get your mojo going with The Mojo Brothers as they perform rock and country favorites from the likes of Tom Petty, The Rolling Stones, Merle Haggard, Waylon Jennings and more at the Liberty Park Plaza Stage.  Additional performers TBA.
If hops don't get you hopping, visit the Lone Star State of Mind brew and wine pavilion, located in the Foust Event Center Parking lot. Cotton Belt Railroad Historic District (701 S. Main St.)   The good vibrations continue on Peace Plaza at Grapevine Main Station (815 S. Main St.) which will also serve craft beer, wine and festival food. Catch another set of Rob & Miss Jane's rapid-fire circus stunts and outrageous, family-friendly comedy while you sip and savor festival favorites.
Find more brews, flavors to savor and music from every genre at the Town Square Gazebo Stage (325 S. Main St.). Groove and move to R&B, country and rock with Chaz Marie, featuring Quinten Hope.   The Jon Christoper Davis Band blends rock, country and Texas attitude in a performance you won't want to miss.  Dance the night away to everything from Pat Benatar to the Bee Gees with Suzy & The Sissies.   Soak in the sounds of Chris Raspante's unique blend of bluesy rock and Americana that echoes the vibes of the Black Keys, the White Stripes and Wilco.
Activity Alleys, Game Garden & Pint-Size Crafts
Take in the fun of a LEGOLAND® Discovery Center Mural or leave your mark on the Graffiti Gratuity Wall.  Or, grab your friends for a round of Daylight Golf or Grapevine Escape.   Kids, and those who are kids at heart, can enjoy the Game Garden which will feature oversized checkers, Connect 4, Jenga and horseshoes. Leave your mark on the Chalk Walk, make pretend crown crafts or build with a Home Depot kit at Pint-Size Crafts, located in Napoli's Italian Market parking lot (309 S. Main St).  
To plan the ultimate Main Street Fest experience, or for more information about Main Street Fest, visit https://www.GrapevineTexaszUSA.com/Main-Street-Fest/ or call 817.410.3185.
Parking & Rideshare
Parking is available at Grapevine Main Station parking garage (225 E. Dallas Rd.) and various locations throughout Grapevine's Historic District.
About Bank of the West, Presenting Sponsor of the 37th Annual Main Street Fest
Bank of the West is proud to be an Independent Community Bank, headquartered in Grapevine and serving North Texas for more than three decades; helping to create flourishing communities by putting your dollars to work LOCALLY...with decisions made LOCALLY. Bank of the West, Member FDIC.
About Grapevine, Texas
Historic Grapevine, Texas, centrally located between Dallas and Fort Worth, is the premier go-to destination when planning a getaway or vacation in North Texas! Step back in time on Historic Downtown Main Street with a collection of charming boutiques, art galleries, bistros and cafes. Enjoy fantastic hotels and resorts, great attractions for the entire family, a wide variety of outdoor recreational activities, exquisite winery tasting rooms, world-class shopping and much more. For more information, visit GrapevineTexasUSA.com.