North Pole Express®, presented by Great Wolf Lodge
North Pole Express®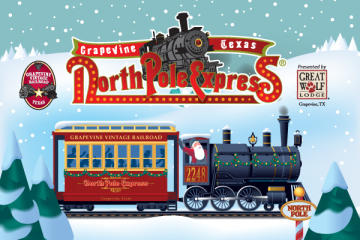 Ticket sales begin on Wednesday, September 25 at 10 a.m.
Experience the magic of Christmas aboard Grapevine Vintage Railroad's North Pole Express®, presented by Great Wolf Lodge.

Guests are presented with a Souvenir Ticket as they begin their journey aboard the beautifully decorated Grapevine Vintage Railroad. As guests board the train, Santa's elves greet them with a Memory Mug of Santa's special Frosty Chocolate Snow Milk. After being seated, guests are served a delicious Christmas cookie to enjoy on the way to Reindeer Ridge. When the train arrives at Reindeer Ridge, Mrs. Claus steps on board and presents each child with a "We Believe" silver bell. The train then continues on to the North Pole. Upon arrival, guests stroll through the snowy North Pole Forest, making their way to Santa's Workshop. Once inside the Workshop, Santa, Mrs. Claus and a cast of jovial elves perform a Broadway-style Christmas performance and share in the kindness of the season. 
Following the magical Christmas performance, North Pole Express guests receive a voucher for a COMPLIMENTARY photo with Santa.
First Class Coaches - $38 per person

These 1920s Vistorian-inspired coaches feature historic ambiance. Coaches are climate-controlled with upholstered bench-style seating. Not wheelchair accessible.

Touring Class - $34 per person

These 1920s coaches offer the most authentic railroad travel experience from this time period with a few modern conveniences. These heated coaches have wooden bench-style seating and floor-to-ceiling windows. Wheelchair accessible.

Silver Coach - $28 per person

This former metro commuter train coach has three seats on one side of the aisle and two on the other, making it perfect for parties of two, three or five. This coach is climate-controlled. Not wheelchair accessible.
Tickets are non-refundable. Missed trains will not be refunded.
Your ticketed departure time is the train departure time. Please check-in 30 minutes prior to ticketed departure time.
Schedule and Ticketed Departure Times
Grapevine is the Christmas Capital of Texas® with 1,400 events in 40 days! You may also enjoy the "After Christmas Trains," which run from Grapevine to the Fort Worth Stockyards, December 26 - 30, 2019, times TBA. All coaches will still be adorned with beautiful Christmas decorations.
Due to TEXRail's pending expanded commuter rail service schedule, official dates and excursion times for the North Pole Express (NPX) are still being determined.  Once the NPX schedule has been finalized and approved, an official announcement will be made via Facebook pages for Grapevine Vintage Railroad, North Pole Express, Christmas Capital of Texas and Grapevine Convention & Visitors Bureau, as well as www.GVRR.com and www.GrapevineTexasUSA.com. Please check back regularly for updates.