Destination Grapevine
Dear Tourism Partner: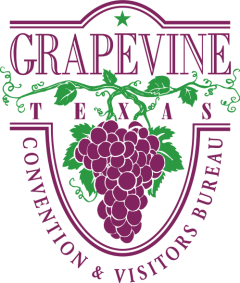 Thank you for attending the Destination Grapevine training experience. 
The goal of Destination Grapevine is to provide you with detailed information that will help you effectively serve your guests who might be convention planners, tour operators, in-house hotel guests, restaurant patrons, customers or visitors who are looking to have a tourism experience while an extended layover at Dallas/Fort Worth International Airport.
Comprehensive knowledge is a critical and necessary component of expanding, improving and elevating the visitor experience.  Whether you are a hotelier, restaurateur, merchant or attraction operator, each guest or client needs information that is accurate and current. The Grapevine Convention & Visitors Bureau is your resource for this information.  Our visitor services, convention services, communications and sales departments are here to provide you with support on a year-round basis.
In your role as a representative of one of Grapevine's hotels or businesses, we are here to provide you with all the information you need for your guests to have the very best experience possible.  Like you, we want to see your guests return frequently.
During the Destination Grapevine class, your classroom and driving tour introduced you to all of Grapevine's shopping, dining and entertainment opportunities. In the process, you had an opportunity to obtain more information about the elements of Grapevine that you saw.  The Grapevine information packet is your personal resource that will serve as a reference guide after your class.  It contains information that will assist you on an ongoing basis in your pursuit of delivering an exceptional visitor experience.  If you would like to consult with a Destination Grapevine expert, I invite you to contact one of our services specialists:
David Taylor, Director of Destination Services and Facility Experiences, 817.410.3191 DTaylor@GrapevineTexasUSA.com
Betty Torres, Destination Services Assistant, 817.410.3538 BTorres@GrapevineTexasUSA.com
Lisa Dalton, Visitor & Cultural Services Manager, 817.410.3593 LDalton@GrapevineTexasUSA.com
Together, we can all be successful.  I look forward to sharing the Grapevine experience with you.
Regards,
Paul W. McCallum
​Executive Director
Centrally located between Dallas and Fort Worth, Grapevine features more than 1,000,000 square feet of meeting…
Read More
From family-friendly fun to grown-up getaways, Grapevine's attractions run the gamut and offer an incredible…
Read More
Sip, sip, hooray! Enjoy the taste of Texas' finest grapes.
Read More
Grapevine invites you to explore, be curious, and enjoy authentic Texas charm in a city that's perfect for the…
Read More