Peace Circle
Location: Peace Circle on the Corner of Main Street and Dallas Road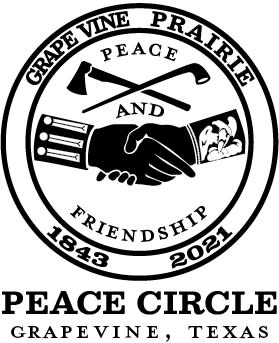 "Peace Circle" is an interpretation of a moment in time of a meeting of Republic of Texas President Sam Houston and 10 American Indian chiefs/ captains on the Grape Vine Prairie in 1843. The work of public art features 11 bronze statues standing 1.25 percent larger than life size, representing Republic of Texas President Sam Houston and American Indian chiefs/ captains from the Delaware, Chickasaw, Waco, Tawakoni, Keechi, Caddo, Anadarko, Ioni, Biloxi and Cherokee Nations.
Sam Houston and the tribal leaders met in a spirit of friendship, peace, hope and trust in an effort to establish a place – a line that would not be crossed – where the tribes could live in peace.  The Peace Circle meeting later led to the signing of the Treaty at Bird's Fort on September 29, 1843.  This treaty defined Indian Nations and European settlement boundaries and was one of the few Indian treaties ratified by the Republic of Texas Senate.
Dedication Ceremony and Events
The dedication ceremony consisted of representatives from the tribal nations, the Sam Houston Memorial Museum and members of the Peace Circle Advisory Committee. Though the Comanches were invited but did not attend the original Peace Circle meeting on the Grape Vine Prairie in 1843, they did attend the "Peace Circle" unveiling ceremony.
The dedication ceremony began with a Land Acknowledgment that states that Grapevine respectfully acknowledges all Indigenous People who have lived on the Grape Vine Prairie since time immemorial and reaffirms friendship and relationship with the 10 nations who met here with Sam Houston in 1843.  
The ceremony included the "Wyandotte Thanksgiving Address," the words before all else, shared by Sallie Cotter Andrews, Wyandotte Nation, followed by a Blessing by Eddie Sandoval, Apache Nation and Leslie Thunderhawk, Rosebud Sioux Nation as well as a presentation of the American, Texas and tribal flags with a Comanche flag song. 
Additionally, Peace Medals were presented to representatives of each Indian nation, signifying that Grapevine reaffirms the commitment to peace and friendship Sam Houston promised in 1843.  Each medal incorporates a replica of the original 19th century presidential peace medal design depicting a handshake, peace pipe and tomahawk. The ceremony closed with Comanche drum music followed by a friendship dance.
Festivities after the dedication included educational events on Peace Plaza and demonstrations of art and music by Cherokee National Treasures Lisa Rutherford, Cathy Abercrombie and Tommy Wildcat.
The Statues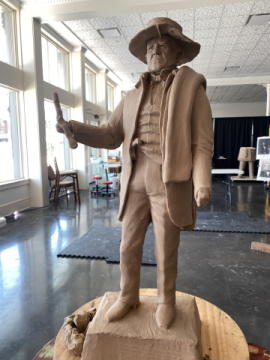 Sam Houston
President of the Republic of Texas
The path of Sam Houston's life had perfected him and led him to this moment in time, to August 1843 on the Grape Vine Prairie, to the Peace Circle. Known as a flamboyant dresser, General Sam Houston, President of the Republic of Texas, donned a purple velvet suit with a huge Bowie knife thrust in his belt and a folded Indian blanket draped over one shoulder, to proclaim his brotherhood with the ten chiefs and captains who had gathered for peace. President Houston promised "that a favorable treaty line would be drawn beyond which the Indians could live unmolested by white men." He urged them to wait a little longer for the Comanche leaders who he hoped would arrive to also sign the treaty. Then he departed for Washington-on-the-Brazos and left the treaty signing process to General Edward H. Tarrant and General George Whitfield Terrell who completed the work on September 29, 1843.
Facts about Sam Houston, the greatest hero in Texas history:
Born March 2, 1793, Rockbridge County, Virginia Moved to Maryville, Tennessee in 1807
Soldier in the War of 1812; wounded twice in the Battle of Horseshoe Bend General of the Tennessee State Militia, 1821
United States Congressman from Tennessee, 1823 Governor of Tennessee, 1827
General of the Texas Army, 1836; wounded at the Battle of San Jacinto President of the Republic of Texas, 1836 and 1841
United States Senator, 1846 Governor of the State of Texas, 1859
Died July 26, 1863, Huntsville, Texas at 70 years of age.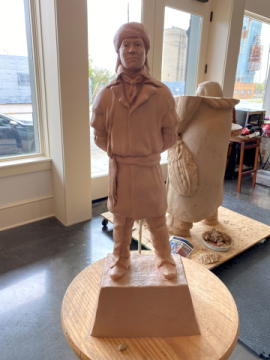 Cherokee Captain Chicken Trotter
Captain Chicken Trotter, the final leader to sign the Treaty at Bird's Fort, was likely Devereaux Jarrett Bell who used his alias as his treaty signature. He was 26 years of age in 1843 and was the youngest man to sign. In his 26 years, Chicken Trotter had covered a lot of territory, from Georgia to Texas to Mexico. In 1849, he traveled to California with his wife, Juliette Lewis Vann Bell, and his brother, Samuel, in the Gold Rush. He was a natural leader, fearless, an independent thinker, and a man who wanted his own land that would not be taken from him. In 1875, Captain Chicken Trotter died in Rusk County at the age of 58 years. He is buried in the Mount Tabor Indian Cemetery.
Summary: In 1835 in Texas, Chicken Trotter met Cherokee Chief Duwali, also known as Chief Bowl, and the Texas Cherokee people. This group had left their homeland east of the Mississippi River as early as 1809 and settled in Missouri, southern Arkansas and then into Spanish Texas in the winter of 1819. By 1830, there were approximately 800 Cherokee people living in seven villages in Texas. They did not find peace in Texas but rather fighting with other tribes and with white settlers. The Cherokee people were also caught between the governments of Mexico and the Republic of Texas, and were promised and denied their own land by both groups. In July 1839, Chief Duwali was killed in the Cherokee War in Texas. At age 22, Chicken Trotter became one of the Texas Cherokee leaders. Some Texas Cherokees moved north into Arkansas and US Indian Territory; Captain Chicken Trotter led a group to Monclova, Coahuila, Mexico, 300 miles southwest of San Antonio, where they remained until 1842.
President Sam Houston wanted to help the Texas Cherokees find land and peace. Captain Chicken Trotter signed the Treaty at Bird's Fort, but Texas still would not allow Indians to own their own land within its borders. For this reason, Benjamin Franklin Thompson, a white man whose wife was connected to the Texas Cherokees, purchased 10,000 acres in Rusk County for a Cherokee homeland. After the annexation of Texas by the United States, American Indians could legally own land, and this community became known as the Mount Tabor Indian Community. The 1850 census for Rusk County documents the extended Bell family living there.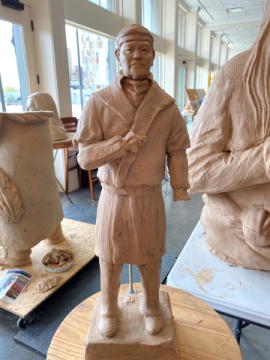 Chickasaw Captain Ishteukatubby or Ishtayakaat abi
Captain Ishteukatubby's name was an earned title meaning "He pursued him by means of a track, sign, clue or hint and killed him," or "Scout to kill." Captain Ishteukatubby had the reputation of selflessness, strength, honor, courage and the ability to overpower and defeat his enemies. He was described on the record in the United States Supreme Court as "a Chickasaw in whom every confidence can be placed." His mission in August 1843 was to secure peace for his nation. Captain Ishteukatubby's descendants are still active in their nation.
Summary: After years of resisting American pressure to move, the Indian Removal Act, signed into law on May 28, 1830 by President Andrew Jackson, culminated in the forced removal of the Chickasaw people from their traditional homeland in present-day Mississippi, Alabama, Kentucky and Tennessee to take up residence in US Indian Territory. Chickasaw Removal was between 1837-1839; however, Chickasaw families continued to arrive to US Indian Territory in the 1890s. The Chickasaw territory was at a crossroads for cattle drives and immigrants to Texas and California also passed through their land. Excellent agriculturalists and entrepreneurs, the Chickasaw sold their surplus food and other items to the immigrants. Today, the Chickasaw Nation, headquartered in Ada, Oklahoma, is economically strong, culturally vibrant and remains full of energetic people still dedicated to the preservation of family, community and heritage. The Chickasaw people remain "Unconquered and Unconquerable."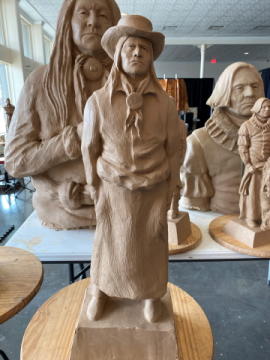 Waco Chief Acahquash
Chief Acahquash had a great reputation as a negotiator and was a revered friend of President Sam Houston who said of Chief Acahquash, "I will never forget that you were the first to walk in the path between the red and white men. I hope the Great Spirit will smile upon you." He also asked Chief Acahquash to continue to be a mediator between the Republic of Texas and the Penateka Comanche.
Summary: The Waco were the most independent natives in all Texas. They were expert with the bow, lance and dagger and combined the buffalo lifestyle in winter with an agricultural lifestyle the rest of the year, growing beans, squash, corn, melons and watermelons. Their tanned buffalo hides were prized, with fur on one side and skin as soft as cloth on the other. In the spring of 1855, the Wacos were moved to a reserve about a mile north of the Brazos and east of Salt Creek. In 1859, they were moved from their Texas reserve to US Indian Territory. They are now part of the Wichita and Affiliated Tribes headquartered in Anadarko, Oklahoma.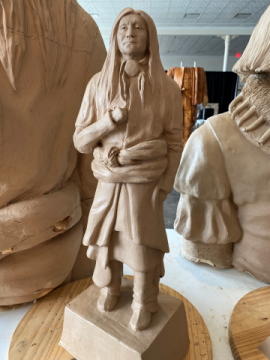 Anadarko Chief Jose Maria or Iesh
Chief Jose Maria, or Caddi Ha-Iesh, was a highly respected principal chief who said, "We are all made alike, all look alike and are one people, which you must recollect. The Great Spirit our father, and our mother, the Earth, see and hear all we say in council. You have here listened to none but good talk." Chief Jose Maria fought many battles with the Texans and was severely wounded in the breast, but he became a spokesman for peace. In a council he said, "I hold the white path in my hands (a string of wampum beads) given by our white brothers. Look at it; see, it is all fair. To you, Waco and Tawakoni captains and warriors, I give it. Stop going to war with white people. Use it as I have done, and your women and children will be happy and sleep free of danger." President Sam Houston proclaimed, "He is a great man and a good friend." Chief Jose Marie died in 1862. His descendants said, "Few had equaled and none had surpassed his bravery, his nobility, and his good sense whether in battle, in council, or in the presence of presidents. His heritage to us is of the highest order."
Summary: The Anadarko people lived near today's boundary of Nacogdoches and Rusk Counties for hundreds of years before the first white people arrived. In 1845, they were living north of Comanche Peak on a western branch of the Trinity about eight miles from the main river where they had 150 acres of the finest corn, watermelons, pumpkins, beans and peas under cultivation. In 1846, a delegation of chiefs including, Chief Jose Maria and his wife, traveled to Washington, D.C, to meet President James K. Polk where he received a peace medal and citation. They returned to their home on the Brazos River sixteen miles west of today's Hillsboro. In 1849, the Commissioner of Indian Affairs said he was the leader of 1,200 people. In 1855, the Anadarko were placed on a reservation along the Brazos River and there Chief Jose Maria built a log house for his family. By 1859, it was clear the white settlers would not leave the Brazos Reserve Indians in peace. In the summer of 1859 the Anadarko were moved to US Indian Territory to land known as "the Leased District" near present-day Anadarko, Oklahoma. The Anadarko people are part of the Caddo Nation which is headquartered in Binger, Oklahoma.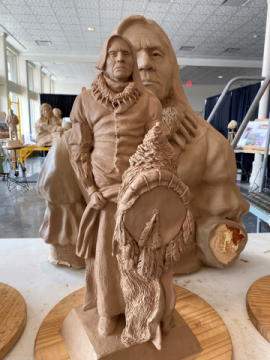 Keechi Chief Kateahtick or Kottanteek
Chief Kateahtick was elected by the Keechi warriors to serve as the principal chief of the Keechi people. In 1843, he was for peace, but only trusted one white man. He said, "We want to talk with him (Sam Houston), take him by the hand and hear the words of his own mouth, then there can be no mistake, but all will be understood."
Summary: The Keechi people (also known as Kichai, Kitsai, and K'itaish which they called themselves) excelled at farming and hunting. Their women were industrious cultivators growing corn, pumpkins, melons, beans and squash. The Keechi first encountered Europeans while living along the Louisiana-Texas border and on the Red and Trinity Rivers. In 1828, their chief met Mexican General Teran in Nacogdoches and wore a necklace of bear claws which he felt protected him in battle. In 1858, at the tragic Battle of the Wichita Village ordered by the 2nd Cavalry south of today's Rush Springs, Oklahoma, the Keechi leaders at a peace council were mistaken for Comanches and were nearly destroyed. Kateahtick's hair is shown chopped as an outward symbol of deep sadness and loss. In 1859, the Keechi families remaining in Texas agreed to relocate to the Leased District reservation in US Indian Territory. In 1901, their homeland in Oklahoma was opened to white settlers. Today, the Keechi are part of the Wichita and Affiliated Tribes headquartered in Anadarko, Oklahoma.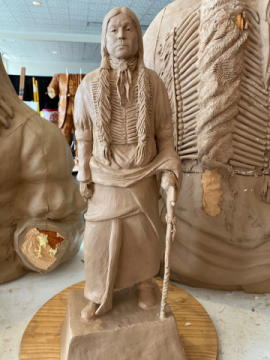 Caddo Chief Red Bear
Chief Red Bear was an articulate and wise man who said, "I am determined to lay down the hatchet against all white and red men and seek a country of peace." He also said, "I do not like to see guns firing and blood spilled, for I am a friend of peace. I am one of the oldest of my tribe. All the red men and all of my other brothers know me well. My hands are clean, and I like to see others the same."
Summary: Caddo is the name given to about 25 affiliated groups of people who historically lived near the Red River in East Texas, Arkansas, Louisiana and Oklahoma. They were regarded as the most civilized of all tribes, and the word "Texas" derives from "Tejas," the Caddo word meaning "friend." They lived in complex, settled societies and were known for their cultivation of corn and for their beautiful ceramics. The Caddo traded in furs, guns, horses, salt and bois d'arc wood and were excellent smoke signalers. In pre-historic times they developed long-distance trade networks obtaining turquoise from New Mexico, copper from the Great Lakes, and marine shells from the Gulf Coast. By the early 1840s, the Caddo had moved to the Brazos River area to escape the relentless pressure of American expansion. In 1855, the Caddo were moved to the Brazos Indian Reservation and in 1859 they were forced to move again to a reservation in US Indian Territory. Today, many Caddo citizens reside near the Caddo Nation headquarters near Binger, Oklahoma.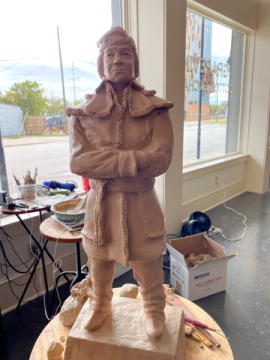 Biloxi Chief Hoyo Tubby
Chief Hoyo Tubby met with President Sam Houston in August 1843 on the Grape Vine Prairie, and on September 29, 1843, he signed the Treaty at Bird's Fort committing the Biloxi people to the terms of the treaty of peace and friendship. The Biloxi in Texas were a small, distinct group of people. They joined with other Texas Indian nations to survive.
Summary: In 1699, Europeans encountered the Biloxi near present-day Biloxi, Mississippi. They were unusual, with a Siouan-based language and likely came from the north at some unknown time. Their dwellings also resembled the northern-style homes of the Osage, Winnebago, Dakota and Omaha. The Biloxi began to migrate westward into Louisiana and eastern Texas in the 1760s to avoid white interference. In the late 1700s, they settled near today's Marksville, Louisiana, and were skilled traders and entrepreneurs. By 1828, a group had settled along the Neches River in present-day Angelina County, Texas. The Biloxi became allies of the Texas Cherokee and were caught up in the violence in 1839 that drove the Cherokees out of Texas. Some Biloxi people scattered into Arkansas with the Cherokees, and others joined the Alabama, Coushatta, Choctaw and Creek nations. In 1846, a Biloxi camp was seen on Little River, a tributary of the Brazos in present-day Bell County. In 1849, the Biloxi were listed among the tribes who prevented the peaceful occupation of the Chickasaw country in US Indian Territory. In 1886, a few Biloxi were seen among the Choctaw and Caddo people in US Indian Territory. Some Biloxi people never migrated into Texas; the Tunica-Biloxi Nation, headquartered in Marksville, is one of four federally-recognized American Indian tribes in the state of Louisiana.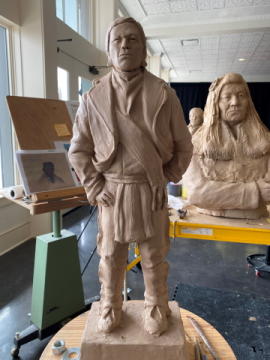 Delaware Chief Roasting Ear or Pacondalinquaing
Chief Roasting Ear was the patriarch of the Delaware Indians in Texas. He was an orator, councilor and diplomat. He said, "Let this not be children's play, but as men who are determined on entering into the firm bonds of friendship and peace." He was the first chief to sign the Treaty at Bird's Fort. Chief Roasting Ear died in February 1845.
Summary: The Delaware first contacted Europeans in the 1600s in the Delaware River region of the northeastern United States and were driven from their ancestral home by white pressures. The main body of the tribe was relocated to Ohio then Indiana, Missouri, Kansas and US Indian Territory. In the 1820s a small group of Delaware Indians living in Missouri migrated to Texas and settled around the Red and Sabine Rivers. Under the presidency of Sam Houston, the Delaware assisted ranger patrols on the frontier. The Delaware Nation, headquartered in Anadarko, Oklahoma, and venerated by other American Indian nations as "the grandfather tribe," has survived a long journey.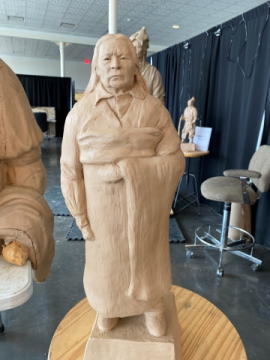 Tawakoni Chief Kechikaroqua
Sometimes called the Old Tawakoni Chief, Kechikaroqua was a highly respected elder who was about the same age as President Sam Houston, both older than the other Peace Circle chiefs and captains. Chief Kechikaroqua's name meant "The man who was named by the Great Spirit." He served as the principal chief of the Tawakoni and was the acknowledged chief of the allied tribes of Texas. He became tired of war and said, "I am strong for making a firm peace. War is like an arrow sticking in the side; I have plucked it out and now am for peace. Such are my thoughts, and they are like Houston's."
Summary: The Tawakoni people ranged between present-day Waco and Palestine. Sometimes spelled 'Tehuacana', there is a town of that name in Limestone County, just northeast of today's Mexia, which was settled on a former Tehuacana (Tawakoni) village site. In the spring of 1855, the Tawakoni people were moved to the Fort Belknap reserve about a mile north of the Brazos and east of Salt Creek, northwest of today's town of Graham. In 1859, they were moved to the Wichita reservation in US Indian Territory and are now part of the Wichita and Affiliated Tribes headquartered in Anadarko, Oklahoma.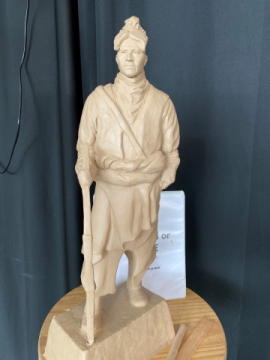 Ioni Chief Towaash
Chief Towaash was a sincere and truthful man who complied to the agreements set forth in the Treaty at Bird's Fort. In 1844, he said, "I know what I promised at the first treaty, and I have done as I said. The President then gave us powder and lead, and told us to go home and shoot deer and buffalo, and raise corn for our women and children so that in the cold rainy weather they would not cry for bread and meat. We have done so and found that it is good. All that he told us was true, and now I can go home to my people and tell them that all is still good, that they can eat and sleep in safety and feel no more afraid." Because of his leadership, in July 1846 Chief Towaash went to Washington, D.C., to meet President James K. Polk and received a large silver James K. Polk Peace Medal.
Summary: The Ioni were sometimes called the Hainai, Hasinai, Ainai, Aynais, Aynay, Ayonai and phonetically on the Treaty at Bird's Fort as the Ez-e-nye. The Ioni are Caddoan people who lived on the Neches and Angelina Rivers and were the leading group of the Hasinai confederacy. The Spanish explorers found the Ioni were traders and fishermen, and also grew maize, beans, and squash, and hunted small game, buffalo and bear. In 1837, the Ioni Indians were reported to be "the most treacherous Indians on our frontier." They participated in the Cherokee War in Texas in 1839, after which they migrated to today's Fort Worth area and later to the Palo Pinto area. In 1855, the Ioni were moved to a reserve on the Brazos River. In 1859 they were moved by Indian Agent Robert S. Neighbors to US Indian Territory. Today Ioni citizens live in Caddo County, Oklahoma, and are a part of the Caddo Nation headquartered in Binger.
ABOUT THE ARTIST
The City of Grapevine commissioned Grapevine artist-in-residence Linda Lewis to recreate the moment of this historic meeting on the Grape Vine Prairie. Linda Lewis, born in Lubbock, Texas, received her art education in Pittsburgh, Pennsylvania. Utilizing detailed research by the Peace Circle Advisory Committee, Lewis has created and overseen the production of "Peace Circle" at the Grapevine Foundry located in the Cotton Belt Railroad Historic District, 701 S. Main St.
As Grapevine's artist-in-residence and through Lewis' art education program, area students, as well as students and adults with special needs, worked alongside Lewis through various steps of the artistic process in the development of "Peace Circle."
For more than five years, she has been the owner/operator of the Grapevine Foundry and Fine Arts Program, bringing two decades of experience working with bronze to Main Street. She is one of few artists who does all mold making, wax working, sand blasting, bronze casting, welding and patina finishing.
PEACE CIRCLE ADVISORY COMMITTEE:
Paul W. McCallum, Advisory Committee Chairman, Grapevine Convention & Visitors Bureau; Dr. Sam Haynes, Professor and Director, Center for Greater Southwestern Studies, The University of Texas at Arlington; Matt Reed, Guthrie, Oklahoma; Eddie Sandoval, Apache Nation, Fort Worth; Leslie Thunderhawk, Rosebud Sioux Nation, Duncanville; Sallie Cotter Andrews, Wyandotte Nation, Grapevine Convention & Visitors Bureau; Cody Jolliff, Grapevine Convention & Visitors Bureau; and Linda Lewis, Artist, Grapevine Foundry.
INDIAN NATIONS ADVISORS:
Delaware Nation, Sonnie Allen; Chickasaw Nation, Laura A. Stewart; Wichita and Affiliated Tribes, Gary McAdams; Caddo Nation, Derek Hill; Tunica-Biloxi Tribe of Louisiana, John Barbry; and Mount Tabor Indian Community, Rusk County, J. C. Thompson.