Hotel Vin
Hotel Vin, a refined and welcoming space for locals and visitors alike, opened on September 3, 2020. The gateway to Grapevine's historic district and part of Marriott's Autograph Collection, Hotel Vin embraces the city's unique and historic past, while paving the path for its future with the latest in innovation and amenities to meet the needs of today's modern traveler.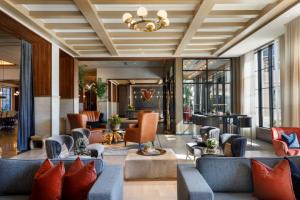 For independent travelers seeking new experiences or to create new connections in an approachable setting, Hotel Vin is the curator of Grapevine's greatest untold stories – by bringing people together and captivating their imaginations.
As a proud celebration of the spirit of Grapevine, Hotel Vin serves as the gateway to the city's burgeoning downtown. Located at the doorstep of the new TEXRail station, the hotel invites guests and locals alike to embrace and explore all it has to offer, as well as the convenience of being steps away from wonderful shopping, dining, and scenery in the Main Street District of Grapevine.
With warm, inviting details at every turn, Hotel Vin provides first-in-class service and creates opportunities for guests to discover, explore and connect while experiencing its sophisticated design and timeless architecture – all a nod to the golden age of train travel.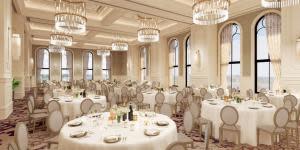 Hotel Vin offers eight meeting rooms. Attendees will enjoy panoramic views of Main Street and the community plaza below from the grand ballroom, located on level four. Hotel Vin has nearly 15,000 square feet of indoor and outdoor space, and an additional 38,000 square feet at the outdoor plaza.
Meeting Rooms Summary:
Meeting rooms: 8
Indoor square footage: 10,327 square feet (including the South Hall of Harvest Hall)
Outdoor square footage: 4,140 square feet
Largest Ballroom: 4,232 square feet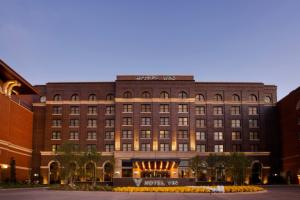 Connected to the hotel is Harvest Hall, a unique experience of curated restaurateurs each providing high quality, chef-driven and hand-crafted, specialty foods. Featuring cuisine from around the world, as well as an extensive wine, spirits and craft beer menu, Harvest Hall exists to bring people together through experiences, including live music, tastings and other events.
Both Hotel Vin and Harvest Hall are a part of Grapevine Main, a $114 million mixed-use development, which also features a 500-space parking garage and a 38,000 square-foot expansive outdoor plaza which will be large enough to accommodate 3,500 guests, yet intimate enough for small groups.